How to use Slack: the ultimate beginner's guide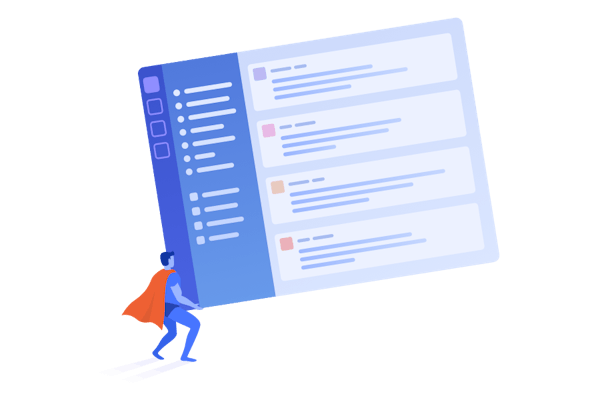 Learn to use Slack
Meet the ultimate communication tool for your team and discover Slack tips and tricks to make it work harder for you.
What is Slack?
Tired of endless inbox pings, neverending email chains, and constant confusion about who said what and where to find it? Slack offers a communication hub to keep instant messaging organised and context switching to a more manageable minimum.
Slack is actually an acronym. It stands for Searchable Log of All Communication and Knowledge. And it's this platform's powerful ability to search through a clear record of your conversations that has seen a huge spike in user numbers, particularly at the start of the Covid-19 pandemic in 2020. 
Meet the newest member of your team
Slack is the ultimate team tool, bringing everyone together in one space and helping to boost productivity (with the help of a few clever tricks). It lets you upload files easily, integrates with your other tools, and keeps your inbox free for more formal communications. 
Tools like Slack have helped businesses go all-in on digital, proving they can get the job done without a physical office space. It's been such a big-hitter for remote working, that CRM giant Salesforce pulled out all the stops ($27.7 billion of them) to acquire it in December.
Get started with Slack - the basics
From remote newbies to virtual veterans, this guide offers all you need to know to get up to speed and set up Slack for success.
How to access Slack
Sign up for Slack using your email address, Apple, or Google account – you can use the same email address to sign into as many workspaces as you want. Once you're set up, download and sign in using the Slack desktop app, sign in on the browser, or use the Slack app on your smartphone (iOS and Android).
Once you've signed in, make sure to let people know who you are and what time zone you're in by editing your Slack profile.
What is a Slack workspace?
Your workspace is where your people can come together and connect the software and services they need. As a workspace owner, you can set default channels (see below), create guidelines about channel names, add the apps you need, and invite people to join. Most small and medium-sized companies will only need one workspace (available with a Free, Pro, or Business+ subscription), but larger organisations or those in heavily regulated industries might need more. In that case, you're going to want an Enterprise Grid package instead.
Slack lets you connect with all your team members privately using direct messaging and group chats, but for more specific or organised communication, you'll want to set up some channels.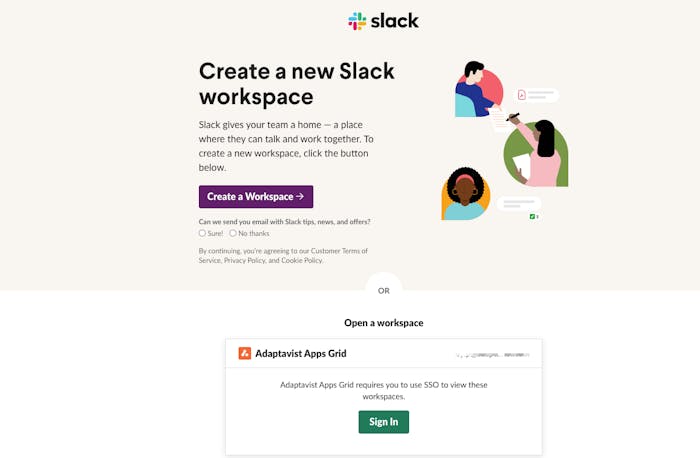 What is a Slack channel?
Within your workspace, conversations are organised into dedicated channels. There's a #general channel that everyone is automatically a member of (and can't leave) – ideal for company-wide announcements. But you can also set up your own channels for individual teams, regional locations, or projects; whatever works for you. You can even invite people from outside your company to collaborate in a specific channel.
Be careful to keep channels in check – don't overwhelm your users by having too many with too much cross-over. Each channel's purpose should be clear, which is why it's important to create guidelines for channel names, such as locations: #london, #newyork, and #tokyo, or team-specific: #marketing, #sales, or #engineering. Good naming also helps people to easily search for what they need.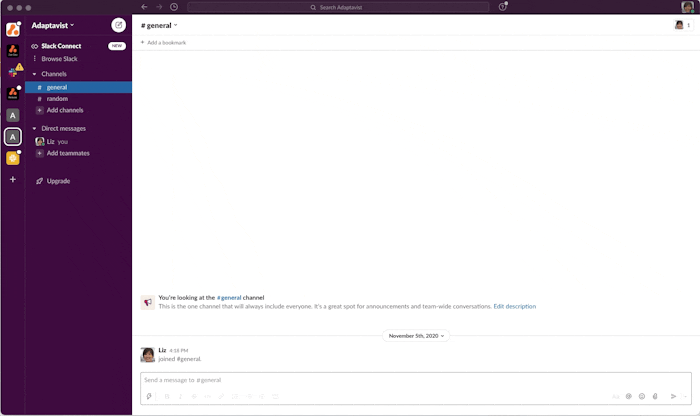 Public versus private channels
Channels can be set as public or private. Having public channels is great for promoting an inclusive environment. They allow any workspace member to view and join - great for making information visible to anyone who might need it. Try and ensure at least 70 percent of your channels are open to everyone to encourage transparency. Of course, even open-plan offices need conference rooms or quiet spaces for sensitive or confidential conversations. That's what private channels are for, and only people who have been invited by another member can join these.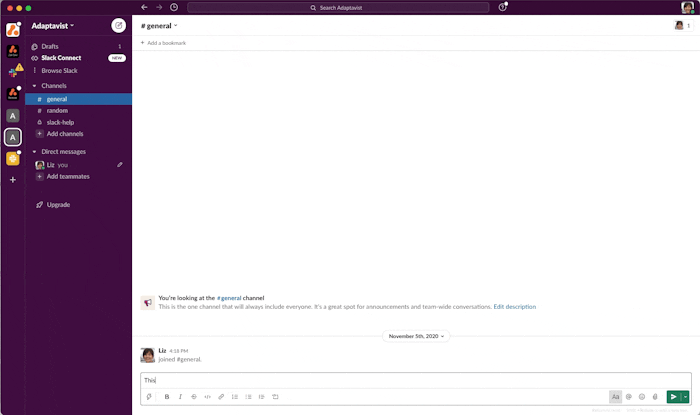 Let us help you get started
Wanting to move to Slack or need to improve your current processes but not sure where to start? We've got you covered.
Customise Slack for tailor-made communication
With Slack, there's no such thing as standard. Make your workspace work for you with these clever customisations.
Pick a theme
Change the colour of your workspace, choose a new theme that suits your mood, or create a custom theme all of your own.
In Slack, open up your team menu (your company's name with a little arrow to the right of it), then click 'Preferences' and 'Themes'. You'll see lots of pre-existing themes to choose from, from classic colours to a darker theme that's easier on the eye or perhaps one of their more vibrant palettes. You can even click 'Create a custom theme' to input your favourite colours or brand colours.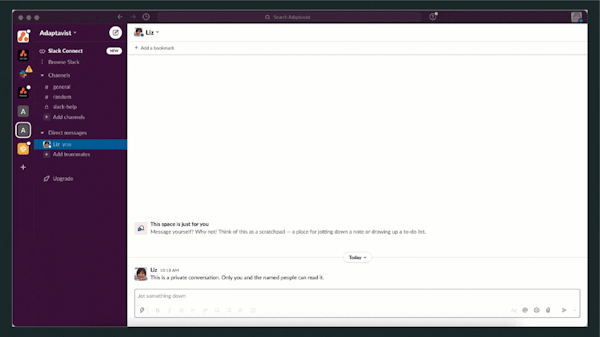 Slack etiquette
You wouldn't go to work in your swimwear or put your feet up on your boss's desk, so don't make the mistake of thinking your virtual workspace is a free-for-all. If your organisation has Slack etiquette guidelines in place, yay for you! If not, here are a few simple rules to keep you out of trouble:
Keep @ to a minimum

@everyone, @channel, @here, and @[insert name] are quick ways to get people's attention but remember to use these sparingly. No one likes getting notified every two minutes. People are in lots of channels and this can get very annoying, very quickly.

Follow the thread

Threads allow you to keep conversations organised and avoid endless scrolling to find the information you need. Encourage teams to respond in threads.

Go easy on the GIFs

Don't forget you're at work. While GIFs might be suitable for private messages, try and avoid cluttering public channels with them, however hilarious.

Archive old channels

When a project's finished, get in the habit of archiving the channel. That means the channel is closed, but the message history is still there if people want to search it.

Put it public

Save time and keep everyone in the loop by using public channels where possible and appropriate. This increases access to shared knowledge for your whole organisation.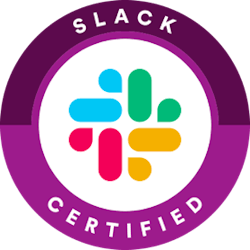 Official partners of Slack
All our Slack consultants and engineers are trained directly with Slack for the most up to date information and knowledge.
Slack shortcuts
While Slack users are far from slackers, they definitely benefit from some speedy hacks that take the effort out of staying in the loop. There are two main ways to make things happen fast in Slack: keyboard shortcuts and slash commands.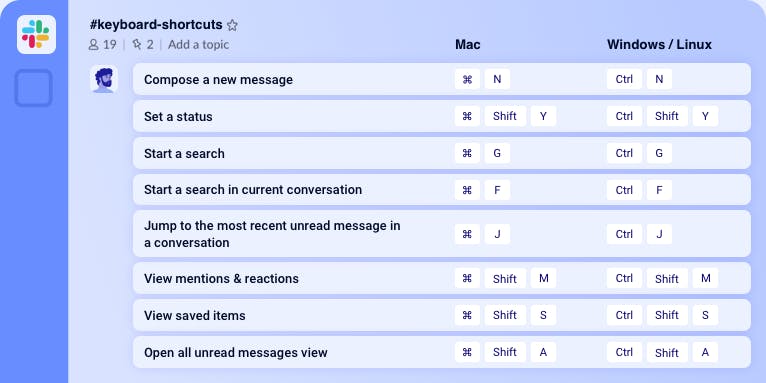 Do more with Slack apps
Slack has heaps of functionality straight out of the box, but the comprehensive app directory gives you access to over 2,400 apps to supersize your Slack experience. Adding apps to your Slack to boost productivity and cut down on context switching makes the world of difference. You can get everything you need all in one place – and there's something for everyone. From essential everyday apps that let you use Google Drive, Zoom, Microsoft Teams, and Trello right from your Slack workspace to accessing project management tools like Jira, Confluence, or Miro – you'll find it here.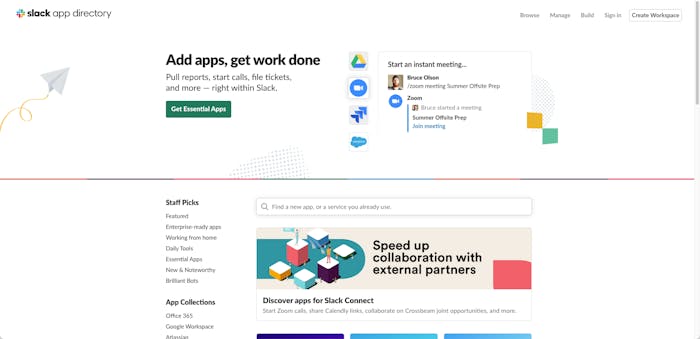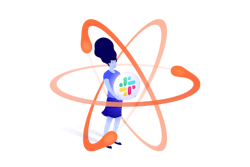 Get work done with Slack apps
Enterprise grade Slack apps for increased productivity and reduced context-switching
Automate with Slack Workflow Builder
A lot of the most popular apps for Slack are all about setting up automations from other platforms so you can work more efficiently. And Slack has taken automation to the next level with Workflow Builder (available only on paid subscriptions). While in the past Slack was more commonly used by engineering and development teams, capable of coding their own automations, more and more non-technical teams are now getting up to speed on Slack. Workflow Builder lets anyone automate everyday tasks – no coding required.
Workflows help you lighten the load – taking care of repetitive tasks with minimal effort and streamlining processes. You can also bring other apps into your workflows to make the most of top tools without asking for support from your IT team. Workflow Steps for Jira from Adaptavist is the first multi-step app that connects Workflow Builder with your Jira instance. With useful templates, you can create handy workflows like scheduling status update reminders, creating Jira issues in Slack with friction-free forms, and adding comments to existing issues.
Find out more on the first multi-step app for Slack's Workflow Builder
Integrate and automate common Jira interactions without leaving Slack
Learn more →
RSS feed into Slack
Stay up to date with all the latest news using Slack's smart RSS integration. It lets you subscribe to your favourite blog or news site's RSS or Atom feeds and receive updates straight in Slack. The feeds you choose will be fetched at regular intervals and news posts can be directed to specific channels. Use the /feed command to see all your feeds (/feed list), unsubscribe from a feed (/feed remove [ID number]), get command reminders (/feed help) and more.
1. To get started you'll need to add the RSS app from the Slack directory into your Slack workspace.
2. Click 'Add to Slack' then 'Add RSS integration'.
3. Next to Feed URL, input the web address of the feed you'd like to subscribe to and get updates for.
4. Select or create a channel you'd like the updates to appear in (we'd recommend setting up a specific channel for this as it can get busy pretty quickly).
5. Keep repeating step 3 until you have all the feeds you need.

Slack support from Adaptavist
Slack is a one-stop-shop for slick communication and automation, but as you scale it can be hard to keep track of your integrations and ensure user efficiency. Our Slack Partner Services help by getting you set up for success. We implement effective guidelines to suit your business and processes. Our hands-on suite of solutions includes an accelerated Slack launch or relaunch, new or enhanced integrations tailored to your business, administration services to lighten the load, and ongoing coaching to keep you ahead of the curve.
From custom apps to innovative chatbots, we help you unlock the power of the platform.