PLEASE NOTE
The content of this blog is no longer updated
If you watched the Olympics over Summer, you might have stumbled across this Slack ad below.
Viewers response has been mixed, to say the least. 😅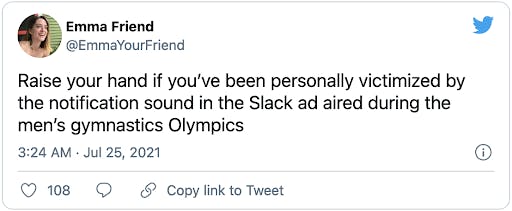 Slack is renowned as a user-friendly messaging tool. It's colourful, highly customisable, and playful… Yet a lot of Slackistas and Slackistos agree: Slack notifications are a massive pet peeve of theirs.
You might have experienced it firsthand. You're trying to keep on top of all the work requests that get discussed in Slack but your virtual workspace can feel like a cacophony of important messages linked with irrelevant chatter. There's not always a clear distinction between general discussion and commitment to action.
Plus, it's important to make sure you can "go home" at the end of the workday.
Thankfully, Slack comes with an array of features to manage your off-hours and your focus time. Let's have a look at how to navigate those, as well as some good practices.
Slack notification setup essentials
Slack developers are aware a refined notification setup is essential to a serene experience, so they've been hard at work letting everyone organise things as they should. You can quickly attend to the notification settings by clicking your profile picture, then Preferences.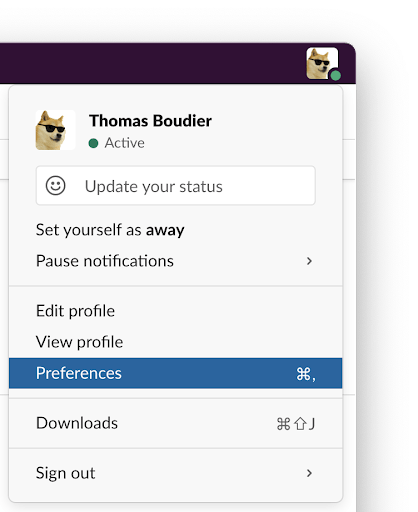 If your team is quite active on Slack and communicates a lot, then surely you don't want to be notified of all new messages. Getting notified of direct messages, mentions and keywords is the right compromise for most people.

I personally find it convenient to be notified of messages appearing in a thread I've interacted with since these are conversations I was directly involved in and I'd like to follow. Note that sometimes, you may want to see where a conversation is going without personally having anything to add to a thread: you may follow it by clicking More actions (top right of a message), then Get notified about new replies.

If you're working on a specific project or topic and you're conscious some conversations might start in channels you're not following, or people might have questions without knowing you're involved, you can set up keyword notifications.

Slack notifications scheduling
One of the greatest features of Slack is the notification schedule; this works in a similar fashion to the Do Not Disturb mode on your smartphone. In the Preferences dashboard, scroll down a little, and enter your working hours, or the hours you'd like notifications to be received as you may have focus hours. And voilà! If you've got a specific working schedule, like not working on Wednesdays, or different working hours on Thursdays, Slack will handle this.

If the visual cue is enough for you and you don't want to be distracted by the notification sounds, you can disable them altogether. Slack also lets you decide whether or not to include a preview of the message in the notification, and if your sense of tidiness can't stand red badges on the Slack icon, you can also deactivate those. The button Show an Example will let you experience it directly as you configure it.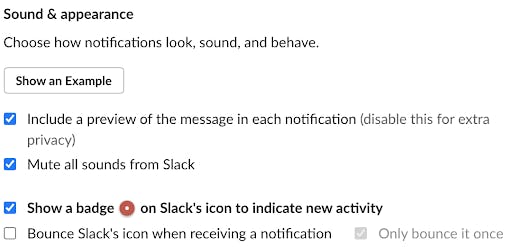 Last but not least, you may decide if you want to get email notifications in case you miss anything on the desktop; and if you want to get Slack mobile app notifications (at the very top and at the very bottom of this dashboard; see below).
The emergency fix to Slack notifications
Slack notification overload? Click your profile picture (top right corner), then select Pause notifications, and pick how long you want to snooze notifications for. Breathe in, breathe out. This will let you stop all Slack notifications from bothering you for the duration you selected.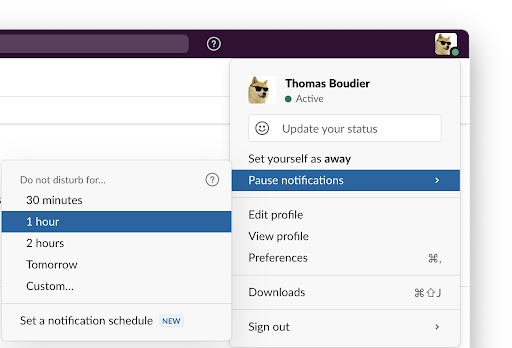 Is Slack overall ok, but the conversation in one particular channel getting overwhelming? Right-click it, and select Mute channel.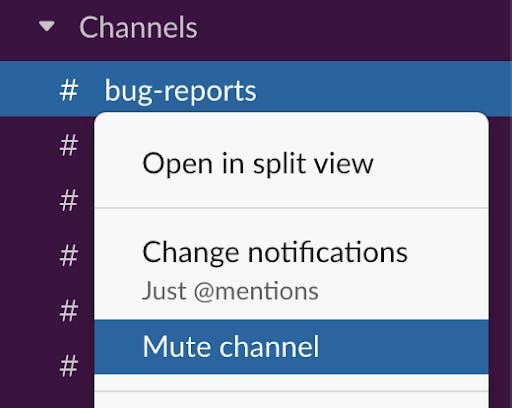 The temporary solution to Slack notifications
Whenever you update your status in Slack, you're given the option to check a box to pause all notifications. Convenient when you're in a meeting, on your lunch break, or need to enter focus mode.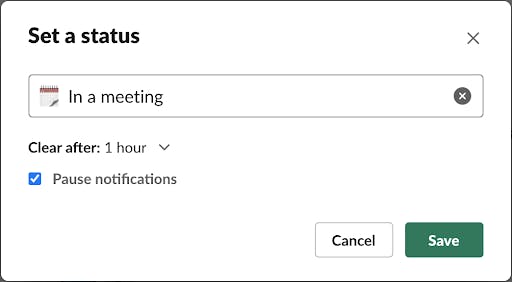 You'll sometimes notice your teammates have activated this when there's a tiny Z next to their online status bubble. It means they don't want to be distracted, but if you've got an emergency, you may bypass their status by clicking Notify anyway. This is no nuclear button, but it will feel very intrusive, so handle it with care; maybe discuss with your team beforehand examples of situations when you agree it's ok to resort to it.

Handling Slack mobile app notifications
Slack mobile app notifications are handled mostly from your phone notification centre, like for any other messaging app. However, you've also got a couple of options available in the app. The default behaviour if you're using both Slack mobile and Slack desktop is that notifications are the same, but they're sent on the desktop by default, and on mobile only if you're inactive on desktop.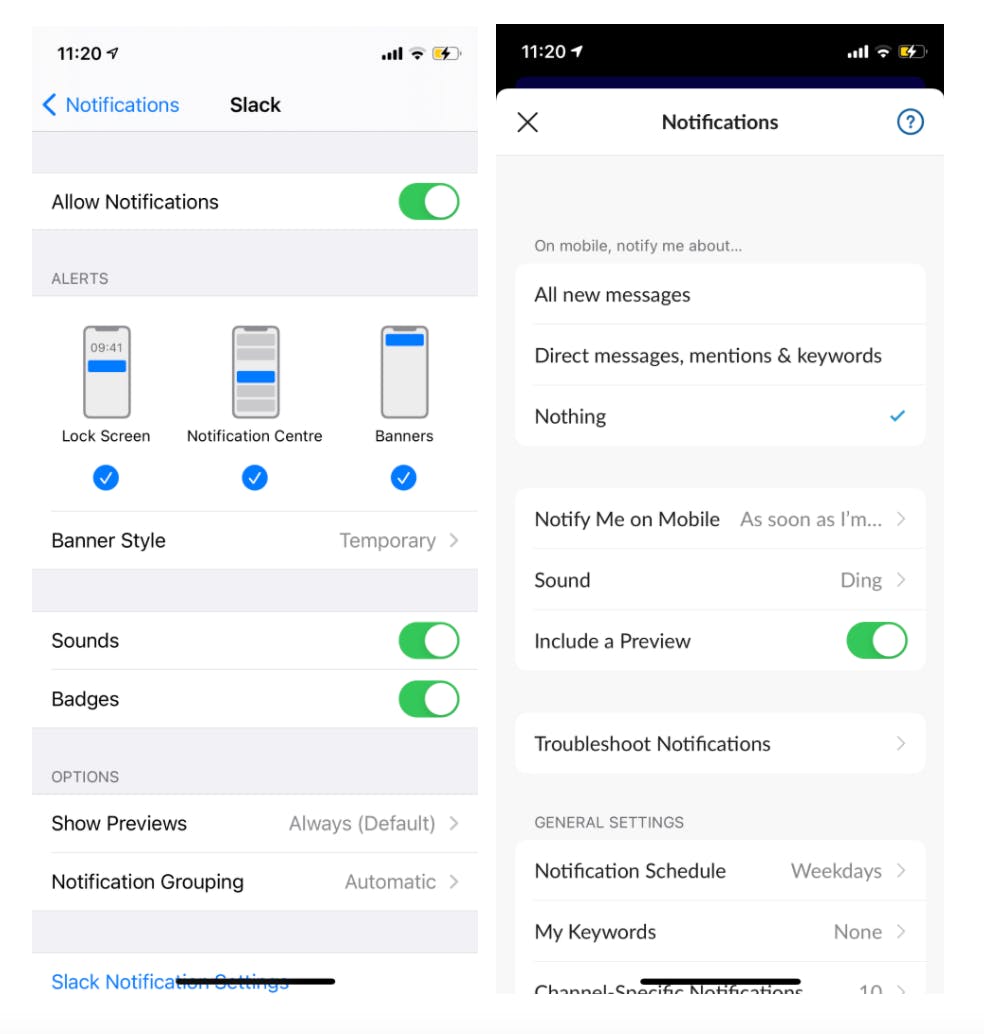 If you only ever want to think of Slack on your mobile when you want to, you may select you never want to be notified of anything. You're then able to open Slack mobile to send someone an update, but nobody will tap your shoulder.

Slack notifications across several Slack workspaces
There are two sides to the coin though: every time you join a new workspace, you may need to disable the sound notifications if they're not what you want, as well as needing to review all of the settings.
Setting Slack notifications the way you need is essential to working peacefully and calmly, and to bring harmony to your work/life balance, especially in these times of generalised remote work and work from home. You don't have to see work notifications next to personal messages for the barbecue you're organising over the weekend or the Zoom party getting ready with your nieces and nephews. You don't have to think about work outside office hours, and you can filter out messages to make sure you don't miss the most important pieces of information.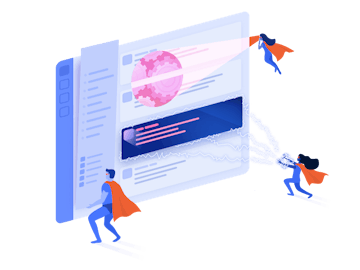 Curious about how to power up your Slack?
Promote best practices, set governance rules, and maybe relaunch everything? Reach out to our Slack certified consultants.
Find out more