---
Share this blog to your social media
Migrating from Jira Server to Data Center made easy with Project Configurator
If you've decided to upgrade from Jira Server to Data Center, then you probably want advice on how to migrate as quickly and seamlessly as possible. 
How to migrate Jira Server to Data Center
There are two main options for migrating Jira from Server to Data Center:
"In-place, where a single Server application is deployed as a multi-node Data Center application; or
Consolidated, where multiple Server applications running on isolated nodes (for example, different instances of Jira being used by different teams) are deployed as a single multi-node Data Center application." (source - Atlassian)
Migrate a single Server application 
If you are deploying one Jira Server instance to a new Jira Data Center instance, this process is relatively simple and is detailed in this guide by Atlassian.
Consolidate multiple Jira Server instances into a single Jira Data Center application
Unlike moving data from a Server instance to a blank Data Center instance, when consolidating multiple Server instances, the process can become more complicated. 
As you consolidate each separate source Server you add more and more data and configurations to the Data Center instance. When subsequent Servers are migrated, they will need to merge seamlessly with the existing data and configuration in the Data Center instance. Given the increasing complexity with each migration, there is a higher chance of the data and configurations clashing and causing errors.
Save time, reduce risk, and avoid complications using Project Configurator to migrate Data Center
1. Save time 
If you are doing something more than once, you could ask yourself: "can this be automated in some way?" One such example is the process of migrating Jira project data and configurations between Jira instances. You could do this manually by recreating the projects in the new Data Center instance, but your time is more valuable than that. 
To avoid this tedious task, Project Configurator for Jira allows you to simply select the projects you want to move, export them from your source Server instance, before importing them into your new Data Center instance. Of course, there is a bit more to it than that but take it from us, and our current users, it's a lot easier than doing it manually! 
Atlassian Marketplace reviewer
"As always Adaptavist came up with this great product. This really helps to migrate the Config or Config and data and it's robust. Definitely the best tool for Project export and import available in the Atlassian Marketplace."
Try Project Configurator now!
2. Reduce the chance of manual human errors 
When performing migrations manually there's a risk of human error occurring while reproducing your projects in the Data Center instance. During a consolidation you will be moving multiple Server instances, with some potentially containing a large number of projects. This increases the chances for errors to creep in. 
By standardising the export and import process using Project Configurator you can drastically reduce the chance of this. Project Configurator does this by replicating your projects and their configuration from your Server instance to the new Data Center instance. 
3. Avoid importing harmful changes 
Prior to importing for real, Project Configurator allows you to run a Simulated Import to help find any potential clashes when merging one Server's data and configuration into another instance. If any clashes or errors arise, you can resolve these before executing the import for real. Without this, you risk making potentially harmful changes to your Data Center instance, that could be complex and time consuming to reverse.
See below for an example of a Simulated Import report, showing you the impact of your proposed changes on your Data Center instance. From here you can see what objects will be modified or newly created during the migration.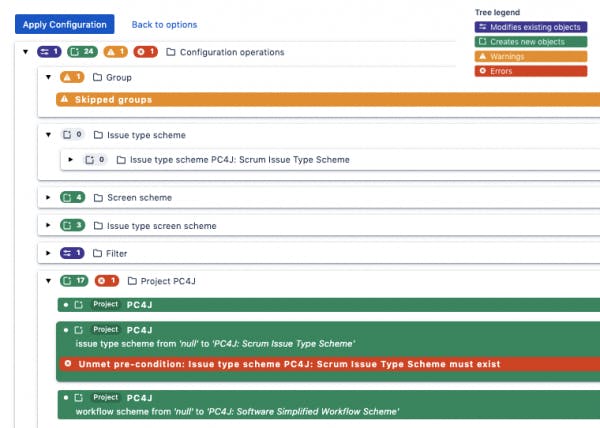 Fig: Project Configurator's Simulated Import report.
The ongoing benefits of using Project Configurator
Streamline your Jira Data Center Staging to Production process
Given the larger scale of Jira Data Center instances, the frequency and volume of configuration changes also increases. Therefore making it vital that you test these changes in a Test or Staging environment before promoting these to your live Production instance. 
Project Configurator can be used to streamline this process by exporting any configuration changes from your Test/Staging environments before easily importing them into Production. Thereby saving you from duplicated manual effort, wasted time, and potentially increased manual human errors.

Start migrating to Data Center today
To start utilising Project Configurator for your Jira Data Center consolidation, head over to the Atlassian Marketplace today. Make sure to install the correct version of Project Configurator for your hosting. Note you will only need a paid license for importing to your Production instance.
Try Project Configurator now!