Extend Jira time tracking reports for more flexible project progress calculation
Leaders and stakeholders always need to be informed about the future trajectory of a project's development to manage internal and external expectations. To ensure alignment across the board, project managers everywhere rely on a single source like Jira to update project information in one place. 
To help you track and analyse your team's work, Jira captures project information (i.e. issue data) and converts them into a range of reports, such as burndown charts or sprint velocity.
While Jira reports provide valuable insights into your team's work, it's not intuitive enough to give you quick status updates on various aspects of a project. It's even more challenging if you need to customise the data for different stakeholders. 
This blog will show you how to extend Jira's time reports for more flexible reporting needs, using Hierarchy for Jira.
How to use time tracking in Jira
Here's a quick refresher for those unfamiliar with Jira's time tracking and reports.
Business case: estimate team's capacity and measure velocity with time estimates
When planning their backlog, team members will need to estimate how long it should take them to complete each issue (e.g. in hours or days). This value will be stored as Original estimate on the issue field.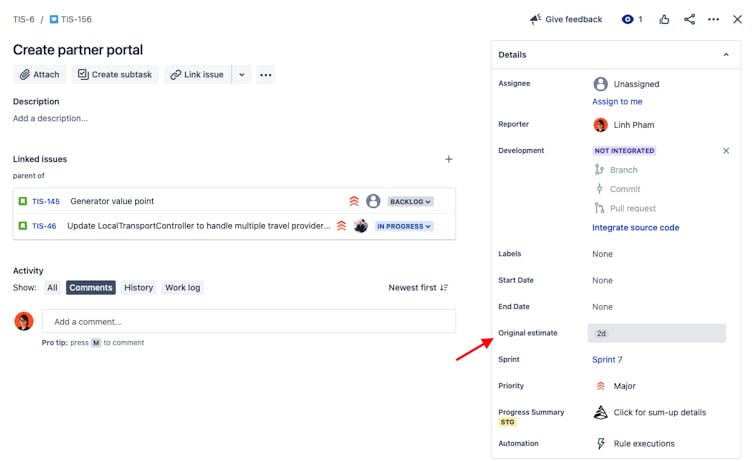 Once all issues have been estimated, Jira will automatically calculate the total time committed to each sprint and show the value on the backlog view. This indicates the team's capacity.

Measuring your team's capacity is crucial to help you schedule the right number of tasks that fit into a work week. Jira will then calculate sprint capacity by taking the weekly capacity and multiplying it by the number of weeks per iteration.

Over time, the capacity reports will also lead to a better understanding of your team's velocity. It indicates the team's cadence of completing X amount of work, which you can then use to set a rough target on product achievement timelines, growth estimations, marketing campaigns, sales projections and opportunities, and more.

To ensure consistent and reliable velocity, you should compare the estimated amount with the actual time spent by the team.

Jira provides a simple time tracking function that allows users to log hours as they start work on the issue.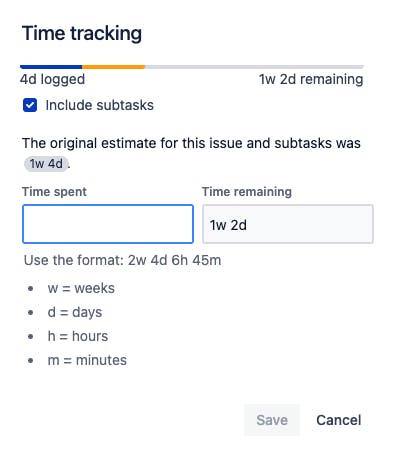 In the progress bar, you'll see the amount of time logged against the issue increases every time someone inputs a value to the Time spent field. Jira will subtract the total time logged from the Original estimate and show the Time remaining accordingly.

Based on these time tracking fields, various reports become available for you to monitor the team's capacity and more. 
Business case: track the actual progress of work and project the completion date
Jira's time tracking report is also useful to forecast when an issue will be complete.

Naturally, the time you've originally estimated is subjective and doesn't show the real progress of work. That's why Jira lets users adjust the Time remaining field to reflect the actual amount of time they believe is required to solve the issue.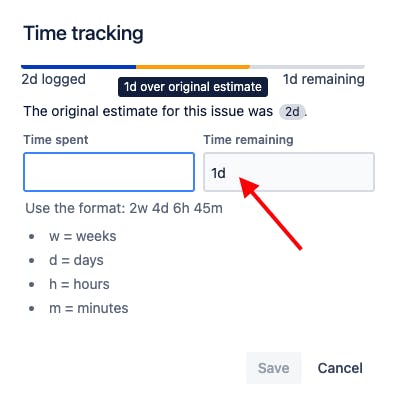 The screenshot above shows that the issue's original estimate was two days.

However, your team realises that it would take another day to complete, so they add one more day to the Time remaining field. As a result, the progress bar will show that the team has spent a day longer than originally estimated.

With this information, you can report the expected time to complete the work to stakeholders. And in the sprint burndown report, you can also monitor if certain issues have expanded in scope.

However, while tracking down an individual issue or even sprint progress is possible, seeing the big-picture view of the entire project isn't that straightforward. Jira doesn't have a way to consolidate the time tracking information for complex reporting needs, for instance, if you want to see the cumulative progress of multiple projects.

That's where Hierarchy for Jira comes in!

Gain better project insights through Jira time reports with Hierarchy for Jira

Hierarchy for Jira lets you visualise all your work in a nested tree view so that you can track and monitor progress at any level. It even supports custom parent-child hierarchical relationships to help you structure your project in your preferred order.

Thanks to the flexible JQL function, you can define any scope of the filter, track its progress, and share that information with your stakeholders. Using the app, you can measure both the project completion rate and the team's worklog.

For instance, you can filter and track all initiatives within your project:

Or report on epic progress across multiple projects:

Like Jira's time tracking logic, Hierarchy for Jira helps you measure the team's total estimates, track work logs, and monitor progress.

The app takes it to the next level with the roll-up feature. It aggregates the total estimates, as well as time spent from the smallest sub-task up to entire projects or filters, and shows the completion percentage (%) accordingly. So you can track the team's progress more flexibly beyond Jira's built-in reports.

No matter which project structure or issue level, you can generate custom reports to communicate the progress to respective stakeholders.

Whether you want to measure the estimation accuracy or track progress based on remaining time, simply select the respective time tracking options: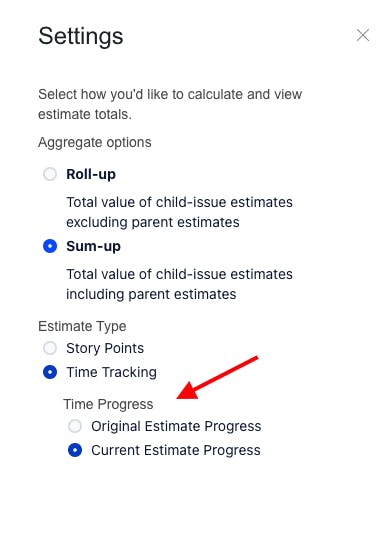 Using time tracking against the Original estimate

In this example, the epic TIS-114 has a cumulative Original Estimate value of 1 day 6 hours (1d 6h), and the rolled-up time logged of 7 hours (7h). The current estimate is still on track, and the team is 50% away from completing the epic.

Using time tracking against the Current estimate
Using the same scenario, but now the team has added 1 day extra to the issue TIS-184. You can see the total of 2 days 6 hours (2d 6h) is now reflected in the Current Estimate column, and the actual progress of the epic TIS-114 is now 32% till completion.

You'll also get a quick overview of this roll-up report directly from the issue view. This is useful to quickly share details on a specific parent epic or initiative.

From the issue view, simply navigate to the Progress Summary field: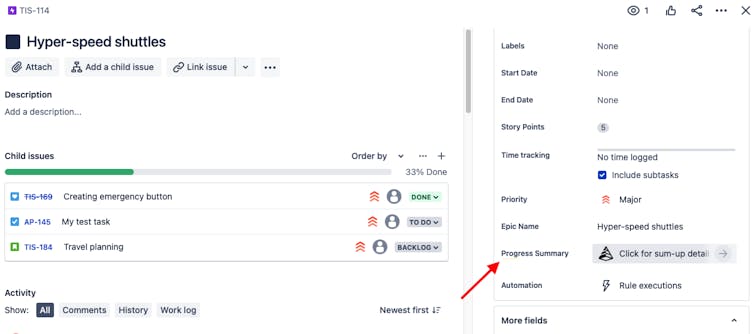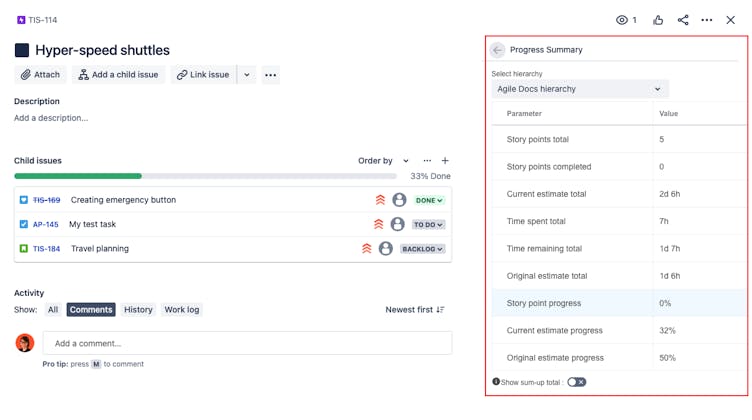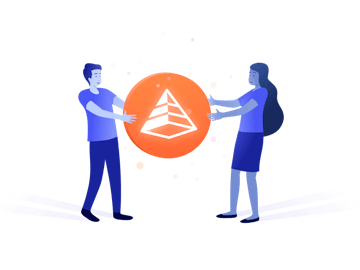 Start customising your Jira today
Hierarchy for Jira helps you customise Jira to reflect any project structure, making it easy to plan and monitor work in ways that fit your team's needs. If you haven't already, get your 30-day free trial now!
Try now