Get ready to visualise your Jira backlog in a nested tree view!
Your custom Jira hierarchies just got better. Our already-powerful Hierarchy for Jira app has been upgraded! Users can now benefit from a customisable hierarchy for improved Jira project management, more accurate reporting, and enterprise-grade performance and security - all with the support of Forge, the Atlassian-hosted cloud platform.

Here's what you need to know to about the latest update to maximise your Jira hierarchy experience:
How Hierarchy for Jira can make my (work)life easier
Whether you're a Jira admin, project manager, or simply a user who wants to get more out of Jira, Hierarchy for Jira can help. Its functionality deliveries myriad benefits, including the following:
Structure Jira to work the way you want
Building custom hierarchies is even more flexible and easy with the newest version of Hierarchy for Jira. You can now extend the parent-child relationship between any issue levels simply by linking them together.
Tip: Configure any link type to establish the custom hierarchy. If you already have an existing linkage you want to continue using in the Hierarchy for Jira app, simply select it from the Hierarchy Settings menu.
Learn how to create custom hierarchies
If you're upgrading from the old app version (1.2.90-AC), your 'Agile Docs Parent' link type will remain, although not required. It's possible to rename this link type if you prefer.

A more flexible link visualisation makes it easier to structure the tree view depending on your project needs. Whether it's bug tracking or dependency management, you can define the link relationship and display all your issues in a nested tree view.

To enable you to fully utilise the customisability of the app,  you can save different custom views and switch between them in just a few clicks. Saved Views maintains the columns in your tree view, such as 'Assignee', 'Status', and 'Story Point Progress' and makes project tracking and reporting a breeze.

With easy access to customisable views tailored to your specific project requirements, you and your teams can enjoy enhanced efficiency and seamless collaboration.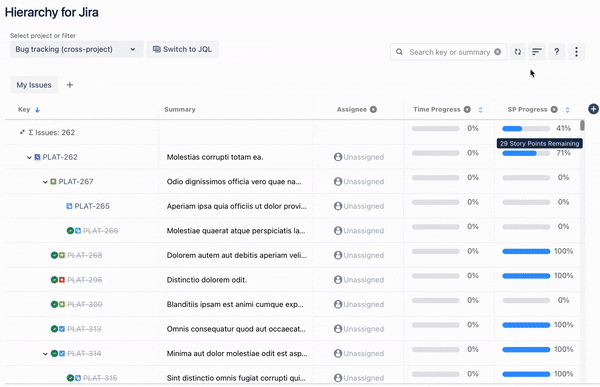 Filter issues to gather data you need with JQL
Explore new powerful ways of tracking issues with JQL. Besides the options to get issues from projects, releases, or saved filters, you'll enjoy the embedded JQL search composer and Quick Filters to load new issues into the hierarchy table.
From there, you can now add additional layers of JQL filtering to narrow down the dataset and see issues that fit specific criteria. This allows you to create a single hierarchy view and leverage these Quick Filters to find issues relevant to specific teams, meetings, stakeholders, etc. No need to create separate Saved Filters to load new issues in the app as before.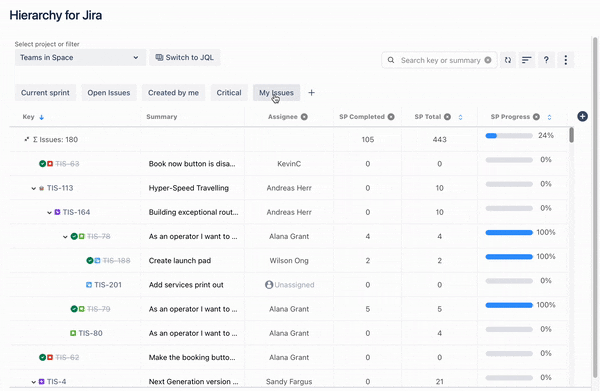 Give everyone visibility of a project's process in real-time
Don't rely on Jira's native reporting functionality to give you the full picture of how your work is tracking. Hierarchy for Jira automatically rolls up story points and time estimates to give you a more precise overview of progress.

The issue fields as well as roll-up fields can easily be customised to your need, thanks to the improved column navigation. With this, you can view reports on both story points completion and time estimates directly in the issue tree view.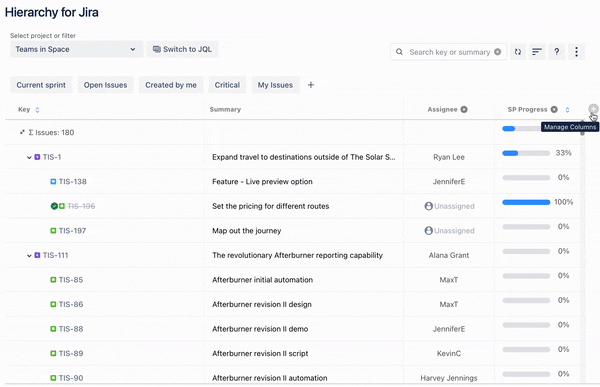 Furthermore, you can adjust the progress calculation metrics to reflect your actual Jira practices.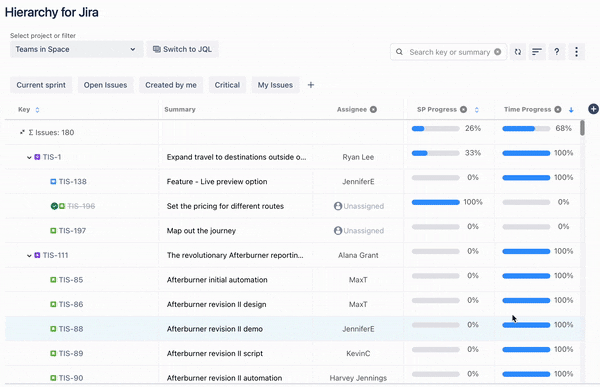 You can also edit issue details directly from Hierarchy for Jira. This makes it easier to share work updates quickly and keep project information up-to-date.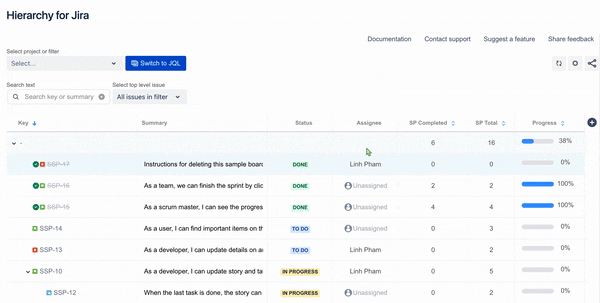 What does moving to Forge mean for users?
Hierarchy for Jira users can now experience Enterprise-grade performance and security assurance at the same level as Atlassian Cloud products. That's because Hierarchy for Jira is built on Forge, an Atlassian-hosted cloud platform with high levels of security and performance. No matter how big your business, Hierarchy for Jira will be fast, stable and ready to grow with you.

Users will also enjoy the app's refined user interface, designed to elevate the existing Jira experience and accommodate different project visualisation needs.

To get the latest version of Hierarchy for Jira, check for new update availability from the 'Manage Apps' console in Jira. Or ask your admin to update for you. 
Guide to Forge version updaty
If you've got an idea or feature request for Hierarchy for Jira, we'd love to hear it!
We'd love to hear if you've got an idea or feature request for Hierarchy for Jira. Click the button below to let us know how we can improve!
Submit feedback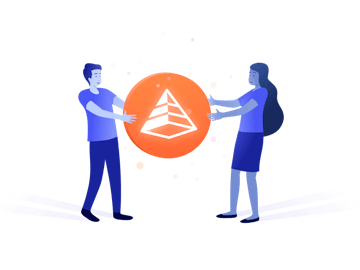 Haven't tried Hierarchy for Jira?
You're minutes away from improved project management and Jira visualisation! Try it now for free!
Try it now for free!