Learn all about how to rename Slack channels and workspaces in this Slack guide as part of our Simply Slack series.
Hello Slack friends, and welcome to the latest edition of Simply Slack, our continuing series for Slack newbies and veterans alike, where we're talking all things Slack.
As part of this series, we're taking an in-depth look at the different aspects of channels in Slack—what they are, what we use them for, and how you can customise them to reflect your team's best practices and working patterns.
This edition will give you a quick, easy guide on how to rename a Slack channel. We'll also take a deeper dive into Slack workspaces and show you how to rename those too.
So grab a coffee, and let's get started.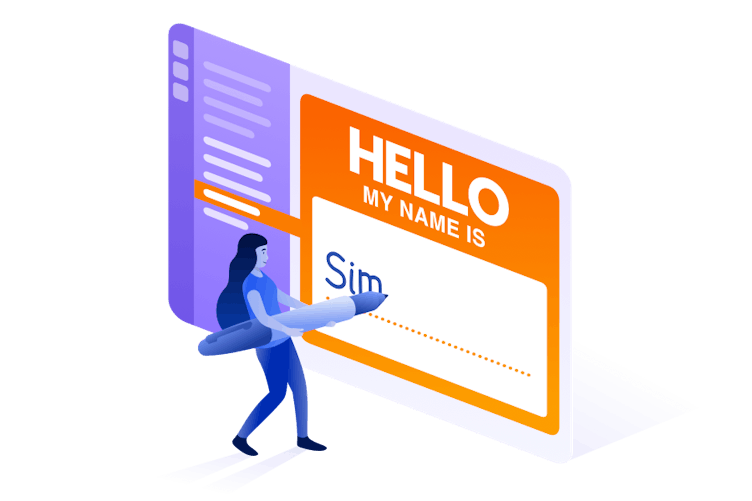 How to rename a Slack channel
First things first, if you're new to Slack channels, we definitely recommend checking out our previous blog, where we explain the different types of channels available within Slack, as well as use cases for each.
Now that you've got to grips with the basics, let's look at how to rename a channel in Slack.
Perhaps the channel's aim has changed since its initial creation, or the project you're collaborating on with other channel members has evolved. It may simply be you want to come up with a slicker name for your channel—whatever the reason, there will be instances where you'll need to rename a Slack channel.
It's important to note right from the start that only admin users or owners of the channel can rename existing Slack channels, so think carefully before naming your channel.
To rename a channel in Slack (if you're an admin user), follow these steps:
Open the channel you'd like to rename. 
Click the channel name at the top, with a down arrow to the right of it. 
Click the settings tab, hover over the channel name, and click on edit.  
Enter a new name, then click on 'Save changes'.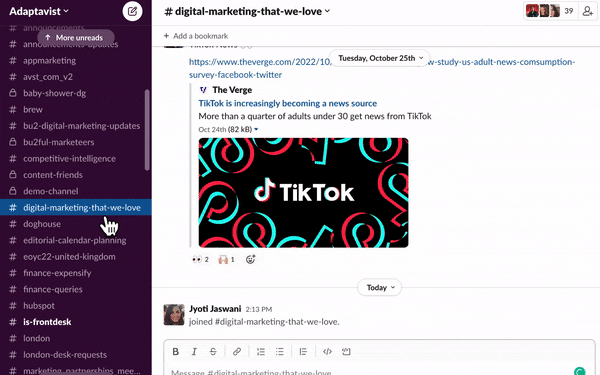 Voila! You've just renamed your Slack channel. Easy, right?

Simply Slack hack #1 
While we love Slack channels, the more you have, the more difficult it can be to find information.
It can also lead to 'channel fatigue' if you're not careful. Slack has reported that, on average, companies have 2 to 3 times as many channels as employees in the company—that's a lot of channels. Furthermore, Adaptavist's Digital Etiquette report 2022 revealed that 57% of the people we surveyed spend more than 30 minutes per day searching for the information they need to do their job.
Therefore, when naming and renaming your Slack channels, do so in a way that makes the channel's aims and objectives as clearly defined as possible. Try to avoid reusing names or having names that are too similar and ambiguous (i.e. project-channel 1, project-channel 2 etc.). This will save you time and boost your productivity by helping you avoid having wading through numerous different channels to find specific pieces of information and keep you from feeling overwhelmed by channel overload.

Check out our previous blog here for more tips on tidying up your Slack channels.

Now, let's look at workspaces.
What is a Slack workspace?
So first things first, what is a Slack workspace?

Our friends at Slack define workspace as:

"A Slack workspace is made up of channels, where team members can communicate and work together. When you join a workspace, you'll create an account using your email address. You can use the same email address to join as many workspaces as you'd like, but you'll have separate Slack accounts for each one."

Slack displays the name of your workspace in menus and headings throughout the app. It will usually be (or include) your company's name (for example, adaptavist.slack.com).

Your workspace URL is the web address your members will use to access Slack.

Circling back to channels, you can only join Slack channels within a workspace you're a part of. If your company is on an Enterprise Grid subscription, it's highly likely you'll have multiple workspaces available to you. You'll need to first join the workspace before joining any of its channels.

Click here and sign in with your email address to see all the workspaces available to you.

Simply Slack hack #2

If you're a Jira user, reduce context-switching between Slack and Jira workspaces by consolidating the two using Workflow Steps for Jira.
Add to Slack here
How to rename a Slack workspace
Like almost everything in Slack, renaming your workspace is simple and can be done anytime. However, only workspace/org owners (and, in some instances, delegated admins) will be able to rename a slack workspace.

For users on a Free, Pro, Business+, or Enterprise Grid subscription, all you'll need to do is:
​​From your desktop, click on your workspace name in the top left.
Select your current workspace URL from the dropdown menu.
Enter a new workspace name or URL and hit 'Save'.
Alternatively, you can also rename your Slack workspace from your workspace settings in a web browser.

It's important to bear in mind that once you change your workspace URL, the old URL will become available for use by another group. Slack will automatically redirect the old address to the new one as long as no new groups claim the URL.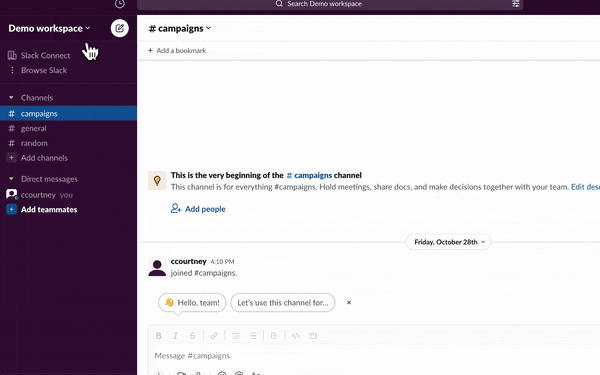 Visit our Slack apps pages for more information
And with that, another Slack guide bites the dust.

But don't stop there. Check out our complete how-to guide to Slack channels for more guidance on all things Slack channels.

Also, head to our Slack Apps page for all the latest Slack news, resources, and tools, including a behind-the-scenes look at the new features we've been developing for our spotlight app, Workflow Steps for Jira.

If you have any queries on Slack channels or any other questions on how to get the most out of your Slaxperience, fill in the form below, and one of our friendly in-house Slack experts would be happy to chat with you to understand your needs better.

Like communication, renaming Slack channels and workspaces doesn't need to be complicated. It can be simply, Slack!
Contact us