Agile is more than a set of processes or a box-ticking exercise to keep up with the competition – it's a state of mind. 
Despite what some consultants might tell you, transitioning to agile can't happen by following a cookie-cutter project plan. It requires an overhaul of your entire organisation – from its practices and tools to human interactions and even leadership style. In this five-part series, Heidi Araya, an Agile Transformation Consultant and Innovation Product Manager at Adaptavist, takes a deep-dive into what it takes to truly transform your approach.
An agile mindset: the missing piece
For the past ten years, I've been heavily involved in helping companies adopt and scale agile ways of working – from small start-ups embarking on rapid growth to 100-year-old organisations with over 200,000 employees around the world. But no matter their size or experience, there's one thing these businesses always have in common: when it comes to understanding what it would take to 'be agile', they're all a bit in the dark.
"An agile organisation never stops evolving."
Faced with the growing pressure of market, stakeholder, and investor demands, many businesses call in costly consultants who impose rigid frameworks on top of their existing structures. Worse still, some see 'agile' as a basic team-level process change and refuse outside help, shunning coaches, Scrum Masters, training, or any guiding vision of how their transition will work. And most companies see 'agile transformation' as a project with a start and an end when, in reality, an agile organisation never stops evolving.
Do these sound familiar?
If you've been trying to implement agile, but have the sinking feeling it's not going as well as it should be, chances are you fall into at least one of the following camps:
"We already do agile, don't we?"
You might have agile teams in place – using common Scrum or Kanban frameworks, or a mix of agile practices – but on closer inspection, your people don't have the tools or support they need to succeed. For example, the team might not have continuous integration and continuous deployment (CI/CD) set up, or any automation in place. Missing pieces like these inhibit your teams' ability to regularly deliver small pieces of value to customers.
"Agile is just at the team level."
Agile exists in a silo – restricted to software delivery teams with no understanding that it impacts all levels of an organisation. Engagement is typically low at the team level, as people have usually been told how to work and what to build. They have much less autonomy than they used to.
"We don't have support from leadership."
Leadership is not fully invested, refusing to support autonomous teams and viewing Scrum as a rote process to follow, rather than a dynamic holistic approach. They might even believe it doesn't need to involve customers or feedback at all, thinking, 'Our product managers have got this all figured out and know enough to build the right things.'
"We can't try new things out."
You have some agile practices in place, but your organisation's culture means you can't try out other helpful practices such as behaviour or test-driven development. This curtails any real change in the way you work – change that could vastly improve culture, quality, delivery – and the wider transformation.
Shining a light
The problem underpinning all of these barriers is that organisations, often specifically leadership, are missing a fundamental piece of the puzzle. The ultimate goal of agile is to embrace learning or become, as Robert Kegan coined it in his book An Everyone Culture, a 'deliberately developmental organisation'.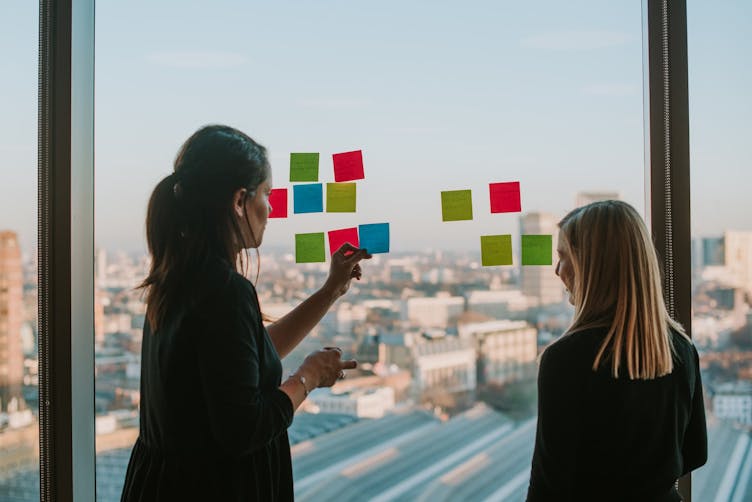 In order for agile to truly permeate your organisation, addressing processes and tools won't be enough. You must analyse and adapt your culture, leadership, and people too.
As Andy Fleming writes in the Harvard Business Review, 'It's one thing to be relentless about continuously improving the processes by which work gets done; it is quite another – and every bit as necessary – to be relentless about continuously improving the people who do the work.' Working with experts and coaches who understand this is the most important step one can take on the evolutionary path toward a healthy, sustainable, agility-embracing organisation.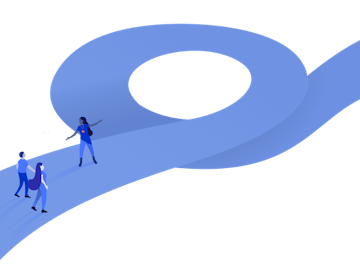 Embrace an agile mindset
Want to bring individuals onboard and help them navigate the challenging waters of agile transformation? Agile Mentoring from Adaptavist provides expert guidance for your people from the outset, helping deliver greater value to your customers.
Find out more
Four facets to help you find your way
One of the biggest challenges when it comes to helping organisations transition is lack of buy-in from leadership. And there's a big reason why. C-suiters usually have a very narrow view of what agile transformation is, based on what consultants tell them. Oftentimes, they see 'agile' as the goal or solution itself. What's needed first is a greater understanding about what problems 'agile' will solve for their business, followed by the creation of custom goals unique to their organisation.
Furthermore, executives often have very limited hands-on experience of how agile works in practice. They just don't know how impactful it can be at all levels of an organisation, or even what Scrum Masters and Agile Coaches do and how they can help the organisation succeed.
To help bridge these gaps, communicate the key aspects of agile transformation more effectively, and avoid the pitfalls that cause so many transformations to fail, I came up with the Four facets of agility: people and leadership, complexity thinking, technical and cultural practices, and tools and automation.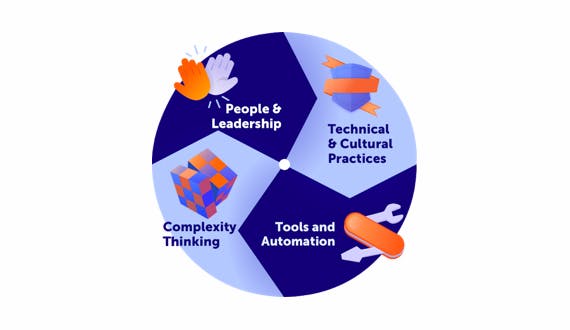 This approach has helped a number of organisations to reframe their thinking and find out where they need to invest time, money, and staff. For example, maybe they've got all the tools at their disposal, but their teams need coaching to work more cohesively together. Or maybe the right practices are all in place, but leadership still wants fixed dates and plans for the next year.
Like any other, this model isn't perfect – it doesn't cover every single aspect of an agile transition, and it's not intended to exclude other patterns or practices. But the four facets have resonated with our customers and consultants alike, and might help put things into perspective for your organisation too. Over the following four blogs, I'll explore each facet in turn, giving examples of how we approach them, and explain how they provide a framework for action as well as transformation success.
Ready to shift your state of mind?
Whether you're on your way to agile excellence or dipping your toes in the waters of transition, Adaptavist is here to help. Leave your email below to receive the next posts in this five-part series, and other thought-provoking content on the topic of agile transformation. Be sure to check out Part two in the series: Complexity thinking, simply put.
About the author
Heidi Araya is an Agile Transformation Consultant and Innovation Product Manager at Adaptavist. She partners with companies to help solve agile, organisation design, and strategy execution challenges. A specialist in digital transformation for over 20 years, she's no stranger to leading agile transformations in a wide range of global and distributed companies.