Workflow Steps for Jira 
Available for Jira Server, Data Center and Cloud
Workflow Steps for Jira Pricing
Explore our pricing tiers and read our frequently asked questions below for answers related to upgrading plans, billing and more.
By clicking this button and enabling this product, you understand and agree to our EULA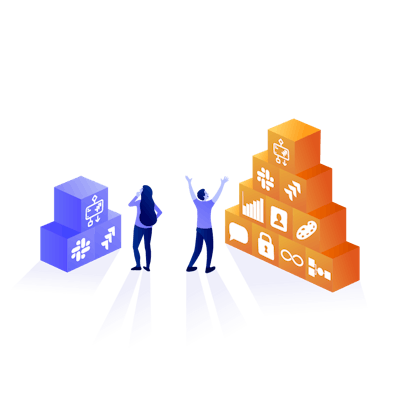 Workflow Steps for Jira Pricing
Choose from one of our flexible pricing options to suit your organisation's needs.
Free Forever
1 workflow in a single workspace
(unlimited users)
Add to Slack
Small Team
2 or more workflows in a single workspace
(max. 150 users)
Large Team
2 or more workflows in a single workspace
(over 150 users)
* Try the app now! All new users will be initially set up with a free forever account with 1 workflow, there's no credit card needed and you can update at any time
BY CLICKING THESE BUTTONS AND ENABLING THIS PRODUCT, YOU UNDERSTAND AND AGREE TO OUR EULA
| Features | Free Forever | Small Team | Large Team |
| --- | --- | --- | --- |
| Free forever, limited to 1 workflow | | | |
| Workflows in a single Slack workspace | 1 | Unlimited | Unlimited |
| Users in your Slack workspace | Unlimited | Up to 150 | Over 150 |
| Workflow templates | | | |
| Usage statistics and workflow activity dashboard | | | |
| Workflow design assistance | - | - | - |
| Payment by invoice | - | - | - |
| Security and compliance audit support | - | - | - |
| Vendor onboarding support | - | - | - |
| Dedicated customer success manager | - | - | - |
| Product support | Ad hoc | Standard | Standard |
| SLA (best endeavours) | n/a | 24hr response | 24hr response |
Frequently Asked Questions
Slack workflows are automated multi-steps tasks or processes that are developed in the Slack Workflow Builder. Slack workflows are presented as a linear sequence of consecutive steps, and they can be made of any numbers of steps.

Users can view workflows that they have created/collaborated on, while the Slack administrator can see all workflows in a workspace. For the purposes of billing for our app, we only care about workflows that contain our app steps. We don't charge for individual workflow steps. We charge for workflows using our steps.

Check out your Usage Statistics and Workflow Activity dashboard in the Home tab of the app to view the number of workflows that are using our steps.

A Slack workspace is a single instance of Slack where people can work together, connect and find the information they need. Your Slack workspace would typically present itself as your-company-name.slack.com, but you may also for example have access to community.slack.com.

The size of the Slack workspace is the total number of users with an active Slack account in that workspace (everyone you are able to chat with from within the workspace). When determining the user count on your Slack workspace, we don't include: bots, deleted users, shared channel users, and single/multi channel guests.

This is determined by the total number of users in your Slack workspace. If it's up to 150 users you qualify for the Small Team tier and if it's over 150 users you qualify for the Large Team tier.

For all companies that have interacted with our app, they will be sent a notification informing them that they're entering a grace period of 30 days to transition into a paid plan. During the grace period, please check the Usage Statistics and Workflow Activity dashboard to see how much potential there is for using the app. This will help you decide on the appropriate paid plan for you.

We advise you unpublish the workflow in case you would like to reactivate it at a later date.
Alternatively, you can delete it completely. You can do this by going to Workflow Builder under your Slack instance and then select tools. In the 'Your Workflows' tab click on the ellipsis on the far right corresponding to a specific workflow, and then select either 'Unpublish' or 'Delete'.

Users can view workflows that they have created/collaborated with, while the Slack administrator can see all workflows. Check out the Usage Statistics and Workflow Activity dashboard in the Home tab of the app to see information on workflows that have Workflow steps for Jira, app steps.

There are 2 reasons: 

If you are using more than 1 workflows, 
If your company expands beyond 150 users in your workspace and you no longer qualify for the small team price. Alternatively, if you're currently in the large team tier and you reduce the number of users to below 150. All price changes will be reflected in the next billing cycle

That's it, we've tried to make our pricing very simple so you know exactly how much you'll pay.

It's no one's job to create Jira issues, but we've noticed that if there are more workflow authors in a workspace that take care of their own specific needs, this often leads to a massive app usage within a given workspace. That's why we've decided to adopt a simplified pricing structure that reflects the value that larger organizations can realise from using the app. We've found that with our existing customers, larger workspaces get exponential use of our app hence the pricing structure.

You have access to an extensive range of dedicated support as a standard, including customisable workflow templates, blogs and dedicated YouTube videos to help you get the most out of the app. You can even reach out to us by opening a ticket on our support portal, or send us an email. We're always eager to help you to get the most of your workflows, and offer bespoke advice to fit your use cases.

We only accept US Dollars.

You can make payments using either a debit or credit card. Payments are handled by Stripe.

Yes, providing they are authorised to make card payments on your organization's behalf.

Yes, you'll receive a payment receipt via email.

You'll be notified that your payment has failed and your license won't be valid. If a renewal payment fails, you will receive an email notifying you of this, including a link to web page for updating your payment method.

You can terminate at any time with notice to Adaptavist, but you will not be entitled to any credits or refunds as a result of convenience termination for prepaid but unused Software. Please refer to our EULA for more details.
New Dashboards - a window to measure the value you are getting from your workflows
No need to guess how you're using Workflow Steps for Jira. With our new Usage Stats & Workflow Activity dashboards you have instant access to productivity insights, demonstrating the value it brings to you and your team.