2021: State of the Atlassian Ecosystem Report
Annual survey of 1000+ users of Atlassian tools and services.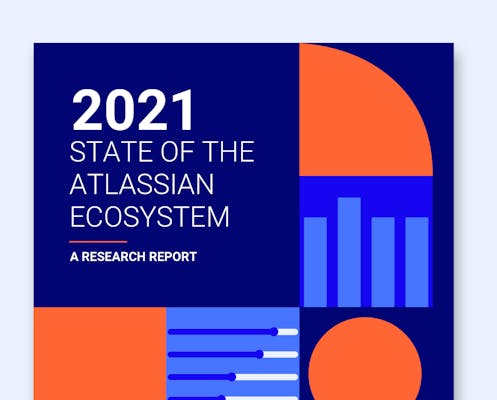 What does the future hold for the Atlassian ecosystem?
Building on our 2020 findings, our 2021 report explores the current and future state of play for Atlassian customers, including how they are using, deploying, and integrating their Atlassian tools and services.
This year's report also examines how key transformational themes — from DevOps to ITSM/ESM, automation to agile at scale — are shaping the future ecosystem.
Atlassian adoption is on the rise

Our research shows overall usage of Atlassian is increasing across the board. Against a backdrop of decreasing IT spend globally, Jira Software, Confluence, Trello, OpsGenie, Atlassian Access, and Jira Align have all experienced a healthy uptick in usage.

Atlassian extends far beyond IT teams

Atlassian's focus on broadening its appeal to all teams is paying off, with our research revealing a significant increase in adoption among non-technical teams, including engineering (up 18%), operations (up 7%), and customer service (up 15%).

Adoption of Atlassian Cloud is steadily increasing year on year

Atlassian Cloud deployment is on the up with an overall increase of 6% since 2020. Though Server continues to represent the majority of deployments among respondents, with 72% of respondents still opting for this deployment model. Top concerns in moving to Cloud include customisation, app integration, cost and feature functionality.

Atlassian automation is in high demand

Atlassian's increasing focus on addressing customers' automation needs is paying off. Our research reveals 73% of respondents want more automation capabilities across the ecosystem — down slightly from the 78% recorded last year.

Agile adoption heightens but barriers remain in scaling efforts

82% of respondents have embraced agile ways of working. The biggest barriers to achieving agile at scale include other priorities (40% of respondents), current method working fine (40% of respondents) and unclear ROI (26% of respondents). 

Buy-in for DevOps as a strategy is increasing

Our research reveals 54% of organisations have implemented a DevOps strategy — up from 48% in 2020. The biggest drivers to DevOps are: automating manual workflows (81% of respondents), faster development cycles (76% of respondents) and better coordination across teams (60% of respondents).

Greater need for efficiency is driving ITSM/ESM improvements

The top two drivers for making changes to ITSM/ESM environments are: automating manual processes (64% of respondents)  and increasing productivity (56% of respondents). With 46% of respondents citing the ability to integrate as the most important factor for choosing ITSM/ESM solutions.