State of the Atlassian Ecosystem Report 2020
We surveyed 700+ global professionals to explore how the Atlassian ecosystem is being leveraged across different teams and organisations.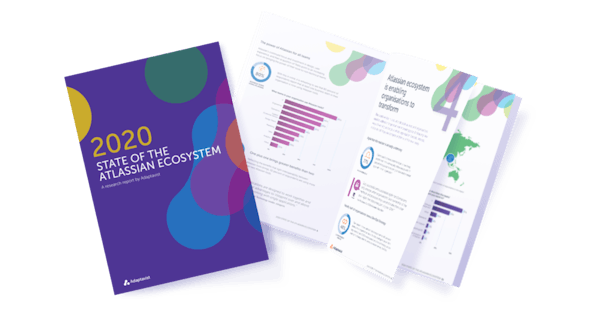 How does the Atlassian ecosystem support modern organisations?
Our findings reveal a willingness and desire to embrace technological change and boost agility across respondents' organisations.  Where once Atlassian tools were largely the domain of development teams we now see adoption expanding across every aspect of modern business.
""It is evident that the Atlassian ecosystem is in good health - with a wealth of rich functionality, integrations, and deployment models available for organisations of any shape or size. ...as businesses continue to transform, embrace agility and adopt more sophisticated ways of collaborating - it will be fascinating to see how these findings evolve in the future.""
Simon Haighton-Williams
CEO, Adaptavist
Key takeaways from the report
Atlassian tools are supporting every team and need

The use of Atlassian tools is expanding beyond the technical community - with 80 percent of workers saying at least one business team in their organisation uses Atlassian tools, and 92 percent of workers using at least two Atlassian tools.

Atlassian deployment: there's no one-size-fits-all solution

Organisations are adopting a variety of deployment solutions to meet different business needs - the majority still use a Server deployment model (52 percent), 19 percent use Atlassian Cloud (SaaS), 11 percent use Data Center, and 9 percent use a hybrid hosting model.

Atlassian users crave more automation

Despite having access to an abundance of automation tools and capabilities, 78 percent of workers still want more automation capabilities across their Atlassian stack, and 96 percent believe automation will increase productivity.

Atlassian ecosystem is enabling organisations to transform

Agile and DevOps are now firmly established in the vast majority of businesses with 77 percent of respondents reporting to have implemented Agile within their organisation. And, 48 percent already having a DevOps strategy in place.
Sign-up to receive the report today
The full State of Atlassian Ecosystem report