Digital Etiquette Study
A study of 2800+ global workers to explore current trends and attitudes towards digital communication in a COVID-19 world.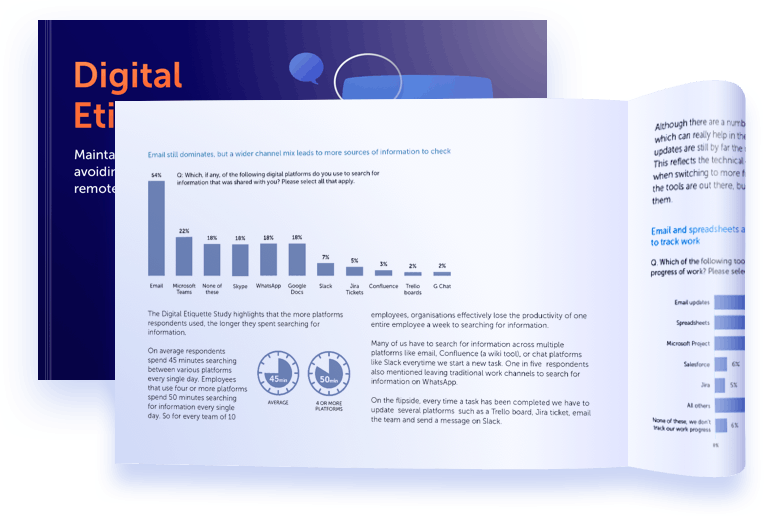 What are the latest trends and challenges of digital communication for remote workers? The sudden shift to remote work raises many previously unanswered questions about digital communication and how we behave when working online.
Are workers more productive from home? Has communication anxiety increased? Are we trained on how to use digital channels effectively? Our Digital Etiquette study examines the technical, emotional, and practical benefits and challenges of digital communication.
"Many people are now discovering what numerous software organisations have known for decades; that if you struggled to get work done when co-located, going remote only exacerbates and exaggerates the problems."
Jon Kern
Agile Transformation Consultant and co-author of the Agile Manifesto
Highlights from the study
Workers feel more productive from home

82 percent of respondents to our report say they are equally (47 percent), if not more productive (35 percent) working from home. Unsurprisingly, the same percentage want to work from home at least part time in the future.

Communication anxiety is a daily struggle for many

While over half of workers agreed that company-wide communication has improved, 38 percent of people admitted to worrying at least once a day about how they communicate online. 

Inefficient use of digital channels threatens productivity

On average workers spend 45 minutes a day searching for information they need to do their jobs. To make matters worse, less than half have been given any training on how to use digital channels efficiently—stifling productivity and innovation.

The need to be 'always-on' causes extra stress

For 42 percent of workers the need to be 'always on' was the greatest source of stress in work-related communication. On top of that, 26 percent find it hard to switch off from work due to their own temptations to keep working.
Sign-up to receive the report today
Sign-up to receive our report and discover:
How the digital communication landscape is changing
The greatest challenges with working remotely and communicating virtually
The best digital technologies and tools to support the virtual workplace
How widely people's opinions, beliefs, and behaviours vary when it comes to digital etiquette
Get the full Digital Etiquette report