Celebrating Black History Month at Adaptavist
Download a free colouring book highlighting Black pioneers in multiple industries!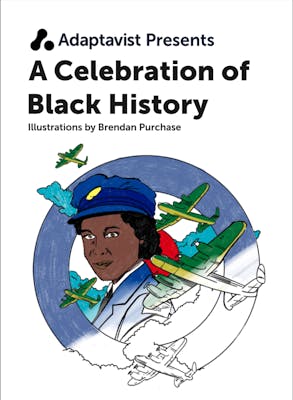 Learn about our Black History heroes
Black History Month recognises and honours the historical contribution, value, and achievements of people from African or Caribbean heritage. In the UK it is celebrated throughout October and in the US, February.
At Adaptavist, we believe Black history should be celebrated every day of the year, but, having an event like this in our calendar allows us to reflect and strengthen our commitment to equality and to eliminating racial discrimination in all its forms.
Download our free Black History colouring book
In celebration of Black History Month, we're thrilled to share a colouring book we have created which features key figures and events throughout the history of the African diaspora.
Created by the exceptionally talented Brendan Purchase from Brew, it features original illustrations of significant figures such as Madam C.J. Walker, John Edmonstone, Katherine G. Johnson, and many others.
Download our Black history colouring book and enjoy learning about many of our Black history heroes.