After a year of huge growth at The Adaptavist Group, we were delighted to attend this year's Team event in full force, with experts from across our businesses sharing their insights, talking to Atlassian users from all corners of the globe, and taking home the latest and greatest news in all things Atlassian.
In this blog, we share some highlights, insights, and key takeaways from our time in Sin City.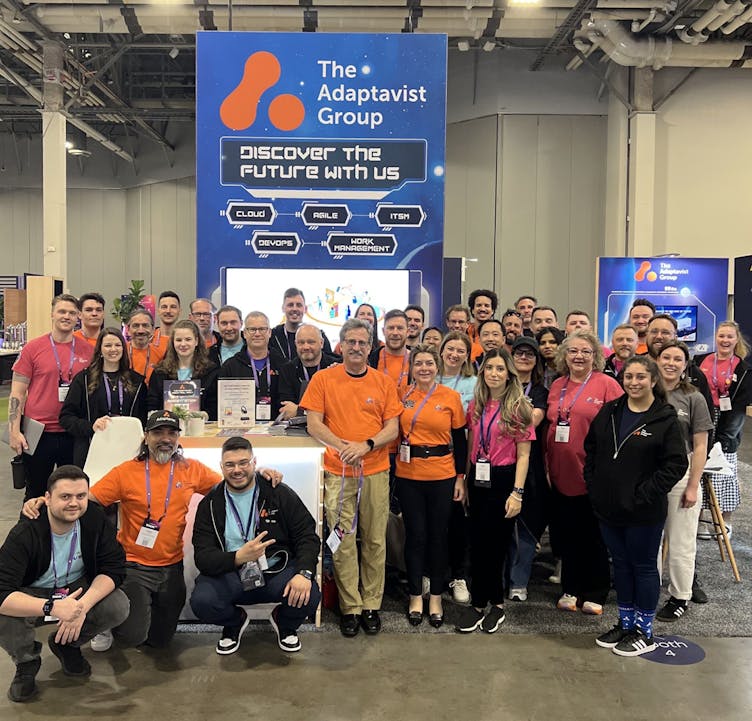 Cloud
The week began with a bang after it was announced at the partner keynote that The Adaptavist Group has been awarded Atlassian Partner of the Year 2022: Cloud Migration Services and Atlassian Partner of the Year 2022: Migration Ready Apps. 
These exciting mantles reflect our efforts across The Adaptavist Group team – including experts from newly acquired venITure – to leverage key learnings from historical customer migrations to develop both solution packages and a migration playbook that helps us streamline the migration process, create effective feedback loops, and improve customer experience across our cloud professional services. 
Continual investment in enhanced functionality for our Microscope product, meanwhile, enables users to glean essential insights to evaluate their migration requirements, identify new opportunities to make time and cost savings, and make better informed decisions about migration to Atlassian Cloud. 
This award also nods to our ScriptRunner team's pioneering work to launch Behaviours on Cloud, bringing conditional field customisation to the platform, and their continued efforts on integration with Jira Cloud Migration Assistant, making more feature configurations portable between Server and Cloud.
"We are deeply committed to helping customers by reducing complexity and providing innovative new products, services and support to achieve their business goals,"

"These awards serve to highlight not only our success, but our continuing focus on improving the customer experience and creating the tools that make their cloud investments truly deliver."
Simon Haighton-Williams,
CEO of The Adaptavist Group
In other cloud news, our teams were unanimous in their excitement around Atlassian Intelligence, which will see artificial intelligence capability integrated into Atlassian's suite of cloud products. 
Teams that sign up to the Atlassian Intelligence early access program can explore how to get more out of their tools by leveraging AI to write queries, manage permissions, summarise content, and work like a Jira Service Management support agent. Teams can also visualise and analyse data without knowing SQL, enhancing capability, streamlining work, and helping teams work more efficiently. 
IT service management
ITSM was another major focus for the event, and one of our highlights was Nimaworks' Effie Bagourdi joining customer Bank of Cyprus on Thursday for our Regulated CMDB: When Failure is Not an Option session. 
The session saw a valuable discussion about the ITSM journey at the bank, highlighting the significance of maintaining a well-maintained configuration management database (CMBD) as the single point of truth in a heavily regulated environment.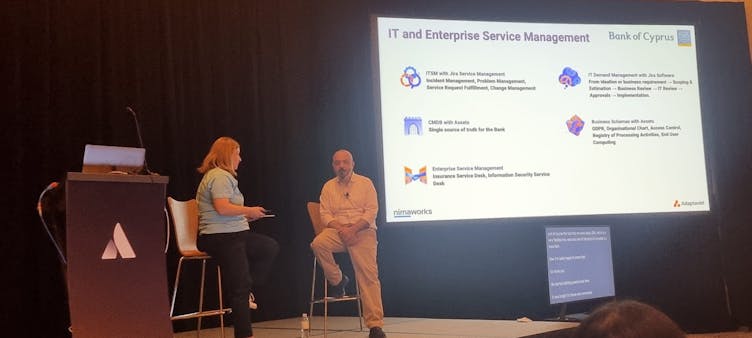 Effie, who is a part of the Nimaworks team which recently joined The Adaptavist Group, provided her thoughts on the event, saying, "We received some great questions around ITSM at the booth. It was clear that CMDB is one of the most difficult areas to tackle when it comes to ITSM strategy. Automation also emerged as a popular topic among customers, with lots of discussion around what can and cannot be automated in Jira Service Desk."
Effie further added, "Atlassian intelligence is also set to be an exciting development for businesses using Jira Service Management in the cloud, enabling teams to benefit from AI-powered virtual agent technology and deliver exceptional support to customers at scale."
In a digital experience session, Adaptavist's Phill Fox joined forces with Natalie Shaw from Nationwide Building Society to share their expertise on all things knowledge management, offering a compelling use case for Confluence and Jira Service Management as the ultimate knowledge management combination.
"Knowledge management is crucial to many organisations in delivering efficient and effective service delivery, but it is often an afterthought when implementing service management solutions", says Phill.
Agile
The event also brought to light some interesting observations around ways of working and business agility.
"This year's event was a great example of like-minded individuals coming together to share experiences, connect as humans, and discuss changes to Atlassian products and how to be ready for disruption with new ways of working,"
Tina Behers,
VP Enterprise Agility, Aligned Agility, part of The Adaptavist Group
"This year's theme of 'Impossible Alone' seemed to echo across participants' stories of the struggles during Covid and the challenges of coming back to the workplace – in person, remotely, and hybrid. The theme of most discussions centered around collaboration and adjusting former norms to new ways of working. Scott's recognition in the keynote that distributed work is here to stay, and Atlassian's commitment to that with playbooks to keep culture in place in a remote world brought quite a few nods and chatter across the session," Tina continues. 
Atlassian Intelligence is also set to open up doors for agile development teams, as Peter Kerrigan, Agile Transformation Consultant, explains:
"From an agile perspective, efficiency across the Atlassian Cloud suite of tools is being improved using AI. Teams can be more agile and invest their energy into meaningful work; simply use natural language to write your query and AI will translate it into JQL. More intelligent search in Confluence, meanwhile, allows users to find the information relevant to them more easily, making it easy to get work done."
ScriptRunner
As one of The Adaptavist Group's flagship product brands, the ScriptRunner team shared some of their game-changing recent innovations. During a talk on the Atlassian Marketplace Theater stage, Customer Product Success Advocate Bobby Bailey shared how it's now possible to conditionally control, show, and hide fields in Jira Cloud thanks to ScriptRunner for Jira's Behaviours feature.
On the show floor, ScriptRunner for Jira's newly launched HAPI was a hot topic. As a simple way to define Jira automations faster than ever and without needing advanced Atlassian API knowledge, HAPI has the ability to save administrators hours. One visitor to the stand remarked that HAPI was going to give her her weekends back – the kind of feedback that gets the ScriptRunner teams out of bed in the morning!
"As a team we're delighted to be innovating across both Atlassian's Cloud and Data Center offerings, helping anyone using Atlassian tools to redefine what's possible where they work. We're working hard with innovations like HAPI to make delivering complex automations, customisations and integrations easier, and the feedback we've received here in Vegas has been really heartening,"
Russ Barr,
General Manager, ScriptRunner, part of The Adaptavist Group
Kolekti
Barely a week since the brand itself officially launched, the Kolekti team was on the ground sharing its mission to end inefficient work.
Armed with a series of apps that help teams work better in Confluence and Trello, the four-strong team focused on building brand awareness and spreading the word on Kolekti's flagship app, Content Formatting Macros for Confluence, as well as sharing exciting future developments on Forms for Confluence. Attendees were also treated to an exclusive first look at Guided Pathways for Confluence, which is still in development.
Dylan Lindsay was also on the conference floor sharing his insights in an engaging lunch and learn talk, presenting one lucky audience member with an iPad. 
"It was brilliant to finally see the brand come to life" says General Manager, Adam Wignall. "We knew we had to take the opportunity of Team '23 to tell people what we are looking to achieve with Kolekti, so we were delighted to hear such positive early reactions."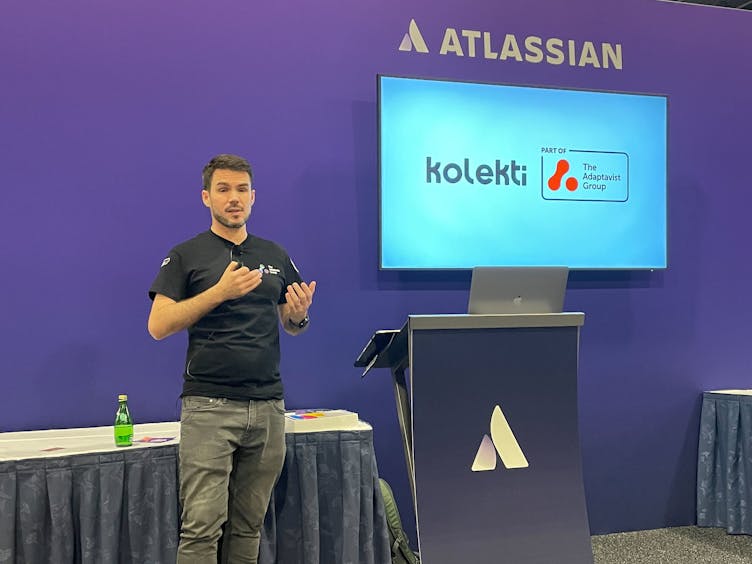 Adaptavist Products
The Adaptavist Products team ramped up the excitement for our ever-popular Slack app, Workflow Steps for Jira. Attendees were offered on-demand demos by engineering wizards Jon Scalise and Paul Cutting, whetting the appetites of Jira users looking to dictate Jira workflows from Slack. 
The topic of cloud migrations continued to dominate on the show floor. Microscope has seen its importance grow amongst Atlassian Partners and consultants as a vital tool in auditing their customers' Jira environments, readying them for the migration. Our Lead Product Manager, Uxia Fernandez, was busy at our booth showcasing the benefits of using Microscope to help upkeep, maintenance, and compliance of Jira instances.
Alongside our agile app Hierarchy for Jira, we showcased our information security solution Encryption for Jira, both increasingly becoming mainstays for our customers. 
The Adaptavist Products team also helped ramp up excitement for the recent public beta launch of Stitch It, an all-in-one Atlassian integration tool. 
To sum up Team '23 in General Manager Jari Worsley's own words: "We have several products and offerings that are bringing real value to our customers already, and it was amazing to see and hear positive feedback from faces old and new at Team '23. We can't wait until next year!"