Over the past few years, ITSM has been put under a spotlight and centre stage, as COVID-19 forced many businesses to transition towards fully digital work environments across all aspects of their operations. This is in addition to the increase in the overall usage of IT systems in every layer of the business. As a result, the performance of IT systems has become a crucial determinant of a company's overall success, receiving increased attention and importance. Many businesses expanded their digital transformation initiatives to facilitate sustainable change in a post-pandemic world. Most of these changes impacted IT operations, including the need to bolster internal corporate IT service delivery and support capabilities—leading to a hasty acquisition of new ITSM technology.
The current state of the ITSM industry
Fast forward a few years, and many organisations are revisiting the decisions they might have rushed into during the height of the pandemic. Now that the dust has settled, many are questioning their ITSM solutions capabilities as limitations become more apparent, resulting in organisations contemplating their tools of choice.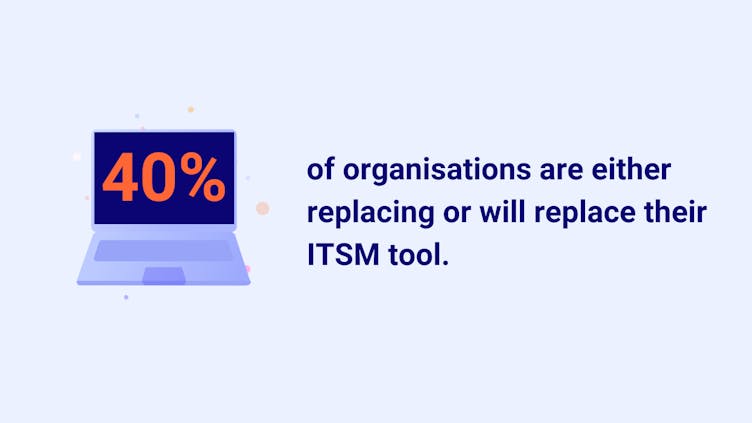 The drivers for ITSM tool churn
A holistic approach
There is a difference between an ITSM tool and an ITSM solution. Often, IT organisations build their service management with a technical approach focusing on the tool, instead of focusing on the key goals of the IT services: addressing the current and future state of the organisation, ensuring the delivery of essential value to customers, and optimising the utilisation of available capabilities and resources. Many organisations don't properly adhere to this approach, causing them to succumb to a cycle of changing tools every few years.
Out-the-box processes
Many process-oriented ITSM tools often fail to meet customer expectations and needs beyond providing basic ITSM process support. For example, in areas such as ease of use, flexibility, customisation, etc. These limitations could cause low engagement from both your users and customers. In this survey, as many as 16% of respondents have expressed tool dissatisfaction due to these factors. Out-the-box functionalities are a good starting point for organisations who want to test ITSM tools' proof-of-value before any further investments are made, but this is rarely the ultimate solution.
Extensibility
As sponsorship for advanced ITSM processes such as enterprise-wide service management becomes much more readily available, organisations expect their ITSM tools to be versatile enough to support multiple and more integrated value streams in other business areas outside of IT, like HR, Facilities, Finance, etc. Failure to do so is believed to have led 13% of respondents to consider replacing their current technology.
Operational costs
After initially purchasing a new ITSM tool, some organisations are now having difficulties managing the overhead costs associated with maintenance, admin, or tool upgrades. This issue has prompted 14% of those surveyed to consider a tool change. Cost structures can differ between vendors, with some charging a fee per customer and others per admin. In most cases, making the tool evolve and scale in line with the company's growth trajectory can significantly inflate the overall solution costs, pushing organisations to go back to standard processes and simplified tooling.
So, what are your options?
If your organisation is one of those struggling with the ITSM tool it invested in, then this blog is for you—we discuss some of the key options you have concerning where you are right now, with tips on improving your chances of success. 
Optimise
If you, your users, and customers are satisfied with your ITSM tool, but you require more advanced support to meet new demands by the business or even customers, then optimisation might be the right choice. Maximising what you get from your tool could save you a lot of time and money, compared to changing solutions, by boosting ITSM efficiency and speeding up productivity.
A couple of fundamentals to consider for optimisation:
Processes and practices
Optimisation shouldn't be limited to the tool. It should start by optimising your processes or include new processes (e.g. asset management or problem management). Optimising is about questioning the current process and identifying where it should be done differently or where gaps prevent efficiency. Each action of a process should be justified to exist. It can be justified by the value to the customer, the operational efficiency, or compliance requirements. No matter what, the very famous "we have always done it this way" is not a justification. In order to ensure your ITSM solution is delivering the best value, implementing a continuous improvement approach will ensure the optimisation of your services is a priority.
Prioritise your people
As part of your optimisation strategy, don't forget to 'optimise' the key factor of your ITSM solution, the people. Providing your IT service teams with continuous user training, especially after adopting more sophisticated technology, can go a long way in helping users get the most out of your investment. Training will help demonstrate the useful features of the tool and how their use will impact daily work and boost productivity—from setting up dashboards to understanding reports and available shortcuts.
Integration
A part of an optimisation strategy can be integrations to acquire features unavailable from the stand-alone tool. For instance, integrating your software with other top-notch collaboration tools or self-service portals can help improve overall customer experience—while using tools from Happy Signals can measure customer satisfaction. You may also opt to link together different ITSM processes across different tools to enhance the overall efficiency of process management and slash manual efforts. An example of this is integrating Jira Service Management and Jira Software to allow end-to-end visibility across IT development and operation teams to resolve activities quickly. 
Migrate
In the context of this blog, an ITSM solution migration is when all or some of an organisation's products, apps, processes, etc., are moved from one ITSM tool to another—using the new tool to build the solution.
But how do you know if migrating is the right option for you? Well, the drive for change usually comes down to one or more of the following factors:
Your current tool may be too rudimentary and doesn't offer enough versatility to deliver the level of service your end-users expect. For instance, the lack of a self-service portal or comprehensive knowledge base, which in turn is increasing the drain on IT resources and distracting them from more strategic tasks.

Your current solution doesn't provide enough scalability to keep up with developments in the tech and service management industry. For instance, you want a more complete platform that incorporates all of the elements of ESM (enterprise service management) and aligns with modern best practices. It is no surprise that 29% of IT professionals believe their current ITSM solution isn't scalable enough.

Your existing solution is heavy on admin requirements or requires highly technical resources for maintenance—leading to exorbitant overhead costs and planned budget overshoot.
Start fresh
Last but not least, starting fresh or rebuilding everything from scratch. This is an underrated option but, in some cases, definitely worth it. Especially if you want to change the tool (e.g. moving from ServiceNow to Jira Service Management). This can be done with your existing ITSM tool or a new tool.
Nowadays, tools are not only tools; they all come with a certain philosophy: the vendor expects you to use the tool in a certain way and relies on strong concepts you must understand. For instance, let's take ServiceNow, which hinges on the concepts of forms, categories, and subcategories. On the other hand, Jira Service Management operates with request types, issue types, and, occasionally, forms. While these may seem somewhat alike on the surface, they represent two distinct frameworks for conceptualising your IT Service Management (ITSM) processes. It's important to recognise that each tool comes with its own unique set of principles and structures, and understanding these distinctions is crucial for effectively utilising them and avoiding wasting time and money trying to fit a square peg in a round hole.
Final thoughts
A note to finish on is, it's important not to consider these as siloed options. For example, if you are a large enterprise with a well-established ITSM and potentially ESM solution. You may consider a phased approach by integrating the new solution you've identified with your existing one, migrating your data over some time, until you've achieved a complete migration, if necessary.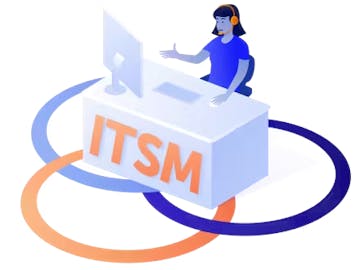 Need help choosing what's best for you? Speak to our team
Our ITSM experts have experience in building solutions tailored to our customers individual requirements. Get in touch with them today.
Speak to an expert
If you're curious about migrating solutions and would like to know more, be sure to register for our upcoming webinar 'Things I wish I knew before changing ITSM solutions' to hear from experts at Adaptavist on dealing with real-life customer challenges and how to overcome them.
Register now