PLEASE NOTE
The content of this blog is no longer updated
Welcome to the final part of this blog series, where we've been getting under the skin of Data Center migration. We've already covered the following topics:
In part six, we're facing your fears head-on, looking at common concerns about making the switch from Server to Data Center, and arming you with the advice you need to take the next steps in your migration journey.
For an in-depth look at best practices for planning, preparing, and testing your way to migration success, download our free eBook Demystifying Atlassian Data Center migration.
If the recent announcement from Atlassian that it's sunsetting its server products came as something of a shock, you're not alone. A number of customers are bracing themselves for a big decision: migrate to Atlassian cloud, migrate to Data Center, or take a hybrid approach. Whether you were thinking about migration already or not, there are a number of valid concerns you might have:
What's the future looking like for Data Center? Will Atlassian sunset this soon too?
What apps and add-ons will be available for Data Center – or will everything be focused on cloud?
How much is moving to Data Center going to cost me, today and in the future?
Let's take a look at each of these in turn so that you can understand what's around the corner and feel confident in your decision to migrate.
What's next for Data Center?
Your concern:
You migrate to Data Center only for Atlassian to announce that they're sunsetting that service too.
What we know:
Atlassian recognises that for some businesses a move to cloud will never be possible – particularly those in the financial sector, healthcare, government, and education who are required by law to host their data. They've expressed a clear commitment, continuing to offer Data Center as a viable alternative to Server for these customers.
In the 16 October statement, Atlassian's co-founder and co-CEO Scott Farquhar said: 'We're also strengthening Atlassian Data Center by making some of our most powerful apps available natively and offering Priority Support with Data Center subscriptions for most user tiers.' He also acknowledged the benefits of a hybrid approach, signalling new capabilities and integrations that will make it easier for customers to use cloud and Data Center products simultaneously.
What add-ons and apps will be available?
Your concern:
The focus will be on cloud rather than developing innovative new apps and add-ons for Data Center.
What we know:
Since it introduced its Data Center approved app program in 2018, Atlassian has been committed to a rigorous technical review process for Data Center apps, to make sure they're of a standard suitable for the environment, approving over 400 apps up to 20 May 2019 – and they're showing no sign of slowing down. Atlassian says: 'As we continue on the journey of building an enterprise-grade quality of apps, you will see us investing more in three major areas: app quality, app performance, and app security.'
App Performance Toolkit, Insight Discovery and Asset Management for Jira Service Desk, and Team Calendars and Analytics for Confluence are just some of the apps and products expected in Q1 2021.
At Adaptavist, our suite of Data Center apps, including ScriptRunner and Project Configurator for Jira, undergo our own testing process that goes beyond compatibility. Quality is our cornerstone, which is why we have a release pipeline in place and a common testing infrastructure – based on the principles of automation, integration, and comparability to validate apps for Data Center and to measure performance following release.
We've also brought extra engineers onboard to provide 24-hour support to our Data Center app customers, as well as dedicated account management to help them make the most of our products – now and in the future.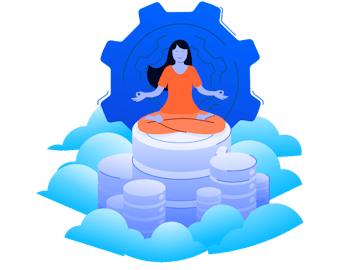 The future is now
Learn what's on the cards for Data Center straight from the people in the know. Sign up for Atlassian's 'The Future of Data Center' webinar to learn about upcoming features and more about migration.
Watch on-demand today!
What will pricing look like on Data Center?
Your concern:
The licencing structure will mean you end up paying more.
What we know:
Overall, most customers will save something when migrating from Server. Depending on the size of your business and its needs, some customers will end up paying more, but the benefits of moving to Data Center should outway the additional outlay in the long run. Ideally, we recommend purchasing your Data Center licences prior to 2 February 2021 when Atlassian will introduce a price increase.
However, Data Center's licence model has more tiers than Server, so the type of licence you need might be different. For example, if you're on a 10,000 Server licence with fewer than 5,000 users, you might only need a 5,000 Data Center licence to replace it, saving you money.
One reason it makes financial sense for Atlassian to keep Data Center alive and kicking is, unlike Server, Data Center requires a subscription licence. While with Server you paid once for your licence, and a smaller maintenance fee each year for upgrades and support if you wanted them, with Data Center you pay the full price every year if you want to keep using your Atlassian products.
But where you're most likely to make savings is by consolidation – bringing together disparate licences from across your organisation, eliminating any unnecessary spend in the process. Adaptavist is uniquely positioned to help. We offer tailored, co-termed licencing solutions that take the stress out of managing your Atlassian estate and ensure you get the best deal available for your business.
Migration can be confusing and complex – there's lots to consider: stability, viability, cost, future innovations to name a few. At Adaptavist, we pride ourselves on helping organisations make milestone transitions, from mergers to migrations, taking the worry and workload off our customers' shoulders, guiding them through the process, and ensuring the end result transforms their business for the better.
Our expert team is here to help make your move as smooth as possible – from sorting out your licencing plan to migration itself. To find out more about Atlassian Data Center migration, download our eBook or get in touch.