PLEASE NOTE
The content of this blog is no longer updated
When it comes to scaling agile and DevOps practices in large enterprises, there is no silver bullet. That said, there are a whole host of best practices you can follow to help you on the road to success. Piqued your interest? Well, we've got just the thing for you. 
On Wednesday April 28th—in an on-demand webinar as part of Atlassian Team 21—Adaptavist's consultants, Cannon Lafferty & myself (Jennifer Eolin), are tackling the topic of scaling DevOps in a way that allows agile teams and IT to truly work together with organisational transparency.
Using Atlassian's portfolio tool, Jira Align, viewers will be able to see the impact of defining your organisation's DevOps competencies as a lifecycle and mapping these competencies out on a product roadmap. This approach enables orgs to break down the traditional DevOps silo model.
Come along and join Cannon and I as we identify:
Common roadblocks organisations face when scaling DevOps
New ways of organising and planning DevOps on your product roadmap
How transparency of DevOps work drives a growth & product mindset—the fuel for any organisation that truly wants to scale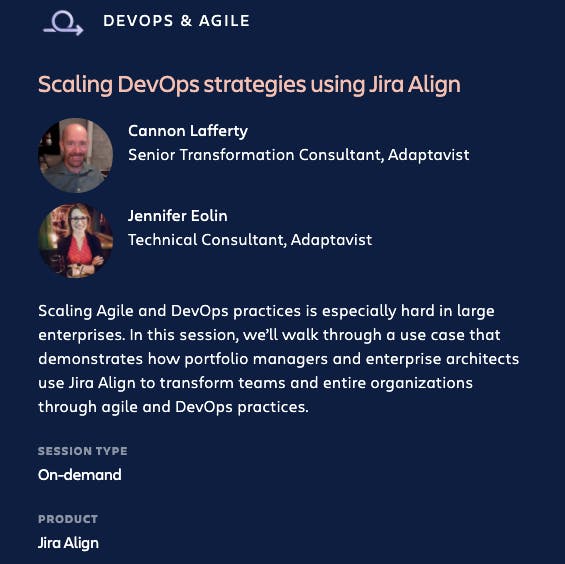 We hope you enjoy it - as always please let us know your thoughts, we'd love to hear from you.
About the speakers:
Jennifer Eolin - Technical Consultant
Jennifer believes in empowering organisations to make the "people, process, product" principle a reality. She regards 'process' as more than a document, but as the basis for an organisation's culture and future.
Cannon Lafferty - Senior Transformation Consultant
In 2019, Cannon joined Adaptavist, working with the agile Transformation team to help implement large scale agile delivery projects. He's worked with development organisations for 15 years to coordinate both business value delivery and enable software development maturity.