It might take a while to find a career you love. Don't be afraid to change and try new things. That's the advice Míriam Peñafiel, a Product Manager at Adaptavist, would offer to her younger self. Here she shares the career-defining moments that have shaped her path and why you should never try to be anyone else but yourself.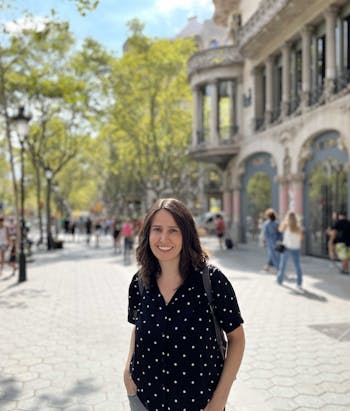 Míriam, a Product Manager at Adaptavist
Míriam, can you tell us about your current role? 
I am a Product Manager in the Discovery and Acceleration team at Adaptavist. I am responsible for defining the product vision and goals, establishing priorities, fostering communication, and ensuring we work in a collaborative and coordinated manner. Ultimately, it's my role to ensure that we build a product that clients need and love (and are happy to pay for!)
What does being a Product Manager mean to you? 
Essentially, the Product Manager is the glue that holds a Product team together. It's your job to align everyone around a shared vision and mission for the product.
How did you get into Product Management? 
After finishing my Telecommunications Degree, I started my professional career in a consulting firm, first as a functional designer and later as a project manager. I lead many custom software projects for clients, covering different phases of the software lifecycle, including conceptualisation, design, construction, testing, communication, and training. Along the way, I also achieved the PMP® (Project Management Professional) and Scrum Master certifications.
Later, I joined a fast-growing startup where I was responsible for product management, client onboarding projects, and the support service as a Chief Product Officer and Chief Operating Officer. I then signed up for an online MBA program to boost my knowledge and expertise. I recently joined Adaptavist for my next adventure as a Product Manager. 
Did you always want to work in tech? 
Yes, and I love it! There is no better place to be if you have a passion for technology and love experimenting and collaborating with others.
What does a typical day look like? 
On a typical day, I work hand-in-hand with the product team on a range of activities, including:
Research and marketing: this helps me stay close to our users and up-to-date on their needs. It also helps to improve my knowledge of the market and be better informed to shape the future state of the product.
Design: to provide feedback based on my cross-functional insights and knowledge.
Development: this is crucial to validate new releases and be part of any decision-making that may impact results or timings (e.g. different approaches available, technical constraints).
And finally, support: to get first-hand feedback from our clients and be aware of any improvements or fixes needed on the product.
I also join team meetings, sprint planning, backlog grooming, and retrospectives. As well as collaborating with other product managers to share knowledge and ideas.
What is a memorable moment in your career so far? 
Two career-defining moments stand out most in my mind, which have helped shape the person I am today. 
The first was moving to the US to work for a few years. My life changed overnight in a way that felt both exciting and mildly frightening. It clearly signalled to me that I was leaving my comfort zone. This experience taught me so much. Not only in gaining practical expertise but also in decision-making, conflict and stress management. It also helped me understand that some things are out of my control and there is a limit to the impact I can make on these things. 
The second was joining a startup and realising that success is just the right combination of great people, hard work, ferocious grit, contagious optimism and lots of passion.
What's the best part of your job? 
Sharing my day with people from different backgrounds and disciplines. So much to learn!
What do you want to do next with your career?
For now, I want to bring new products to the Adaptavist portfolio and continue growing my skills, knowledge and experience as a product manager. 
What's it like working for The Adaptavist Group? 
I feel trusted, encouraged and supported. Also, I like the freedom to work from home and organise my schedule to fit my needs.
What would you have told your younger self about work? 
It might take a while to find a career that you love. Sometimes you'll feel that you don't belong or that the challenges you face don't motivate you. Even if you have a fantastic team and a great manager, the job might still not be right for you. 
If that happens, don't be discouraged; keep learning and never be afraid to change and try new things. And above all, avoid idealising companies or teams to the point that you don't feel good enough to join them. You'll find brilliant and talented people everywhere you go, but also ordinary mortals just doing their jobs, excelling at some things and working on improving others.
What has being a woman in tech meant for you? Has it impacted your career or experiences? 
Being a woman in tech makes it more difficult to find a role model. There are endless ways to manage a product, a project or a team. There is no right or wrong way; they are simply different. So, finding a coach or mentor that shares your strengths and leads in a way that feels natural to you, will help you learn much faster. Faking a style that does not fit you could hinder your success and, ultimately, damage your confidence and happiness.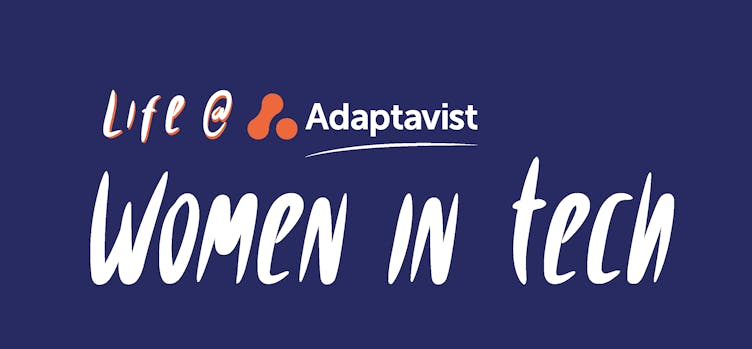 Continue the conversation
Watch our Women in Tech webinar, to find out more about our technical roles, life at The Adaptavist Group, and what it takes to be a woman in tech.
Be Inspired