In today's climate, flexibility and adaptability are critical contributors to your organisation's success. IT teams need to rapidly transition towards modern ways of working that are more collaborative, iterative, and customer-centric to deliver a seamless, transparent, and flexible service. As a result, legacy ITSM solutions are becoming increasingly less effective or are failing to meet the constant change of organisational requirements. Adopting a new or replacing an existing ITSM solution is often essential to most IT organisations' growth strategy and ITSM maturity.
Implementing a modern ITSM solution is not as straightforward as deploying more traditional alternatives. A modern approach leans heavily on adherence to best practices and agile frameworks. By not following key steps, an ITSM implementation can not only fail to achieve your organisation's goals but also create disruptions in operations and waste valuable time and resources in the process.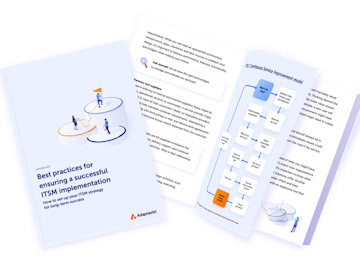 Best practices for ensuring a successful ITSM implementation
Learn how to confidently build your ITSM strategy using modern frameworks for a successful implementation.
Download eBook
In this blog, we lay out fundamental principles to help you maximise the value-added from your ITSM solution through successful implementation, avoiding unnecessary detours that don't contribute to your success.
Six stages of ITSM implementation
1. Designing
Without a clear strategy, you could be leading yourself down a bumpy road, resulting in an ITSM solution that doesn't meet expectations and is a hindrance instead of an enabler that doesn't support the organisation's growth. 
Engaging stakeholders at this stage is essential to identify requirements, problems you intend to address and the expected outcome. It is also worthwhile to review your existing processes to see where you can optimise them and to ensure the tool you choose compliments your processes and can scale and adapt where necessary. 
Capturing the 'people' and 'process' pillars of the ITIL 4 framework here ensures the strategy is aligned with the organisation's goals, meets stakeholders' expectations and increases the success rate of implementation.  
Once you have engaged with your stakeholders, you know your strategy, and you have optimised your processes, it is key to do an internal audit to see if you have the resource required to deliver the project effectively. Is there enough collective experience? Do you have the skills to execute each stage? Do you have the people-power? Can you afford to make unnecessary mistakes? These are all questions to consider before moving to the delivery stage of the implementation process. It is expected at this stage for organisations to collaborate with an ITSM solutions partner to support from design right through to delivery and beyond.
2. Creating
When choosing an ITSM tool, you must decide which tool is able to support your workforce in their ways of working and which is best suited based on your organisation's requirements. While there are many different ITSM platforms available for you to choose from, the reality is that not all of them are created equal. So, you must select a platform that is suitable for your organisation now and in the future. 
You will also need to establish your approach to the implementation. We recommend an agile and incremental implementation approach that includes frequent feedback loops. Breaking the implementation process into workable segments whilst executing each step over time will allow for regular testing and iterations with minimal disruptions. The business-facing aspect of the service, being the service desk, is just as important as the processes it supports. A service desk that is easy to use will work wonders for customer engagement and adoption.
3. Delivering
Be mindful that even though, by this stage, you will have corrected any issues, the biggest test is once the service goes live and is in use. This stage involves making small iterative changes after testing in a live environment and reacting to feedback. There are bound to be new issues, so you must be prepared to monitor processes and workflows closely and embrace feedback from your customers to ensure the service delivery is continuously optimised.  
We have all heard the saying, "communication is key", right? Well, the same applies to the implementation of ITSM. Communicating new ways of working is crucial to ensure your customers understand why the changes are needed and how they will support them. Remember, communication doesn't need to be written; it can be verbal,  a video, workshop sessions or a combination. You should also consider providing training to support teams on making the most of the platform and using it in their different roles and responsibilities. Without proper training, the organisation's investment could be a waste of time and resources.
4. Supporting
Once launched, you will still need to support the service to ensure its success. Ensure you create and update the service catalogue - treat it as a live working document. Support should not only be service-focused but also about the people involved. Create a single source of truth by creating an easy-access library of documents, such as guides, which users can access.
5. Managing
You will need to make sure the foundations you have created are upheld. Don't lose sight of the data or the requirements of the organisation. Once your ITSM solution has been implemented, it is easy to think that your job is done, but this is far from the truth. Use the information gathered to continuously iterate your ITSM to ensure it continues to serve your organisation's needs.
6. Continuous service improvement
IT organisations can't afford to be complacent with the quality of their services. There will always be snags and things that can be improved. It's, therefore, necessary to apply continuous improvement as an ITSM best practice.
When implementing any ITSM solution, you should continuously improve and develop based on issues, customer demands, and user feedback. So, you'll need to continue supporting the service to ensure the system is always operational and ready for use and that users are notified of any updates or changes. Like with any change to a system, a combination of User Acceptance Testing (UAT), training, customer support checks, and Go-Live support is necessary to avoid unexpected challenges or disruptions.
Implementing ITSM successfully with Adaptavist
A fundamental goal of any ITSM implementation project should be to minimise disruptions to the organisation while leveraging cutting-edge technologies to transform how your workforce operates. With Adaptavist as your ITSM solutions partner, you can reach this goal. 
As an Atlassian Platinum partner, we have vast experience implementing Jira Service Management as a preferred ITSM application for several medium and large enterprises. We have a team of experts ready to help you unlock your IT service management strategy and catapult it into the future.
Kickstart your ITSM implementation journey today, and download our guide 'Best practices for ensuring a successful ITSM implementation' which includes key steps to follow along with tried and tested frameworks to confidently build your implementation strategy, to help you deliver a modern ITSM solution fit for the future.
Download eBook