---
Share this blog to your social media
Celebrating Black History Month
The Adaptavist Group observes Black History Month twice a year, once in October for our European colleagues and once in February for the Americas. During these times, some of The Adaptavist Group's team took time from their day jobs to set up some talks and activities highlighting Black experiences. They didn't want to deliver a typical Black History Month stories and stats lesson; they wanted to do something different.
In February, our Manager of Strategic Partnerships Rad Dockery, curated a tech and career-focused programme for the rest of the company. He organised three compelling talks. The first was his own, about the experience of growing up in Toronto as the son of Jamaican parents, the discrimination he encountered, and his most vocal supporters who recognised and encouraged his talent and hard work. Writer, speaker, advocate, and model Tiq Milan brought an intersectional approach to Black history, linking it through his queer and trans perspective. Finally, Alicia Samuel, the Senior Vice President of Information Technology at the luxury department store Holt Renfrew, discussed her ambitious journey climbing to the upper rungs of the corporate ladder as a Black woman in the tech world.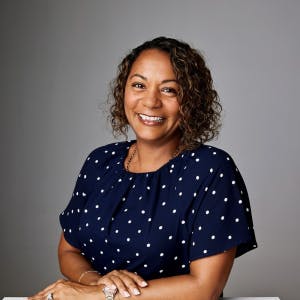 Maria Fuster, our Workplace Operations Lead assembled a culturally-focused programme for the UK's edition in October. The Adaptavist Group enjoyed a remote cook-along lesson making delicious Jamaican patties with professional chef Dom Taylor. Chef Dom delivered the cooking lesson along with the history of how the Cornish Pasty journeyed internationally and returned to the UK transformed. Maria's good friend Rene McIntosh delivered an enlightening presentation covering lesser-known African history topics they do not teach in school. The live music and poetry event, Moetry, provided a spirited Black history-themed performance with an all Black array of artists at The Adaptavist Group's London HQ that the remote team could watch online. 
"I find that gaining perspective from people who've had such different lived experiences is truly invaluable."
We believe it's vital for employees to openly discuss experiences that profoundly affect their lives, especially concerning race and culture. Listening to a broad range of perspectives enriches our colleagues and promotes solidarity and understanding. Our team found these events educational and thought-provoking. Communications Manager Ryan Spilken said: "I find that gaining perspective from people who've had such different lived experiences is truly invaluable." 
We believe it's critical for all organisations to empower their people to be their true selves. For us, this means giving our team the space to share matters that matter to them, while educating the rest of their coworkers. Aside from Black History Month, our team have also delivered company-wide presentations on Diwali, Eid, International Women's Day, menopause awareness, and much more. For all of these presentations, nobody nominated or asked them if they would do it— the stakeholders felt comfortable enough to come forward and organise everything themselves.