PLEASE NOTE
The content of this blog is no longer updated
We're excited to launch our annual 'State of the Atlassian ecosystem' survey exploring the changing landscape of Atlassian tools and usage.
Through this survey, we are aiming to understand and reflect the current and future state of the Atlassian ecosystem. We want to learn more about your Atlassian priorities, the challenges you face, and the improvements you would like to see across the ecosystem in the future.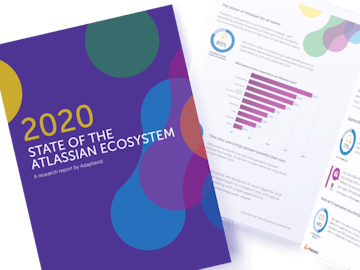 Your voice matters to us
If you buy, use or manage Atlassian tools for your organisation, we want to hear from you! 
Complete the survey 
This year's survey covers a range of topics from Atlassian tooling, deployment and integrations to the adoption of modern, iterative working practices from ITSM/ESM to agile-at-Scale, DevOps to Automation.
What's next for your organisation?
We also want to understand how the Atlassian ecosystem is supporting you and your organisation to adapt and succeed. Through the analysis of this survey, we hope to uncover any changing trends across the ecosystem and to identify the challenges and opportunities as you move to the future.
Fancy winning a £250 amazon voucher?
As a thank you for sharing your insights with us you will be entered into a free draw for a chance to win one of four £250 amazon vouchers - Ts and Cs apply, see here.
Take me to the survey