They say there's an app for everything, and that goes just as much for the world of work as for the everyday tools we enjoy on our phones. Whether it's communication or project management, accounting or estimating, email marketing or content creation – there's a tool to aid automation, improve productivity, and increase quality. And it's just waiting to be added to your stack. 
The issue is, how well do all these tools work with what you have already? How easy are they to integrate? Integration has become a hot topic – from the need to integrate internal and public cloud apps with SaaS (software as a service) and on-prem to an external customer, supplier, and partner apps – there's a huge drive to ensure everything works seamlessly all the time.
App overload
With so many niche tools serving to solve one specific problem, organisations are finding themselves drowning in apps. The days of heavy-duty, monolithic applications are well and truly over. The average enterprise now uses almost 300 different SaaS tools, up 30 percent year over year from 2020. And if you think it's just your organisation that's app-addicted, think again. According to G2, the world's largest tech marketplace, big-hitters like Spotify (236 tools), Airbnb (262), and Uber (307) have plenty of apps to keep on top of.
Growing need for integration
This trend extends to the Atlassian ecosystem – with our recent State of Atlassian survey reporting a rise in the usage of the software company's latest range of products. With the shift towards remote working, more teams than ever before are depending on digital tools to keep them on track. 
When it comes to Atlassian, which has a stronghold in IT and engineering teams, there's been a noticeable rise in non-IT teams – from operations to customer support and marketing – using Atlassian tools too. This organisation-wide rise in adoption means there's also a growing need for integration between Atlassian products and third-party apps.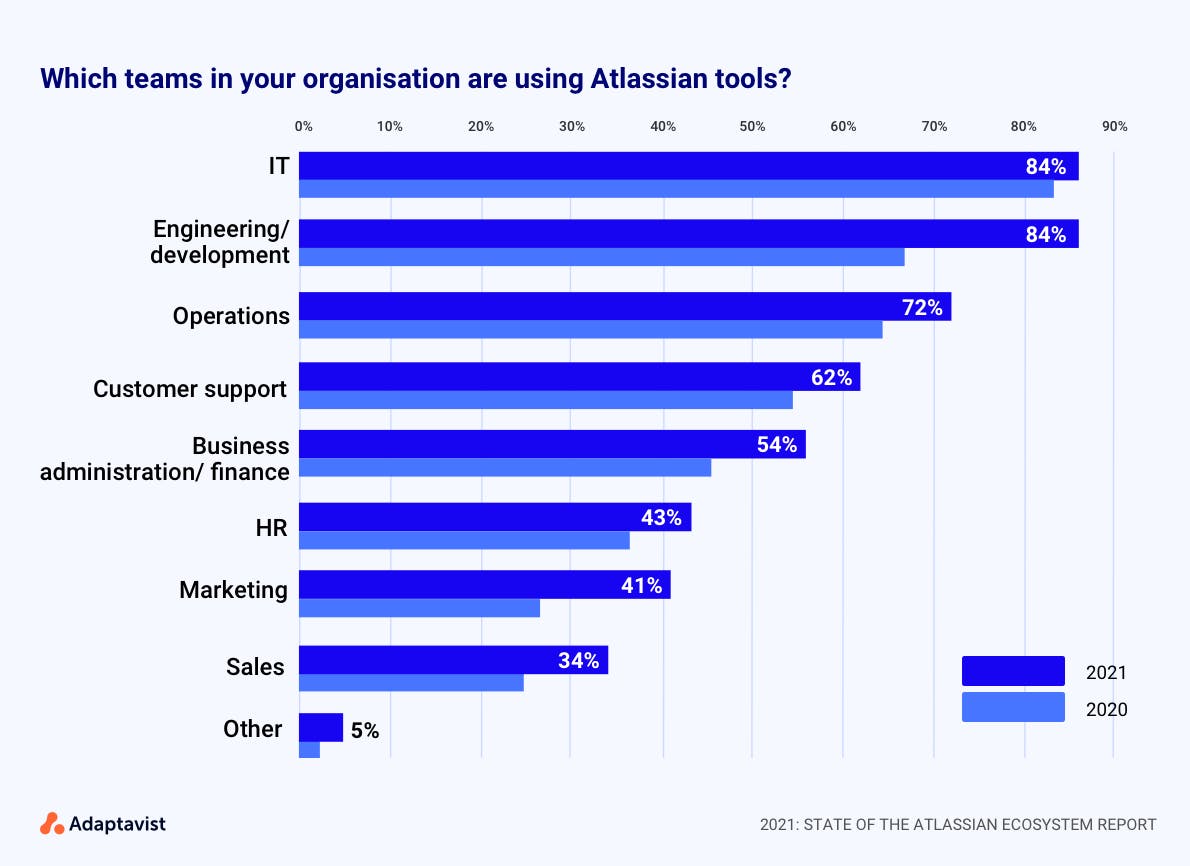 Picking the right tool for the job
Previously, users would be forced to make do with whatever was already on offer or changing processes to fit the tools rather than choosing a tool to fit their needs. This move away from monolithic has resulted in the rise of smaller-scale best-of-breed applications designed specifically for the task at hand. 
Individuals and their teams can choose from a wide range of options to find a tool that suits their needs. Our recent survey highlighted the importance of tools having the required features and functionality for users. It was the top reason, cited by 42 percent of respondents, as to why they had chosen an Atlassian Marketplace app. And the better integration capabilities on offer, the more flexibility they have too – to move from one tool to another when those needs or preferences change.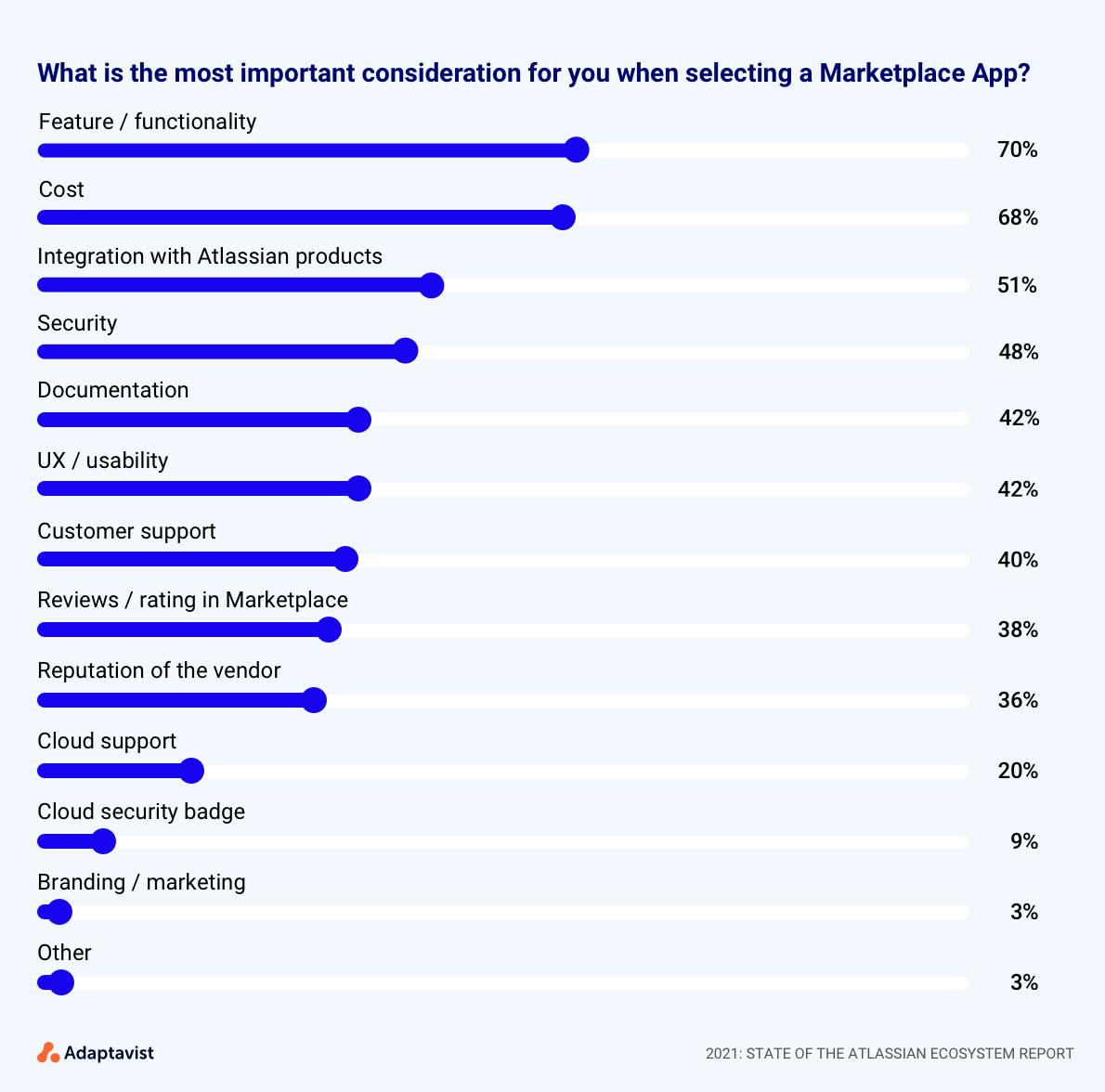 Integration frustration
For many, this freedom over tooling choices is essential – giving people options when it comes to integration capabilities. But all this choice brings with it a number of new challenges, most notably ensuring a seamless experience for users and avoiding too many issues for your IT team.
Feeling flexible?
Outsourcing to a SaaS solution offers organisations endless possibilities, but there's also the flexibility of on-prem or private cloud deployments to consider. That means many businesses are running a mix of the two. A hybrid deployment landscape, while attractive, creates new levels of complexity when it comes to integration.
Staying away from siloes
Integration enables business process optimisation, whereby users enjoy an easy and accessible experience across their toolset. Integration has a number of other benefits, notably improving both internal team and customer experiences. But as you scale, different teams will opt for different tools, and this can fuel a more siloed approach, where only certain people can easily access information or have good visibility on the work of the wider organisation. 
Third-party problems
When it comes to Atlassian, users are keen to integrate other tools too, including MS Teams, MS Office, Slack, and GitHub, as well as business applications like SAP and Salesforce. But many find it a real challenge. Seventy percent of survey respondents told us that integrating third-party apps into their Atlassian products was an issue. In order for teams to continue to use the array of apps that they rely on – and get the most value out of those tools – integration needs to be kept top of mind by all software providers.
IT issues 
Keeping everything running smoothly across hundreds of apps and integrations can create a nightmare for your IT team and put a strain on resources. Access to cloud-based apps means teams can access the tools they need instantly, be more productive, and drive innovation. But not keeping IT personnel in the loop, allowing them to undertake their usual rigour and scrutiny, poses a serious security risk from data leaks, compliance violations, and more.  
Striking the right balance
There's an important balance to be struck between offering your people flexibility – trusting them to choose the right tools for their work – and ensuring those tools are fit for purpose. It's important to ask if a tool integrates with what else you have, how will poor integration impact the user experience, and what's at stake for your IT team?
Looking for more tool-related insight? Want to know what other tools Atlassian users are integrating?
Read our 2021: State of the Atlassian ecosystem report today.