PLEASE NOTE
The content of this blog is no longer updated
Three things we learned at UKSTAR 2019
UKSTAR 2019 was a two-day conference that brought together some of the brightest minds in the world of software testing to discuss latest industry trends and exchange best practices.
Our Test Management for Jira (TM4J) team was there in full force, eager to get involved in many thought-provoking discussions and share our experiences from supporting Testing and QA teams across the industry.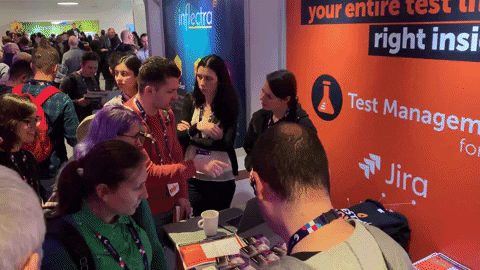 The big-hitting themes for this year were automation, the role of the modern tester and leadership. But most refreshing of all was the UKSTAR's approach to diversity across the two-day event. In partnership with the Speakeasy organisation, they marked International Women's day with sessions focusing on the ongoing challenges of testing in non-diverse teams and organisations.
There were many great moments and takeaways from this year's conference, but here are our top three:
Automation is important, but the tester's role is also critical

This year, a lot of the talks focused on the impact of innovations like AI and machine learning on testing. It's clear there's a growing awareness about the role of ethics in technology decision-making, ie the 'just because you can doesn't mean you should' debate. The impact of automation on testing jobs and society as a whole continues to both concern and excite people. The big question remains: will automation enhance or replace jobs? In the middle of this change are testers, as increasingly more people's lives depend on the quality of their work. 

While there's no simple answer or solution to these complex

 questions (yet), one of the speakers @pvarhol provided

 some sound 

advice in his talk:​ 'Don't automate something you can't do as you won't know if it works properly'.



Embracing uncertainty in software development

@FionaCCharles presented an insightful session on a fundamental problem that troubles the minds of many testers: how to deal with uncertainty, and mitigate any potentially adverse effects? 



Here are a few tips 

from Fiona's session: 1) set clear expectations with stakeholders and communicate the risks. 2) Break down the situation into component parts of things you know and don't know. Have levels of uncertainty, and a clear plan on how to approach them. 3) View uncertainty as an opportunity to learn, and foster a problem-solving mentality across your team and organisation.


​Why cats are the best test automators

One of our 

favourite

 sessions over the two days was from Seretta Gamba on how test automators can learn a lot from

 

studying cat behaviour

. Case in point: cats are 'lazy' and immediately notice when something 

should

 be done in an easier or better way. Test automation works in the same way, when testers make it their mission to eliminate tasks that slow down their testing processes and 

activities

.
We discovered so much at UKSTAR 2019 and can't wait for next year's event. If you didn't make it this year, be sure to mark UKSTAR 2020 in your calendar, you won't regret it.
What do you believe are the key trends to watch out for in the world of testing and automation? Let us know in the comments below, or tweet @Adaptavist with #TM4J to share your thoughts!