Written by Gene Kim, author of the multi-award-winning The Phoenix Project, The Unicorn Project is the new novel (yes, a novel) about developers, disruption, and how organisations need to change to thrive in the age of data and digital. So what can readers look forward to?
While The Unicorn Project was written as a standalone book, it's also a companion novel to The Phoenix Project (which we wrote about back in 2018). Events from both novels take place concurrently at the fictional company, Parts Unlimited.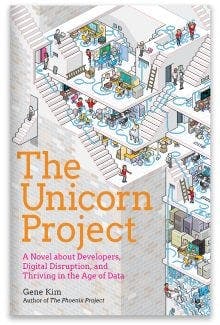 A company besieged by familiar problems
In The Unicorn Project, we follow Maxine, a senior lead developer and architect, as she is exiled to The Phoenix Project, to the horror of her friends and colleagues, as punishment for contributing to a payroll outage. She tries to survive in what feels like a heartless and uncaring bureaucracy and to work within a system where no one can get anything done without endless committees, paperwork, and approvals.
One day, she is approached by a ragtag bunch of misfits who say they want to overthrow the existing order, to liberate developers, to bring joy back to technology work, and to enable the business to win in a time of digital disruption. To her surprise, she finds herself drawn ever further into this movement, eventually becoming one of the leaders of the Rebellion, which puts her in the crosshairs of some familiar and very dangerous enemies.
The Age of Software is here, and another mass extinction event looms—this is a story about rebel developers and business leaders working together, racing against time to innovate, survive, and thrive in a time of unprecedented uncertainty…and opportunity.
Maxine wrangles with an ever-growing to-do list, every lead turning into a dead end:
"Trying to get a Phoenix build going is like playing Legend of Zelda, if it were written by a sadist, forcing her to adventure far and wide to find hidden keys scattered across the kingdom and given only measly clues from uncaring NPCs. But when you finally finish the level, you can't actually play the next level—you have to mail paper coupons to the manufacturer and wait weeks to get the activation codes."
The Unicorn Project's key take-aways for the enterprise
The Unicorn Project delves into the technical (and human) trials and tribulations of digital transformation today. Throughout the novel, author Gene Kim explores five "ideals" that should guide how DevOps should be applied.
Locality and Simplicity 
The first ideal here is a reaction to the reality that systems rapidly become complex - as the interactions required between pieces of a system have a negative impact on agility as teams find themselves unable to act with autonomy, because the effects of changes that they make might cause a problem elsewhere. Teams which have locality and simplicity understand and can work freely within the boundaries that they are set - empowering them to do great work with the security that there are no knock-on effects.
Focus, Flow, and Joy
There is a cliche about developers sitting in the corner of an office, head down, with headphones on, and reacting badly to interruptions. But it rings true - with the mental map often required to focus on solving a complex problem. Being able to sync up and concentrate on a complex problem to its conclusion - and having a working environment that not only allows, but encourages this, ultimately brings joy to a developer. And joyful devs do better and bigger work.
Improvement of Daily Work 
There's a comfort associated with repeating tasks, or spending much of the day working around technical debt - but again this is not the environment in which innovation can thrive. An environment which allows teams to pay down technical debt and minimise the fringe activities which take away from the focus on innovation is one where developers are happy and fruitful. Being part of a team where this is encouraged is an indicator of high performance, and in a company which will not be left behind by others out-innovating them.
Psychological SAFe®ty 
No-one can act confidently when they don't feel SAFe®. Provision of environments where developers can innovate and write code which is tested effectively and deployable to SAFe® environments is just the beginning. The reality is that organisations can often function despite themselves - with counter-productive processes and rituals sometimes culminating in negative outcomes such as unreliable software, outages and data loss. People may not feel they can speak up about these issues whether through fear for their jobs or not wishing to rock the boat, and it takes an active organisation to ensure that these feelings are channelled positively. 
Customer Focus 
Especially in larger organisations, it's easy to focus on aspects that are not key differentiators for customers. Companies are divided into functional groups which may not truly reflect adding value to the business, and this can affect motivation and focus on key outcomes. Aligning your work with a customer focus - be that someone who pays for a product or service, or an internal focus to provide something tangible to another part of the business is a key ideal to strive for. 
In summary, DevOps can be used as a way to guide the integration of IT into the business - rather than it being a separate silo/function. Leadership teams need to increase their awareness of technology and provide efficient systems that enable developers to be productive and get fast feedback to effect change. Innovation will only thrive within a culture that embraces experimentation (and doesn't punish the initiatives that are less than 100% successful). 
Get hold of your copy (and sample chapters)
"My goal in writing The Unicorn Project was to explore and reveal the necessary but invisible structures required to make developers (and all engineers) productive, and reveal the devastating effects of technical debt and complexity. I hope this book can create common ground for technology and business leaders to leave the past behind, and co-create a better future together."
The DevOps Handbook, Second Edition
How to Create World-Class agility, Reliability, & Security in Technology Organisations
 NEW RELEASE! This award-winning and bestselling business handbook for digital transformation is now fully updated and expanded with the latest research and new case studies!
More than ever, the effective management of technology is critical for business competitiveness. For decades, technology leaders have struggled to balance agility, reliability, and security. The consequences of failure have never been greater―whether it's the healthcare.gov debacle, cardholder data breaches, or missing the boat with Big Data in the cloud.
And yet, high performers using DevOps principles, such as Google, Amazon, Facebook, Etsy, and Netflix, are routinely and reliably deploying code into production hundreds, or even thousands, of times per day.
Following in the footsteps of The Phoenix Project, The DevOps Handbook shows leaders how to replicate these incredible outcomes, by showing how to integrate Product Management, Development, QA, IT Operations, and Information Security to elevate your company and win in the marketplace.
New release available here