There's no doubt that the COVID-19 crisis has accelerated digital transformation on a major scale. 2020 saw many businesses scrambling to implement remote infrastructure, new tools, and more agile ways of working as people were suddenly forced to work from home.
As the future of work becomes the present, our 2021: Digital Etiquette Report raises some important questions around productivity in the world of work, post-pandemic.
Here, we explore how our perception of productivity is changing.
What is productivity?
The answer is: it depends who you ask.
52% of our respondents feel that they measure productivity differently to their manager.
And when asked to suggest three things for their company or manager to improve upon, the top four responses we saw were:
Leadership needs to demonstrate more empathy for what employees have been through during COVID-19 and post-COVID-19 (25%)
Leadership should ask for employee feedback on the way work has changed (23%)
Leadership should ask for employee feedback on the tools we are using (20%)
Management is out of touch with the way work and productivity have changed (19%)
It's clear that in many cases, workers and leaders have different ideas about how productivity should be measured.
Presenteeism is no longer a signal of productivity
56% of the people we surveyed believe that managers and leaders are the driving force behind the return to the office.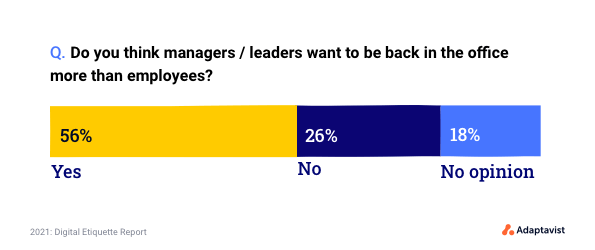 The results from our survey show that those in C-suite, director, and senior managerial roles mostly favour either a return to the office full-time, or a hybrid approach. Those in junior management and assistant roles are more likely to support a full-time remote approach to work. 
Overall, of those who were forced to work remotely due to the pandemic, just over 60% are now hoping for either remote or hybrid working in the future.
With the majority of the workforce wanting to spend less time in the office, is presenteeism becoming a thing of the past? 
Working late has long been a badge of honour across all kinds of businesses and industries. In fact, pre-pandemic, over 80% of UK workers said that presenteeism existed in their workplace.
It's easy to understand why, because it allowed workers to prove their perceived productivity by being visible to their managers. 
Meanwhile, pre-pandemic, days spent working from home were largely viewed as a 'day off'. Despite this, last year entire enterprises were kept afloat as people were forced to work remotely at short notice. 
Yet now, remote work and an increase in flexible working options naturally make people less visible in person. With this in mind, what can workers do to stay visible and productive when working in a virtual environment?
Virtual visibility is replacing physical presence
We all know how easy it is to stay visible in the office. Arriving early, attending meetings, getting your boss a coffee, and of course, staying late are all ways to appear more visible at work - even if none of these acts actually provide any real evidence of your hard work.
A virtual work environment provides the perfect opportunity for organisations to disassociate presenteeism with productivity. Leaders now have the chance to explore other signals of real value - such as a reduced backlog, collaborative working, and crucially, happy customers.
Although it can be difficult to measure the exact amount of value a single person contributes, we can shift the focus towards the amount of effort a person makes, and what they manage to achieve.
We already know that people who feel visible and engaged are more likely to feel valued, which ultimately leads to them performing at their best and providing more value in the long run. According to Forbes, "employees who feel their voice is heard are 4.6 times more likely to feel empowered to perform their best".
In contrast, we also know that people who feel invisible within their organisations are more likely to suffer with low morale, and are less likely to feel valued. 
And if they don't feel valued, how will they provide value?
Of the 4454 people we surveyed, over half (52%) admitted to sometimes feeling invisible on digital platforms. A further 19% said that they felt invisible on digital platforms all the time, despite their interactions and posts.
The results from our survey suggest that workers generally feel more visible within their individual team, rather than in their organisation as a whole. It's also clear that people feel their voice is heard more within their team, than in their company.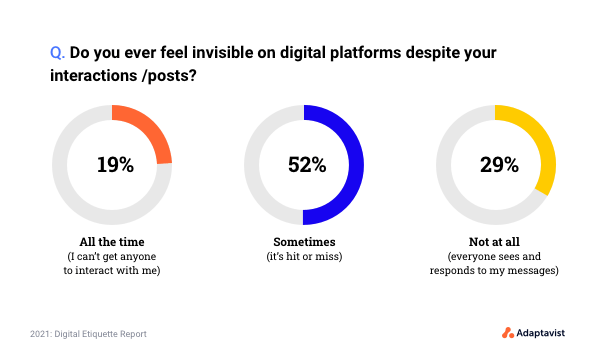 So, what can be done to improve peoples' feelings of visibility within their organisations?
Enabling and encouraging virtual visibility
For workers to feel visible, collaboration is key - whether that's having virtual face-to-face meetings, using tools that encourage collaborative work, or staying connected via digital channels - both on a team level, and on an organisational level.
Once provided with the right tools and training, people should have all the tools they need to take ownership of their own visibility within their team, and the wider organisation.
There are plenty of tools for workers to take advantage of to prevent digital discontent from taking over. These include communication platforms such as Slack, video conferencing software like Zoom, work tracking software such as Jira, and collaborative workspaces like Confluence. 
Tools support the process
Data shows that in 2020, the usage of almost all collaboration tools increased substantially. Despite this, many organisations are still suffering from disconnection on a scale we haven't seen before. This supports the theory that it isn't all about digital tools - as much as they play an important part in supporting the wider process.
Slack's Future Forum Pulse Report points to a number of reasons for this growing disconnect, including a lack of transparency between leaders and workers, a widening divide between the experiences of executives and non-executives, and CEOs failing to involve others in their post-pandemic planning. 
While a robust remote infrastructure is important, so is the ability for organisations to adapt, innovate, embrace change, and involve their people in important decision-making. Many organisations now realise the urgent importance of transforming their ways of working in order to reconnect and stay productive in a virtual world. 
After all, if your processes aren't working, how can you expect your tools to?
As organisations take time to navigate the 'new normal', teams can stray into silos. Yet when everybody embraces more agile ways of working, organisations can shift their entire mindset from the ground up - breaking down silos and encouraging collaboration while maintaining that crucial competitive edge. 
In fact, according to research conducted by McKinsey & Company, 93% of business units that had adopted an agile model before the pandemic outperformed those that hadn't. 
By combining collaborative digital tools with an equally collaborative culture—productivity, visibility, and value will all come more naturally to virtual teams. No presenteeism required.
Ready to learn more about how the 'new normal' is the perfect opportunity for change? Check out our 2021: Digital Etiquette Report findings.
Download the report