The newest brand from The Adaptavist Group debuts on the monday.com ecosystem
As the provider of market-leading work management tools for Confluence and Trello, Kolekti has now expanded its product offering to monday.com, the all-in-one work management platform for team productivity and project coordination.
With Kolekti's mission to end inefficient work, the launch of two new apps—Priority Pro and Workdocs Viewer—align with this bold ambition whilst expanding on the exciting partnership between The Adaptavist Group and monday.com.
Priority Pro
Priority Pro is a customisable strategic decision matrix that helps you prioritise tasks effectively. With its drag-and-drop interface, users can easily add items to the matrix board and instantly receive a priority score for each item, keeping teams focused on what matters most. 
It's easy to customise the look, the titles, and axis names to suit any need, and it offers the ability to create new items directly on the matrix board to save time and context-switching.
Discover Priority Pro for monday.com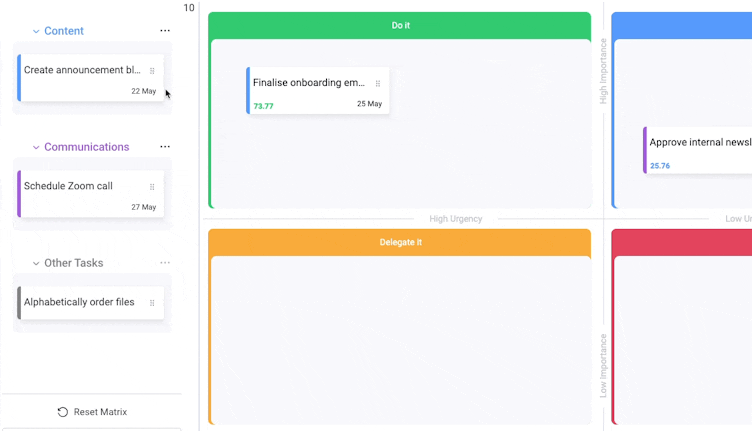 Workdocs Viewer
The ultimate way to manage and locate workdocs within a monday.com instance, Workdocs Viewer gathers saved links for easy access.
Users can effortlessly visualise and find all files in one central hub, simplifying document management and boosting visibility to increase team collaboration. 
Discover Workdocs Viewer for monday.com
Thoughts from Adam Wignall, General Manager of Kolekti
"The ambitious philosophy and unlimited use cases of the monday.com platform make it an inviting place for knowledge workers and collaborative teams."
"We're dedicated to providing solutions that enhance collaborative work and knowledge management, so naturally, we are delighted to offer such innovative apps on monday.com for the first time as Kolekti."
"The team are eager to see how organisations tap into the huge potential of these new tools. Everyone at Kolekti is committed to providing ongoing support and exploring new ways to enhance the productivity of knowledge workers in the future."
About Kolekti
Kolekti builds innovative work management tools that extend and enhance platforms such as Confluence, Trello, and monday.com. Known for market-leading apps Content Formatting Macros for Confluence, Forms for Confluence, and Board Export for Trello, Kolekti strives to help modern workers focus on work that matters. The brand launched in April 2023 and is the latest chapter in the growth of The Adaptavist Group. 
About monday.com
monday.com WOS (Work Operating System) is an open platform that revolutionises how organisations harness software's power. By providing a user-friendly interface and seamless integration with processes and systems, monday.com empowers teams to excel in every aspect of their work, fostering transparency and efficiency in business operations. With teams based in Tel Aviv, New York, San Francisco, Miami, Chicago, London, Kyiv, Warsaw, Sydney, São Paulo, and Tokyo, the platform is fully customisable to meet the unique needs of any business vertical.