The ultimate Jira user guide for beginners
Your Jira learning starts here!
Welcome to the wonderful world of Jira! Whether you're a brand new user ready to get started or you're simply looking to brush up on your knowledge, we hope you find everything you need in our Jira training guide. Below you'll find answers to commonly asked questions, visual examples of how Jira works and enough information to start your Jira training experience off on the right foot. Let's get started!
What is Jira and what is it used for?
Jira is a tool commonly used for project management and issue tracking. Developed by Atlassian, Jira's core function is to track bugs and issues related to your products, software and apps. When it was first launched in 2002 Jira's main use was as an issue tracking platform for software developers. Over time, this has developed to become a powerful tool for project management, IT, customer support and more.
Which Jira product are you using?
Did you know that there are different Jira products and deployment options? Our guide is best suited to Jira Software users, but to really understand how to use Jira you might want to know more about the different products available in the Jira family:
Jira Align
Jira Align is a cloud-based product that connects to one or more Jira Cloud, Server or Data Center instances to provide insights on activity across the business. It's a powerful agile planning tool that is ideal for providing company leadership with visibility while allowing team members to continue working in Jira Software.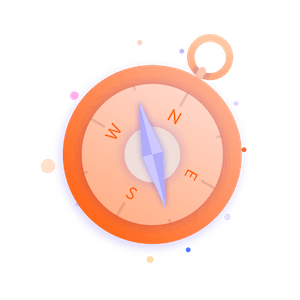 So who uses what? According to our 2020 State of Atlassian report, 88% of respondents said their organisation uses Jira Software, while 50% use Jira Service Desk, 43% use Jira Core (now known as Jira Work Management) and 2% use Jira Align.
Where is your Jira hosted?
Before you start getting to grips with Jira, it's important to understand where your version of Jira is hosted. This can change some of the features you can access, as well as impacting things like security and updates. Here's a brief overview of what to expect:
Jira Server: New licences are no longer being sold, but you can still use Jira Server until 2024. It's a self-managed product designed for organisations that want control, data locality and security.

Jira Data Center offers similar functionality to Server. It's built for enterprises and organisations operating at scale, offering greater speed, reliability and scalability. Like Server, it's a self-managed option.

Jira Cloud is maintained and hosted by Atlassian. It offers a speedy set up, low cost, automatic upgrades and scalability.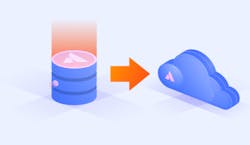 Want to know more about different Jira hosting options?
Read our blog about Atlassian Cloud and Data Center
Getting started in Jira
You should have login details for your company's dedicated instance, which may be hosted on Server, Data Center or Cloud. Jira is a web-based product so you will need to be connected to the internet when you use it. Your company should have a specific link for its own version of Jira, known as an instance.
Each company's Jira instance will look slightly different depending on its set up and hosting platform, but some things will be the same.
Note: The screenshots we use throughout this guide are from Jira Cloud. If you're looking for helpful apps your organisation can use to improve your Jira Cloud experience, check out ScriptRunner.

When you log in to Jira, you'll see a top navigation bar with dropdown options to help you do everything you need to do in the app. This includes 'Projects', where you can view all projects and create a new one. There's a 'Create' button to help you quickly create new issues, and a search field to search for issues by key phrase (and in Cloud, by recent boards, projects and filters). You can use 'Dashboards' to track the status of your projects and issues, and there are also icons for help, feedback and settings.
There's plenty to explore in Jira, but you'll likely find yourself using the Projects, Dashboards and Search features most frequently.
Tip: If you're just getting a feel for Jira and want to try it out on your own, you can set up a free Jira Cloud account.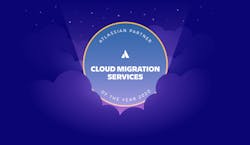 Interested in Jira Cloud?
You'll find many of Adaptavist's most popular apps now available on Cloud, including ScriptRunner. If your company hasn't quite yet made the move to the Cloud, you can rest assured you're in safe hands with us: We've won the Atlassian Partner of the Year 2020: Cloud Migration Services award.
How to use Jira: Projects and issues
The bulk of activity for the average Jira user is made up of projects and issues. Before you get to work, it's important to understand what these are and how they'll help you in your Jira journey.
An issue is a way of tracking problems, bugs or requests that have been raised by Jira users. Anything that can be created and tracked within Jira is considered an issue, whether that's a request for new software, report of a bug in a product, customer complaint, leave request or suggestion for a new feature. Teams use issues to track pieces of work that need to be completed, although companies use issues in a variety of ways.
A project is a collection of Jira issues grouped together. Your Jira administrator will likely be responsible for creating projects and adding users to them, so all you need to worry about is which project you're working on! Projects can be divided into scrum, kanban and bug tracking, depending on what type of work the project is.
Tip: If you can't see or do everything you want to in an issue or project, it might be because your access has been restricted. Ask your Jira administrator (or whoever is in charge of the product) about your company's Jira permissions policy.
How to create your first Jira issue
You might want to create an issue for any number of reasons. Perhaps you're requesting a new office chair from your company's service desk, or maybe you need to flag a bug within the product you're working on. Whatever the reason, creating an issue in Jira is easy:
1. Click 'Create' in the top ribbon (alternatively, hit 'C' on your keyboard)

2. On the 'Create issue' screen you'll see a range of predetermined fields you need to fill in. These fields vary depending on the project and issue type. You'll need to fill in all the required fields (marked with a red asterisk) to submit your issue.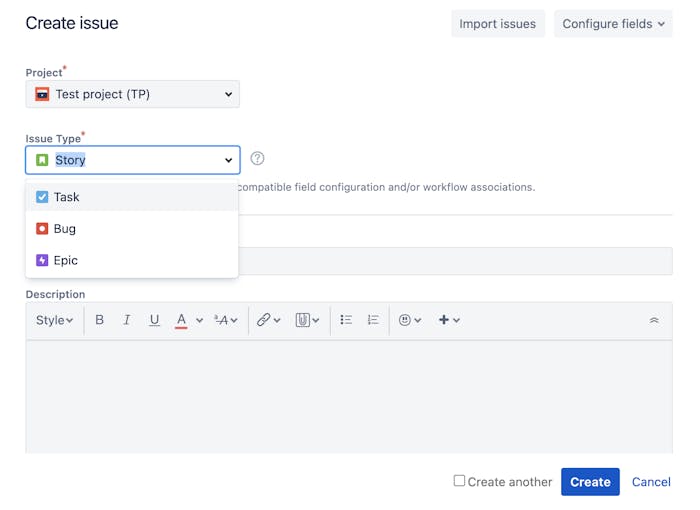 3. Select the project your issue relates to, then select your issue type. If you're not sure what each issue type means, check with your Jira or project administrator, or refer to the below:

Story: A functionality request or requirement from the perspective of the user
Task: A piece of work within a project, story or epic; general to-do item
Bug: Alert someone that something isn't working the way that it should
Epic: A larger body of work that needs to be broken down into smaller tasks or stories

4. Create a summary for your issue. This should be a one-line snapshot of your problem, question or task, capturing the most important details.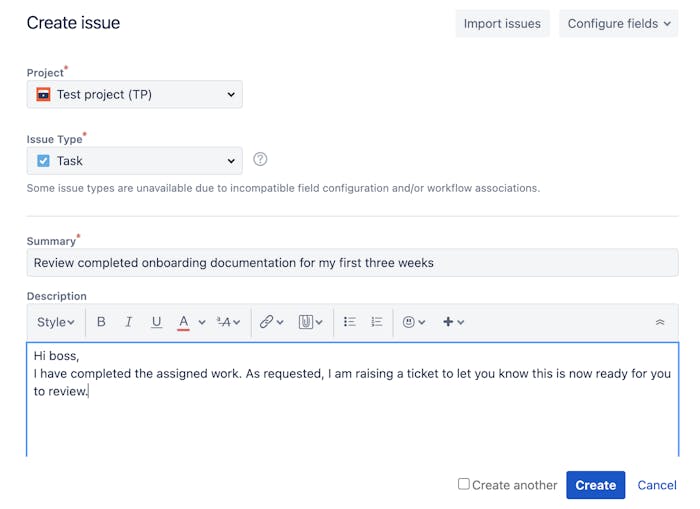 5. Fill out the remaining fields with as much information as you can. The 'Description' section allows you to attach files and links, while you can also assign your issue to specific users to review. Note that the fields you see will differ depending on the type of project you're working in. You can find out more about the differences between company-managed and team-managed projects here.
6. Use the 'Labels' field to add descriptive labels. This will allow users to quickly understand what your issue relates to, as well as making it more searchable within Jira. The 'Components' field can also help with this.
7. If your issue is related to another issue already within your project, you can indicate this using the 'Linked issues' field.
Only enter information you're confident in. If you don't know what should go in non-essential fields, leave them blank. Entering incorrect or confusing information often creates more work for the Jira or project administrator.
Once your issue has been created, it will be added to your project and you, your administrator and other Jira users (depending on the issue's settings) will be able to see it inside the project. There are a number of different ways you can search for this and other issues, as discussed below.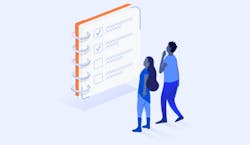 Prefer live Jira training?
Our live trainings are ideal for groups of people of a similar level to do a refresh or to learn everything from scratch. We also offer bespoke training to help your teams understand Jira best practice.
How to use Jira: Searching and filtering
Searching for issues in Jira can help in many instances. Perhaps you want to edit or update an issue you've already submitted, or maybe you're looking to make sure someone else hasn't already raised the same bug you want to raise. Once you've found the issue you're looking for, you'll see not only all the fields you completed yourself, but also information on activity that has taken place on the issue, its history, comments, and any other additional information that has been assigned to it.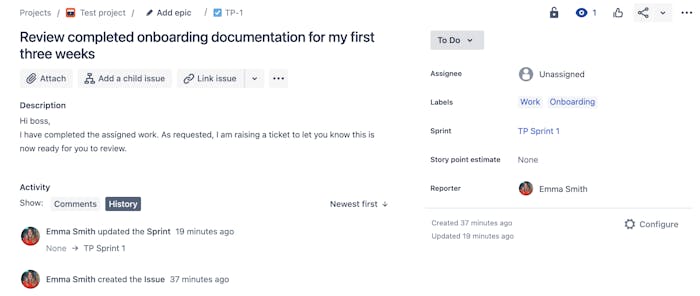 All issues in Jira have an issue key, which is a unique identifier that Jira uses to identify it. If you know the issue key you're looking for in Jira, you can simply type this into the search bar on the top ribbon and you'll be taken to the issue. Alternatively, you can search for issues in the following ways:
Using the search bar when you don't know the issue key: Jira's intuitive search bar will allow you to search for issues, projects and keywords. It also has the option to refine search results according to project, assignee and status. You can use 'Basic Search' or 'Advanced Search', depending on how complex your query is. Note that using Advanced Search requires some understanding of Jira Query Language, explained below.
Using the 'Issues' dropdown on the top ribbon: If you're using Jira Server or Data Center, you'll have an 'Issues' option in your top ribbon. This allows you to navigate to issues created by you, open issues, closed issues and more.
Using the left-hand pane: If you're in Jira Cloud, the pane on the left-hand side will help you to navigate to issues. Depending on the project type, you can view issues in the 'Backlog' or 'Board' section, or in the 'Issues' section.

As your projects progress and more issues are raised, you might want to use filters to help identify the most important issues. There are default filters you can use to refine search selections, or you can create your own. To do so, search for an issue in Jira (using the search bar or method of your choice) and select the criteria you want to refine your search to - for instance, date, whether the issue is open or resolved, or who it's assigned to. Run the search and if you're happy with it, click 'Save' to save the search criteria as a filter you can re-use in the future.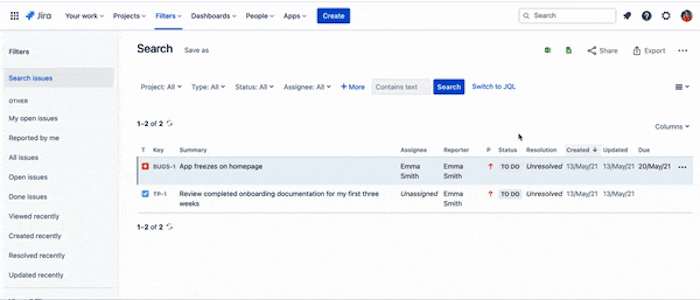 Note: We recommend you run your search before saving it as a filter, so you know it returns the results you're looking for.
If you want to know more about searching and learn how to create a filter in Jira, check out this blog.
Extra for experts: What is JQL?
When using Advanced Search in Jira, you can use Jira Query Language (JQL) for a more in-depth search. JQL is not the same as SQL, and you won't break anything by using JQL to complete an advanced search. A JQL search consists of a field name, an operator (which represents how the field name will interact with the value), and a value name, which is the name or project key of a specific project.
Jira Scrum and Jira Kanban: What you need to know
There are different types of project templates you can use within Jira, and it's likely you'll come across both Kanban and Scrum projects within your instance. Different templates are suited to different workflow styles, though both Scrum and Kanban methodologies are typically aligned with the agile way of working. Here's what you need to know about these different templates:
Jira Scrum: A board usually created using the Scrum framework, ideal for when you have a certain amount of time to complete a certain amount of work. Teams use Scrum boards when they want to plan their work in detail before starting a project, perhaps adding story points to user stories and creating sprints (short cycles of work) to add more detail. When you create a Scrum board, you'll create a backlog list of issues which can be moved from backlog to sprint. When you're in Active Sprint mode, you and your team can move issues between columns that represent statuses.

Jira Kanban: A board with a column-based interface that allows you to move issues between stages. Kanban is synonymous with project management, and this board's style will be familiar to many professionals. It doesn't feature sprints and deals with all issues in a project at once, so is best suited to projects when you only need to focus on a small number of issues in Jira at once. Unlike Scrum boards, Kanban doesn't give users time estimates. Its simple drag-and-drop functionality makes it extremely easy to use for collaborative projects and independent work.

An introduction to Jira dashboards
Jira dashboards give you top-level oversight over projects and tasks you're involved in. These look slightly different across Jira Cloud and Jira Server and Data Center, but fundamentally serve the same purpose. They consist of different 'gadgets' (boards) which display projects, assignments, activities and achievements. You can create your own custom dashboards for deeper insights on particular projects or tasks.
Below is an example of what a default dashboard looks like in Jira Cloud: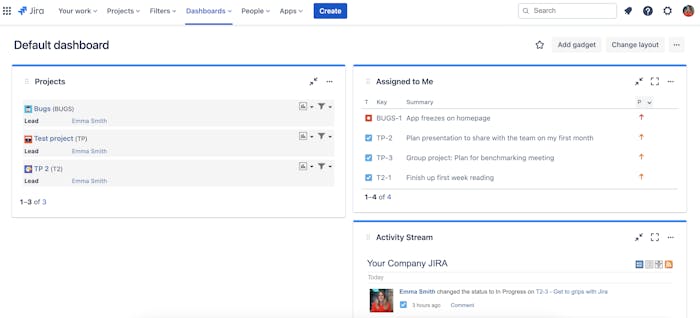 Ready to build your own? Here's how to create a dashboard in Jira Cloud:
Under the 'Dashboards' dropdown, click 'Create dashboard'.
Fill out all required fields in the popup that appears, including the name, description and any access permissions.
Note: In Jira Server and Data Center, the user flow is: Dashboards > Manage dashboards > Create new dashboard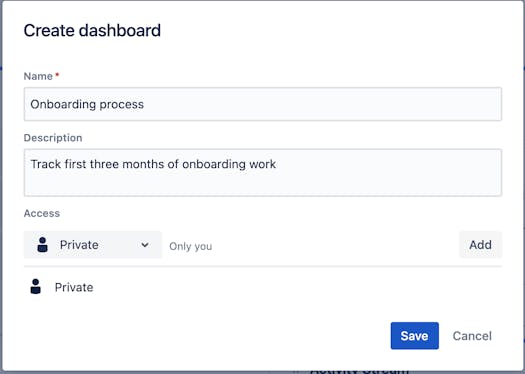 3. Click 'Add gadget' to customise the information you see in your dashboard. There's a wide array of different graphs, charts and logs you can add here, so play around and see what works best for you. Popular gadgets include 'Activity Stream', 'Issues in progress' and 'Assigned to me', but you'll want to use different gadgets depending on your project or aim of the dashboard.
4. Fill in the required fields for each gadget so that they can start pulling through the relevant information. Be sure to specify what project/s you want to display data from.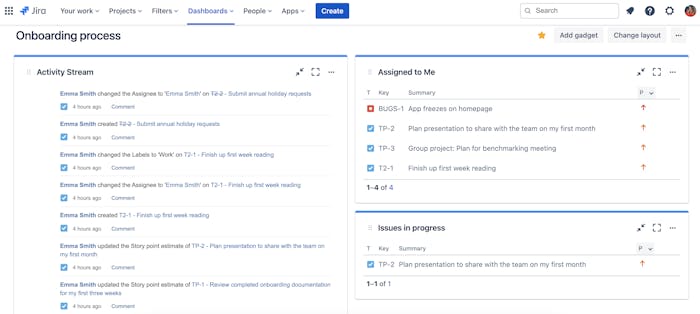 Still want more?
Our blogs and webinars offer a wide range of insights, tips and tricks to help you maximise not just Jira, but the entire Atlassian suite. If you have questions on anything else, we'd love to hear from you. Simply contact us and we'll be in touch.