Accelerate your digital transformation with Enterprise Service Management
Transform the way your organisation works with increased productivity, enhanced visibility and control, improved user satisfaction, and decreased wasted time and resource.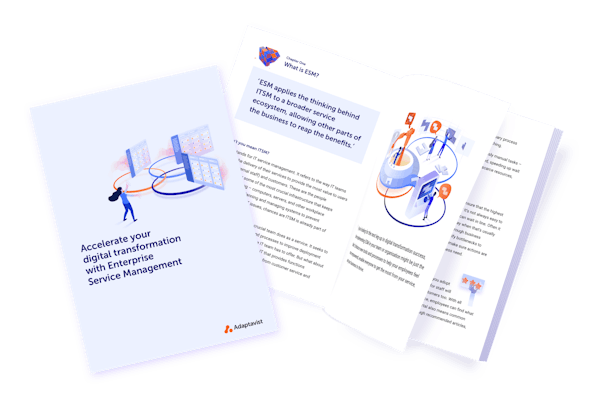 Develop a winning ESM strategy
What is ESM, and what are the benefits of transitioning from ITSM to ESM? If you're looking for the next leg-up in digital transformation success, then download our eBook to learn about what ESM is and who it's for; best practice processes and tools; the big business benefits you stand to gain; and the fundamental facets of a winning ESM strategy.
Key takeaways:
Learn the difference between ITSM, high-velocity service management, and ESM.
Get practical "how to advice" on delivering value by improving service management processes.
Learn how to apply existing ITSM capabilities as a foundation for ESM adoption.
How to avoid common ESM pitfalls and how to solve them if you slip. 
Download the eBook to find out more