What are OKRs?
Objectives and Key Results (OKRs) is a goal-setting methodology used to set challenging goals with measurable results. Objectives are the goals the company, department, team or individual wants to achieve (what needs to change), and the Key Results are how to track progress (specific and time-bound) towards reaching the goals.
John Doerr's formula for setting goals provides a template to ensure there is no fuzziness in your goal. It forces not only a description of the goal but also how the goal will be measured in its achievement.  
John Doerr's Formula:
I will ________ as measured by _______.
OKRs are not the same as KPIs (Key Performance Indicators). KPIs are a lot like key results; however, the big difference is that KPIs track important, established metrics for your business and are usually part of an executive dashboard.
Typically, an organisation will have between three to five high-level objectives and three to five key results per objective.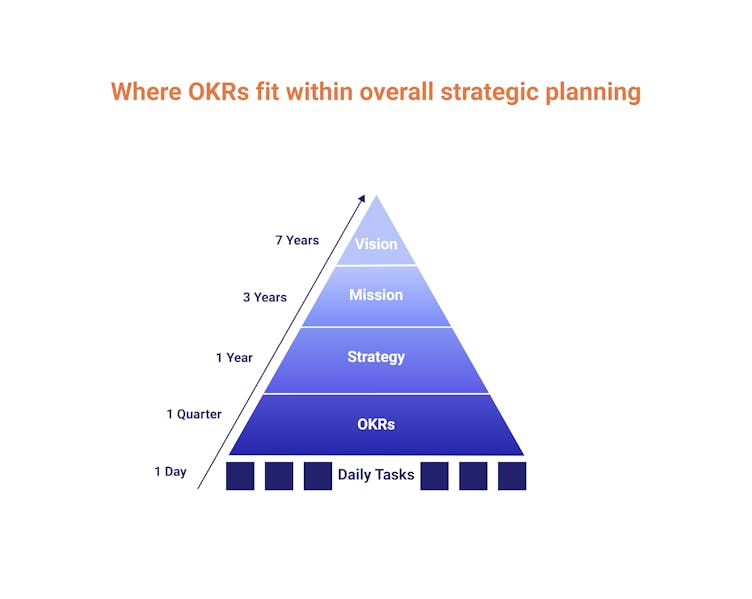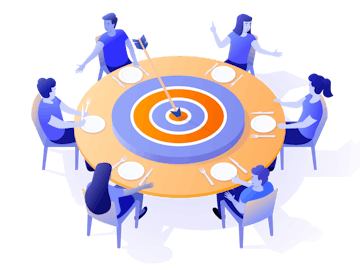 Get started whatever your size
OKRs can help you achieve big goals by measuring and aligning what individuals and teams are doing with the company's overall core objectives. 
If you're just getting started, check our menu of OKR-related content for more insights and information about OKRs and how they can transform your approach to goal-setting.
Discover our tasting menu of OKR-related content
Why track OKRs?
Measuring performance is essential if you want to improve as an organisation and continue to deliver value to your customers. By measuring performance and taking time to review where you are in relation to your goals, you can learn from failures and successes much faster and implement any changes needed to take corrective actions. Also, they are a great way to motivate your team and recognise success.
Five things to ask during a monthly OKR review:
Progress: where are you today against your Key Results?
Expectation: is this where you expected to be at this point in the cycle?
Trends: are you getting nearer or further from your expected results?
Root cause: what may have affected your results?
Plan: do you need to try something different to get closer to your objective?
Agile pro tip: score your Key Results 1-10; this will help you see the outcomes at a glance in the future. If your score is high, make the next objective a bit more challenging.
This is a lot of information to track, update and share regularly.
Spreadsheets don't quite cut it for OKR management
I'm a big fan of spreadsheets; they are great for general data analysis and data management, and for the right task, they are incredibly valuable for maintaining and analysing data. Pivot tables are a personal favourite for quickly summarising large amounts of data.
Will spreadsheets alone help you track your team's OKRs? Yes, initially, but spreadsheets can only do so much. If you want to track your OKRs, spreadsheets are probably not the ideal software, here's why.
For start-ups with less than 25 employees, an OKR spreadsheet in either Microsoft Excel or Google Sheets is a simple way to make organisational goals transparent and measurable within your organisation. Spreadsheets allow small teams to set, track and align their goals using the agile OKR framework. Some organisations set OKRs for individual team members; however, this is not the best practice.
Spreadsheet pros:
Spreadsheets work well for small companies and startups (with less than 25 people).
Spreadsheets are free or low-cost.
People are familiar with spreadsheets, which makes using them less daunting.
Spreadsheets are flexible, and they can be easily edited.
Spreadsheet cons:
Spreadsheets cannot track conversations.
Identifying dependencies at the team level is very difficult.
It can take considerable resources to manage and maintain a large spreadsheet.
Weekly spreadsheet progress updates overwrite previous data, you have little sense of trends, and you keep losing your history, depending on how you set up the spreadsheet.
Spreadsheets don't provide the level of transparency and usability needed for a team of 25+.
The monotony of creating the OKRs in a spreadsheet may inhibit them from actually being completed.
Spreadsheets are hard to manage with no reminders and to-do's built-in.
Spreadsheets are limited in features compared to a dedicated OKR software tool.
Spreadsheets are hard to manage, and people only check them at reporting times, which won't change behaviours.
No real-time progress insights are needed to support strategic decisions.
No custom roadmap views.
No collaboration or sharing of notes.
Excel or spreadsheet OKR templates can be a helpful place to start for a start-up business or small team, but the downside is that you will need to continually update these static documents — especially before your next meeting or leadership update. For companies with over 25 individuals, who wish to grow, spreadsheets (or word processing documents) probably won't cut it. As a product manager, you need a more sophisticated tool than a spreadsheet.
The key to growth is relevant metrics to facilitate accurate decision-making. Forrester's article Use OKRs To Optimize Business Value Of Technology Investments, states that growth will be stifled if gathering the information that is needed to inform KPIs is decentralised, inconsistent, and takes too long to derive meaningful insight. If it is, then you run the risk of creating the wrong KPIs, which distract rather than support strategy delivery. OKRs can quickly become unmanageable and unconnected in spreadsheets.
According to Adaptavist's Digital Etiquette: Reinventing Work Report, a huge 57% of us now spend more than 30 minutes a day searching for information.
Make OKR management simpler
At the point of creating your OKRs, all the planning and strategy have already been done, and you have decided on your OKRs; now it is just a case of putting them somewhere (not a spreadsheet) and sharing them and reviewing them regularly; we advise quarterly. 
Collaborative tools provide a centralised workspace that is purpose-built for product management teams to prioritise features, craft visual roadmaps, and report on OKR progress; these tools can help create, manage, monitor and report on OKR progress all in one place; there is no more time spent wrangling with spreadsheets, referring to multiple unconnected tools, and manually updating graphs in presentations. With agile roadmapping tools, life can be made so much simpler; here are some examples of how:
Link your strategy directly to your objectives, releases, epics, and features so you can track and report on key results as you go in real time. 

Manage your OKRs by setting objectives at each level of your organisation and establishing the connection between them. Keeping everything aligned with the overall strategy.

Share OKR progress easily with custom reports, build your own or let us help you create them. Key reporting features include pivot tables, charts, list reports and, of course, roadmaps. Saved reports can be added directly to a presentation or shared as a PDF or live webpage.

Track OKR progress across your whole organisation in a single drill-down (or up) view. Making it easy to see if your teams are on track to achieving your organisational goals.

Check that your strategy is linked to every level of your organisation's hierarchy and identify any gaps where features are not yet linked.

If you are looking to scale and adopt agile practices as part of a wider agile transformation (or you are a larger team), you may want to consider a specific product management software tool like Aha! Roadmaps, Jira Align, monday.com or Gtmhub are agile software tools that include OKR functionality and can help you to capture, track and view your OKR process at all three levels - company, portfolio and product, and provide a central place for setting objectives and creating and sharing strategic plans and roadmaps. Forrester's tech management report, The Collaborative Work Management Landscape, Q3 2022, explains how collaborative tools support highly repeatable processes, such as objectives and key results (OKRs) or process-driven activities, such as strategic planning, with flexible linking to enable cross-functional teams to work together.
The main advantage of agile software is that it makes OKR tracking straightforward, helping to connect and engage your product management teams and individuals in one place and track progress with a single view that can also be interpreted at an individual level. The transparent feedback and reviews that need to happen continually around OKRs across your organisation increase collaboration and provide universal traceability and accountability throughout the organisation (Forrester). This is made harder with generalised, non-specific tooling. Agile tools, which include OKR tracking or that are specifically dedicated to OKRs, will enable you to scale your product teams to deliver meaningful, desirable products and scale your organisation. 
Agile software tools take the stress away from monthly stakeholder meetings. You can directly tie your objectives to your strategic initiatives so you can see how these all contribute and tie together. The alignment between tasks and business outcomes is the secret sauce to achieving your company's strategic vision.  
Need help?
Do you want to implement OKRs as part of your agile transformation or need support with tool implementation to create and manage your OKRs? Speak to our agile experts today.