With many of us relying on Slack for our day to day communications, they didn't disappoint us in 2021 by bringing a whole host of new updates to make work more enjoyable and collaborative. We know that you use so many different platforms a day that it would be impossible to keep track of all the latest updates, so we wouldn't be surprised if you missed a few of them.
As a trusted Slack partner and a Slack app provider, we always keep one eye on the latest Slack news; you can also keep up to date by signing up for our Slack newsletter. So what were the most notable updates and features from Slack in 2021? They were perhaps imperceivable to the naked eye but made the Slack experience a whole lot better. Let's look at what's been happening at Slack HQ in 2021.
We'll start with Slack updates straight from the HQ itself, then Slack news from the apps ecosystem, and finally a sneak peek at what may be in store for 2022.
Slack updates straight from Slack HQ
Slack update #1—Start a live conversation with Slack huddles
Slack huddles allow team members to have quick, informal audio conversations in any channel or DM, taking you a little closer to a same-room conversation. Anyone within the channel can join, and once the huddle has been switched on, teammates can share their screen, others can draw on it, and there's even the option to activate live captioning. It aims to be the next best thing digitally to watercooler chats, rolling over to a colleague's desk to talk about a crazy idea, or any time-critical business incidents that are more efficiently addressed via discussion.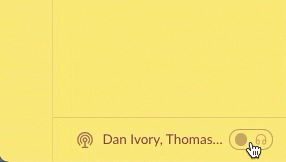 Slack update #2—Add descriptions to images in Slack
This Slack update helps increase accessibility and inclusivity on the platform. Those with visual impairments can now get more visual cues when presented with images to understand what is being presented to them. When you upload an image, select Edit file details, then enter a description. Or once it's been uploaded and shared in a channel or a private conversation, click the three dots at the top right of the image, select Edit file details, and enter a description. It shouldn't take more than 10 seconds and will help all colleagues collaborate better. At the time of this blog, this feature is only available for Desktop and Android users; watch this space, iOS users.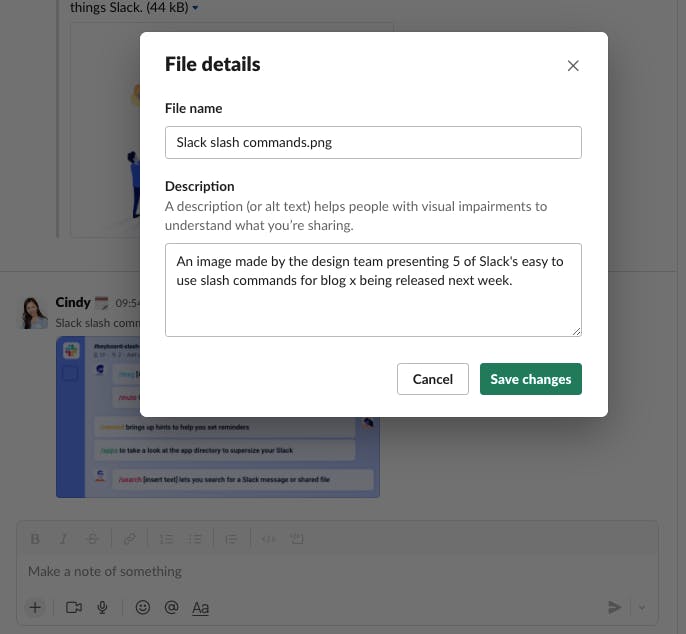 Slack update #3—Schedule messages to send in the future
Like with any message, verbal or written, sometimes you want to get a message across but just not now. Whether a few hours or a few days, at a maximum of 120 days into the future, Slack's scheduled send feature can help. The ability to schedule messages will be beneficial for those who work with colleagues across different time zones, so you aren't disrupting each other at random hours of the night. This new feature is pretty simple, type your message, as usual, click the tiny arrow pointing down at the bottom right of the message box, and specify when you want to schedule your message. You'll see there are a couple of pre-filled options, as well as the ability to custom set the time you wish to; you can later reschedule, edit or even delete the message before it's sent.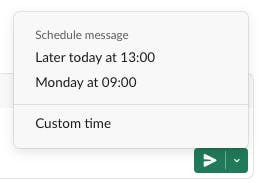 Slack update #4—View conversations side by side with split view
The split view feature lets you open two different conversations or channels side by side simultaneously; no more toggling back and forth between them. It's beneficial for those who manage multiple conversations and threads throughout the day, which is probably most of us. Press command on a Mac or control on Windows and click on a channel to open it in split view. At the time of this blog, this feature is only currently available on desktop.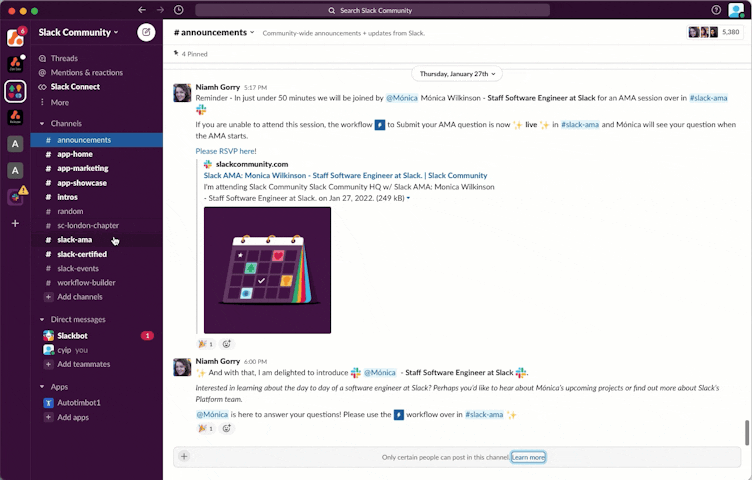 Slack update #5—Record video and audio clips
Slack has already nailed it with communication via written (typed) words, so why not do the same with video and audio? Note this is different to the Slack huddles we mentioned earlier. You can now easily record audio and video clips to share in-the-moment ideas or just end a more personable good morning message to your team. 
You can record clips up to five minutes long, screen record with video clips and even get automatic transcription so the recipient(s) can turn on captions. Anyone can record a video or audio in Slack, which will then be shared in the channel just like a direct message. The option is available via the new video and audio icons you may have seen appear at the bottom of your message box.
Slack update #6—Create folders and keep bookmarks organised
Have you and your team made much use of the bookmark bar in your Slack channels? For any cross-collaboration channels that I'm a part of, bookmarks have been a saviour to help facilitate collaboration and help us keep track of our project pages. Now, if you're super organised, you can fulfil your deepest desires with folders to keep these unruly bookmarks organised.
Slack news from the app ecosystem
There are 2,500 apps in the Slack app directory, and there's no sign of the growth of this number slowing down. The wide variety of apps presents a great opportunity for Slack users to find new ways to minimise context switching, multi-tasking and distraction. Here are the latest new and noteworthy additions to the Slack app ecosystem:
#Slack news 1—Send and sign documents easily within Slack with Docusign
Docusign released a new e-signature app for Slack in 2021. You may now share your most important documents directly within Slack, access your library of templates to generate new agreements quickly, and send them off on-the-fly. Sellers can send contracts to customers, HR can send onboarding documents to new starters, and marketers can send partner release agreements without leaving Slack. The cherry on top of the cake is a notification that can be sent once the document has been signed.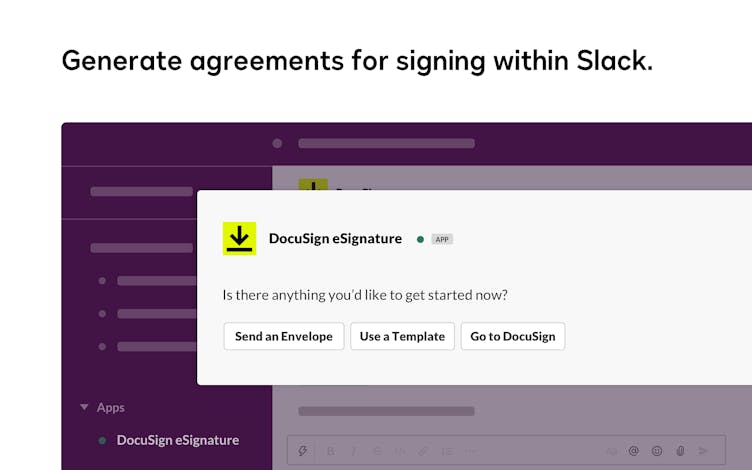 Image by Docusign on the Slack App directory
Slack news #2—Manage quick access company knowledge with Whatis
Any company and any team uses jargon, acronyms, and terms that can be obscure to some people. For newcomers especially, it can quite frankly be a minefield. Give everyone context and the power of knowledge. Whatis helps you define, search and organise company information and seamlessly integrates this data into your Slack workspace. Reduce repetitive questions, find the right person, incentivise knowledge management, and encourage inclusivity for those too shy to ask questions.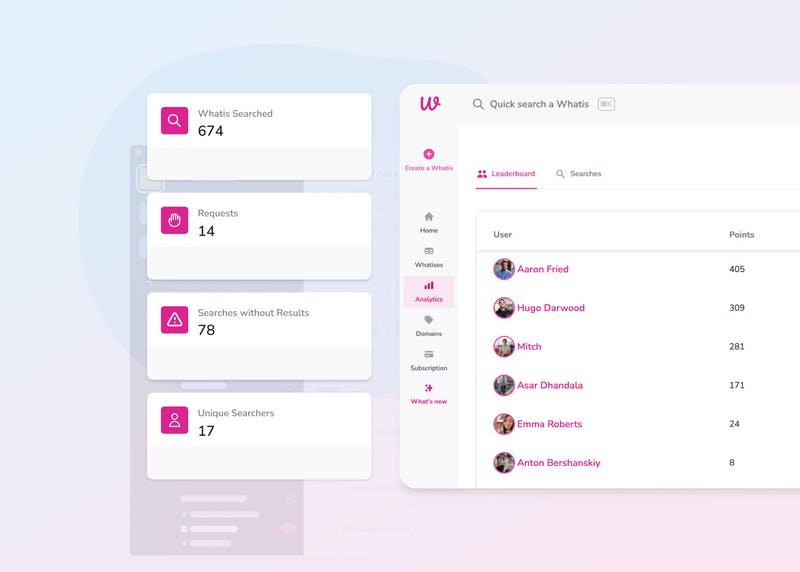 Slack news #3—Monitor Microsoft Azure activity in Slack
Do your teams use Microsoft Azure? Would you like everyone within a channel to be informed about pull request activity, build, and releases straight into Slack for timely discussions and collaborations? Microsoft released a set of apps for this: 
Azure Repos–monitor activities in your repositories from your channel within your Slack channel.
Azure Boards–monitor work item activity in your Azure Boards projects within your Slack channel. 
Azure Pipelines–monitor activity on your pipelines and get notifications for events in your Slack channel.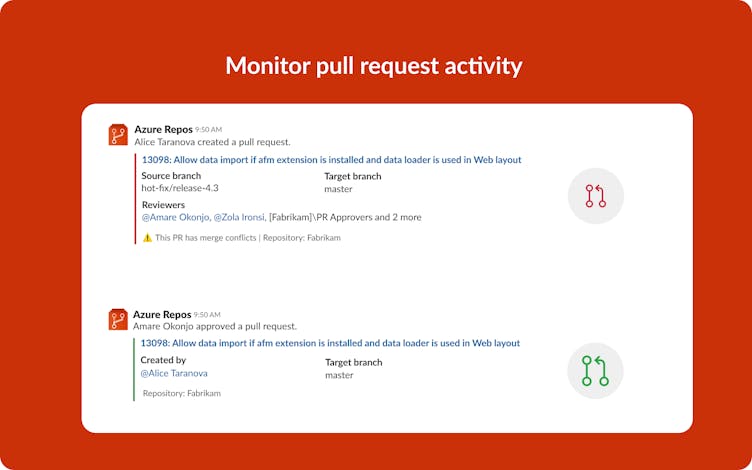 Image by Microsoft on the Slack App directory
Slack news #4—Automatically copy a message from one channel to another with an emoji
Reacji channeler (this is not a typo) was developed and released by the Slack team. It's very light and simple, yet powerful and will save you a lot of time. You may decide to set up an emoji to share the most newsworthy pieces of information into a company-wide 'news' channel. Or you may want to make your IT team aware whenever several people start experiencing the same issue–and you can do that, for example, with a wrench emoji. The app works by setting up rules for a specified channel, choosing your emoji, and then the output channel you'd like the message copied into. It currently only supports public channels and not private ones.
Slack news #5—Create, update and comment on Jira tickets from Slack
While we're on the topic of emojis, did you hear about the highly downloaded app we launched last year–Workflow Steps for Jira? It's a simple, no-code app for Slack's Workflow Builder (you'll need to be on a paid plan to access it). For those of you who use Jira, you can easily integrate and automate Jira actions directly from Slack with pre-built forms and emojis. It doesn't get much simpler than this.
Slack newsroom—what does the future hold?
In November 2021, Slack organised its annual global summit, Slack Frontiers, and took the opportunity to announce what they were working on and what to expect from them.
#1–A new, revamped Slack platform
Workflow Builder will be upgraded, allowing everyone to set up automation workflows not only within Slack but also with their whole ecosystem of apps. An outage on your billing platform? Warn everyone in Slack and create a ticket for your IT department on the internal service desk in no time, easy as pie.
Slack will also make it easier for app developers to develop and deploy Slack apps. And with message metadata, Slack are committed to letting software communicate with each other ever more efficiently.
#2–Improved Slack connect
Slack is making collaboration ever easier within an organisation and external partners and removing fences one by one. With your blessing and your full agreement, you will be able to invite anyone to a Slack channel, even those on a different workspace and on a different plan.
#3–Deeper integrations to make Slack your digital HQ
Want guidance on how to best use Slack for your teams? Reach out to us for a chat.