PLEASE NOTE
The content of this blog is no longer updated
How do customers feel about moving on from Jira Server? We spoke to Walter Buggenhout, one of ACA IT-Solutions' Atlassian experts, to find out.
Atlassian's October announcement about ending Server licences was designed to accelerate the customer journey to Jira cloud. Six months on, how are people feeling about a shift away from the perceived security of Jira Server? Have the initial shockwaves subsided into acceptance of a cloud future, or are users still hesitant to make the move? 
To explore this topic, we recently joined ACA IT-Solutions as part of their digital series. During the webinar we discussed how we see Atlassian cloud and how ScriptRunner for Jira cloud can help users make the most of this platform.
Migrating to Jira cloud: What you need to know
No migration should be taken lightly, and as no two businesses are the same, every journey will look different. At Adaptavist, we've been involved in migrations of all sizes, mastering Jira change management in a range of environments. From this, we know the best place to get started with Jira cloud is to understand its fundamental differences to Server.
Cloud is ideal for fast, continuous change. Automatic releases mean your team can benefit from fixes and updates with no interruption or downtime, not to mention the lower cost overall. Meanwhile, Server provides greater control over when and how updates take place - making it better suited for organisations with strict rules around data storage and downtime.
But the real world is not so black and white, and users still have major questions around what operating in the cloud might look like. We caught up with Walter Buggenhout, one of ACA IT-Solutions' Atlassian experts, after the webinar to understand how their customers are navigating this potential transition. Here's what he had to say:
"The reaction to cloud has been mixed - but the initial resistance is waning"
The initial reaction to the Server licences announcement was largely one of surprise and disappointment, and Walter saw resistance from customers when faced with the prospect of a move to cloud. However, he says sentiment is shifting amongst his customer base, with people realising that a move away from Server is something they will need to contend with and prepare for in the next two years.
It's particularly challenging for larger organisations that had no plans - or budget - to make such a significant move. Most of ACA IT-Solutions' customer base is on Server, and many have heavily customised environments, especially in Jira and Confluence. He's seeing concern from customers about whether they'll be able to reach the same levels of customisation on the cloud, and whether their favourite apps will be supported. This, Walter says, is the driving factor in determining when the right time is to migrate from Server. While this may not be in the next few months, customers know that partners are working hard to get feature parity for their apps, so we can expect to see more migration momentum as this unfolds.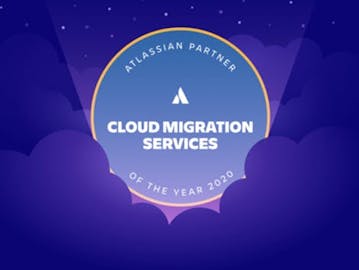 Ready to migrate?
Our migration services team can help - and we've just won Atlassian Partner of the Year 2020: cloud Migration Services! Read more here.
Read blog
"Trust and compliance are key for cloud adoption"
Data residency and GDPR are leading concerns for Walter's customers who are cautious about cloud environments. He believes that this concern will diminish over time as Atlassian continues to invest in its Trust Center and demonstrate how secure the cloud really is, as well as with partners like ACA IT-Solutions and Adaptavist helping to address concerns and build trust.
Walter believes that compliance with Atlassian policies is more critical in Jira cloud, where companies must adhere to the rules or risk not being hosted on the platform. In addition, customers are wary of the perceived loss of control outside of the server environment, something which Walter thinks will become less prominent as trust grows in the cloud.
"It's not just about shifting platforms - you also need to think about migrating tools"
It's important for customers who are considering or preparing to move to start looking into cloud products, says Walter. Organisations are realising that a migration isn't just about moving platforms, but also tools. 
Businesses will continue to look for the same level of customisation on the cloud as they're used to on Server, which is why tools like ScriptRunner and Project Configurator are so key. Walter says that most businesses have a solid practice of testing and simulating migrations before running them, so having a cloud-based tool to support this is essential. 
Project Configurator allows teams to continue their testing and staging processes when performing configuration migrations, reducing manual work and improving security. This is already extremely valuable, says Walter, and as the app continues to evolve we will see businesses feeling more confident in their ability to transition smoothly to the cloud.
Finally, employees whose roles are heavily embedded in Jira Server technologies - such as in-house architects and those working in the Atlassian stack - must consider how their roles can evolve with any platform shift. This presents both a challenge and an opportunity for people in technical and app administration roles to learn new skills and familiarise themselves with cloud products.
"Get help and clean up before you migrate!"
When undertaking a migration, Walter recommends working with a partner who can help to navigate the journey and apply best practices to make it as smooth as possible. It's not a move to be taken lightly, especially for organisations with multiple Jira projects, apps and customisations, but will be much easier with right education, preparation, partner guidance and Atlassian migration support. And most importantly, says Walter, organisations of all sizes and complexities should clean up their Jira instances as much as possible before migrating - not after!
Get ready for Jira cloud with Adaptavist
The cloud undoubtedly poses challenges for some organisations, but also many benefits and opportunities. At Adaptavist, we build products designed to perform in a cloud environment and enhance your Jira experience.
If you have specific requests or want to find out more about how we can help you in your journey to the cloud, please get in touch.
Contact us