PLEASE NOTE
The content of this blog is no longer updated
In this blog series, we're getting under the skin of Data Center migration. In the first three installments, we covered the big benefits driving businesses to choose Data Center, how to get organised ahead of migrating, and making the most of UAT.
In part four, we're tooling up to take on migration, looking at apps designed specifically to help keep the process under control, as well as other useful extras to have at your disposal.
For an in-depth look at best practices for planning, preparing, and testing your way to migration success, download our free eBook Demystifying Atlassian Data Center migration. 
When you move house, you probably don't shove everything in a black sack and load it onto the truck. You go through all your belongings, sorting, discarding, and packing in a logical fashion so you don't take anything with you that you clearly don't want, and so you can find everything when you get where you're headed.
Migrating from Atlassian Server products to Data Center should be no different. It's a great opportunity to purge your system of everything you're no longer using and get it organised for its shiny new home. It also gives you the chance to consolidate your licences, making sure you don't have duplicates and that you're not spending more than you need to. 
The right tools for the job
Before you get started, we recommend a thorough audit of all your apps, including:
What add-on apps are being used and by how many people? 
What's seeing a sharp uptick in adoption and what's fallen by the wayside?
Which versions are on the source instance?
Where is the data stored, and what configurations are in place?
Are you upgrading Jira as part of your migration – will this make some of your add-on apps redundant?
When you're ready to make the move, it's a good idea to have some tools in place to keep the process as simple and streamlined as possible. We recommend sticking to the tools you're already experts in and that your system can support but investing in a couple of add-ons. Let's take a look at our tried and tested toolbox…
Do more with data
If you're migrating between instances of Jira, then Project Configurator is about to become your new favorite Adaptavist app. Save time, enable testing, and reduce human error when migrating or consolidating your Jira instances. Reliably export data and configuration from Jira Server and import it into your new Jira Data Center.
With Project Configurator, you can pick and choose the parts of an instance that you want to export, automate the merging of complex instances, and simulate imports and generate reports to resolve issues before you migrate. Likely migration headaches – such as data clashes, inconsistencies, and errors – become easy to manage as Project Configurator gives unparalleled control and oversight.
Keep migration running smoothly
Migration can be a lengthy multi-phase process, including a lot of repetitive tasks that require precision. If you're in one of the 25,000+ teams that currently use ScriptRunner day to day, you'll already know how useful it is for advanced automation of tasks, but applying its power specifically in your migration prep can help save time, reduce errors, and help you leave behind that which is no longer relevant for your business and business processes.
Perform simple repetitive tasks or trigger complex, multi-step processes to help you get your old Jira instance cleaned and ready to move, and to set up your new instance for success in keeping the house clean and uncluttered as you go forwards.
Give yourself some Slack
Love it or endure it, Slack has become an essential component in countless workplaces. And if you use it already, you'll come to depend on it through your migration process. For simple information sharing, migration updates, and planning particulars, it's a flexible and efficient communications hub.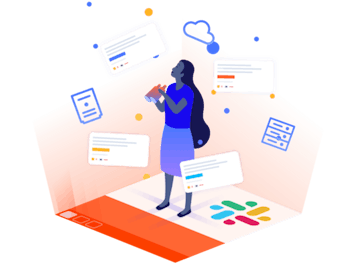 Want to avoid context-switching chaos? Try out Everyday Toolkit for Slack.
With 12 productivity micro-apps to save time and speed up simple tasks, it's the perfect partner to avoid migration aggravation.
Try Everyday Toolkit today
Together, we're ready for anything
Moving is never easy, but there are simple steps you can take to make the process less painful. Think of Adaptavist as the friendly removal firm and our tools as the bubble wrap, sturdy boxes, and muscly arms you need to get your system packed up and en route to its new destination. Plus we promise not to leave anything behind, unless you ask us to.
Our expert team is here to help make your move as smooth as possible – from sorting out your licencing plan to arming you with the best tools for migration itself. To find out more about Atlassian Data Center migration, download our eBook or get in touch.