PLEASE NOTE
The content of this blog is no longer updated
Atlassian is on the move – and perhaps you should be too
In October, Atlassian announced that it's sunsetting its server products – making a bold commitment to the cloud and leaving customers with a big decision: migrate to Atlassian Cloud, migrate to Data Center, or take a hybrid approach.
In this blog series, we'll be exploring Data Center migration for Atlassian tools, such as Jira, highlighting the business benefits of making the switch, providing advice on best practice and the steps you need to take for migration success, and giving you some insight into what you can expect from the Data Center experience.
Part one explores some of the big benefits driving businesses to choose Data Center for their Atlassian deployment and helps you figure out whether it might be right for your business.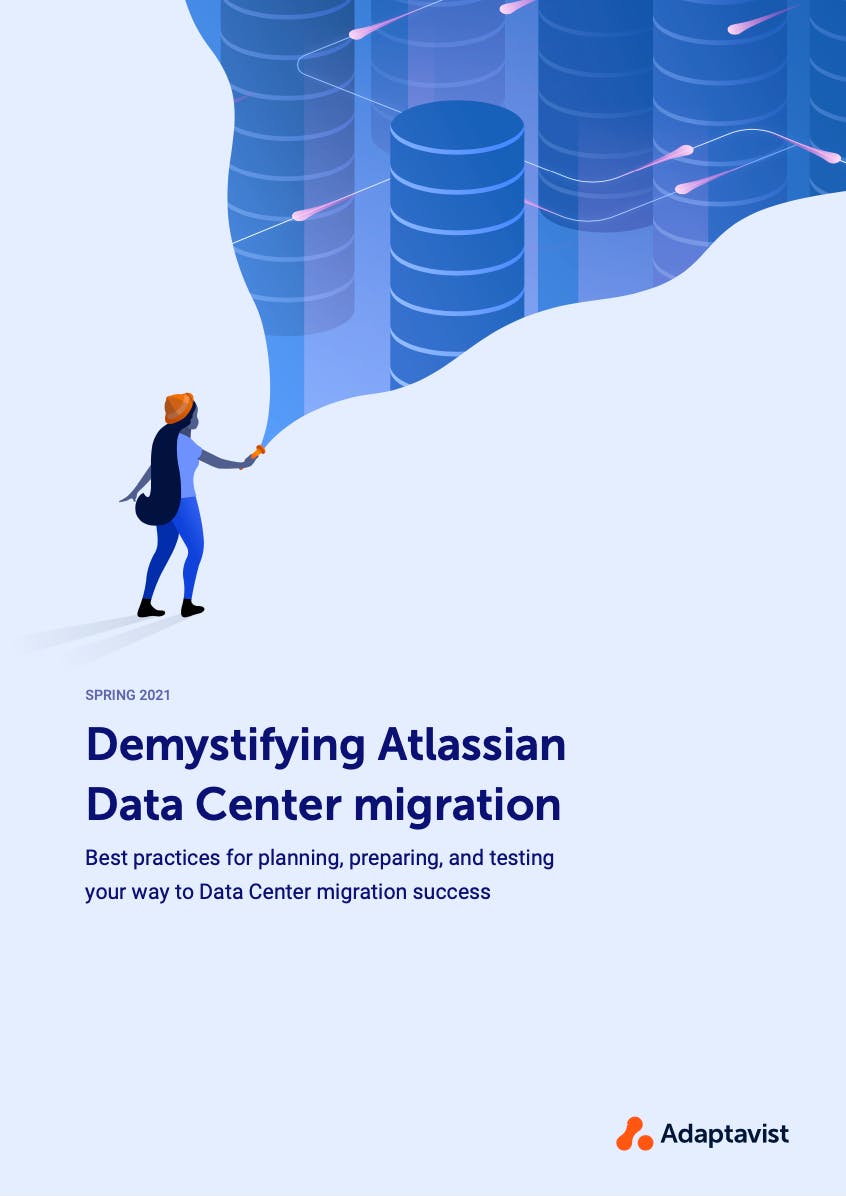 Data Center eBook
For an in-depth look at best practices for planning, preparing, and testing your way to migration success, download our free eBook
Atlassian has spoken: from 2 February 2021, you will no longer be able to purchase a new Server licence, and in 2024, it will cease support for Server products. But while this move confirms Atlassian's focus and commitment to cloud, that doesn't mean it's the right choice for your business.
Don't cloud your vision
The move away from Atlassian Server may have come as a shock, but maybe migration has been on your radar for a while anyway? If your business has scaled up its use of Atlassian tools, with more and more teams relying on Jira and Confluence for business-critical tasks, the limitations of Server might be starting to impact your business already.
While cloud offers quick and efficient access, making it perfect for widely distributed teams who want to simplify their everyday operations, some businesses have requirements that mean cloud is still not an option. While it does come at a cost, Data Center offers many businesses the scalability, performance, and resilience they need. If you're unsure if Data Center makes sense for your organisation here are some questions worth answering:
Complexity
Is your business fairly complex and is your user base growing quickly?
Essential
Are your Atlassian tools indispensable and critical for your delivery process?
Scalability
Are infinite fuss-free scaling and platform uptime big priorities for your business?
Customisation
Do you need to be able to customise the tools you use?
Security
Does your business have stringent data security and compliance demands?
If you've answered yes to most or all of these questions, then it's worth taking a deep- dive into Data Center.
Bring on the benefits
Don't get the wrong idea: Data Center is not a golden egg or a catch-all for every problem with your instance. Data Center still requires proper governance and ongoing configuration maintenance to ensure it performs the way you need it to. But there are a number of noteworthy drivers encouraging businesses to take the leap.
Accelerate how you integrate
If your Atlassian tools have been adopted piecemeal throughout the business, they're probably poorly integrated across different servers. With single sign-on and centralised administration, Data Center offers a more consistent and supported service, enabling seamless collaboration and agile scaling.
Do more with less downtime
Don't let downtime drag your business down. Stability is central to success, and with Data Center's multi-node clustering, operational risks are significantly reduced. With more powerful performance, 'four nines' of uptime, and 'silent' upgrades, you have peace of mind knowing your tools will work whenever you need them.  
Keep costs and clutter to a minimum
While making the switch will likely incur costs, you'll be sure to save in the long run. By combining multiple server-based Atlassian instances into one platform, you can consolidate disparate licences, potentially reducing the amount you pay. And you'll save valuable resources by switching to one central administration and maintenance model.
Scale your suite with ease
With Data Center, you don't need to worry about swift scalability. If your user numbers or data volume goes up, by installing more nodes to your cluster, you can efficiently increase performance for virtually unlimited growth. And what's more, if you ever need less power, the option's there to reduce your capacity too. 
How about hybrid?
If a sudden switch to cloud or Data Center isn't an option for your organisation, it could be worth considering a hybrid approach. We know from our State of the Atlassian ecosystem survey that organisations adopt a variety of deployment solutions to meet different needs – either permanently or while they're transitioning. 
Perhaps you want to make the move to cloud, but some instances require the added security and compliance of Data Center. Or perhaps your digital transformation goals mean you're hoping to move to cloud in the long term but want to take your time.
Matthew Verrill is the Atlassian product owner at Arm, where running hybrid Jira and Confluence environments is crucial to its core business. 'We work with datasets which are subject to strict regulatory requirements and export-controlled, and are required to host this data in an environment which doesn't have access to the internet,' said Verrill. 'Whilst this represents a small on-premise footprint, it's just as important to us as our future in the cloud.'
Recognising the breadth of customer needs, Atlassian have introduced new capabilities and integrations to make cloud and Data Center products work together (with proper technical requirements and configuration, of course) – unifying the administration experience for user management is just one example.
Let's flock together
Migration is a complex process – and it's vital you follow best practices and take the appropriate steps to minimise disruption to your business, while gaining the many benefits a move to Data Center could bring.
At Adaptavist, we know how vital the Atlassian ecosystem is to the way you work, which means our apps for Data Center – like ScriptRunner for Jira and Content Formatting for Confluence – need to be up to the task too. Our new testing framework means quality and scale assurance is front and centre. And, to give you peace of mind, we offer prioritised support and dedicated account management for all our Data Center apps when you purchase or upgrade.
Our expert team is here to help make your move as smooth as possible – from selecting the right deployment model to migration itself. To find out more about Atlassian Data Center migration, download our eBook or get in touch.
Contact us today