How to use technology, like Apptio Targetprocess, to revolutionise your agile transformation
Many organisations believe that implementing a tool is a silver bullet. It is not, but technology can help support your people and processes during your agile transformation. Let us explain.
So, you want to transform your organisation to work in an agile way. Understanding the 'Why' of this desire is the most important first step of the journey. Agile transformations require the use of organisational change management methodologies and can sometimes take years to implement fully. Helping people prepare for the change and giving them foundational knowledge and understanding processes are all a part of transforming.   
Here is how you can leverage technology to support an agile transformation:
1. Understand where you are and where you want to be.
Technology is fantastic, and there are various options available. Knowing where you are in your agile journey can make a big difference in what you choose as a tool to support you.  
Technology is not a replacement; it should support your organisation's people and processes. Technology should meet you where you are and, better yet, be able to grow with you as you progress in your agile transformation.
2. Understand if your organisation is ready for this change and get commitment from the leadership team. 
There must be commitment, sponsorship at the executive level, and a willingness to adopt the agile development framework. Top executives must understand the value provided by adopting agile methodologies, recognise the sustainable benefits correlated to the long-term vision, and be willing to invest resources to make such a culture shift.
If your organisation is not ready for change, technology will not get them there. Organisations that rely on technology to do the heavy lifting often end up disappointed and feel the tool could be better. Technology is a support mechanism for the change you want to make.
3. Identify your organisation's technology requirements.
Once you understand your processes, procedures, and any governance (i.e. regulations), you can start investigating tools to support your people and processes. Requirements gathering is vital to understanding what is needed from any technology you consider for your organisation. Be sure to gather input from the various stakeholders that contribute, execute, or receive information throughout the process(es) the technology supports. The stakeholders are the people who will either be using the technology directly or benefitting from it (i.e. visibility into reporting and dashboards, etc.).
4. Choose your technology.
When reviewing potential tools, ensure they address the stakeholders' needs; otherwise, you will waste your money and time purchasing any technology that does not support them.
Make sure you choose an experienced partner to assist you with implementing your chosen technology to ensure it is configured to support best where you are today and will grow/change to continue supporting you where you want to be.
5. Pilot with a small group, ensuring they train in agile practices/methodologies.
Big bang rollouts can be done, but be warned: they are complex, require significant coordination, and take a long time. We recommend identifying a small group to pilot the change and work out any issues before the rollout, making changes much smoother for the rest of the organisation. Keep iterating through smaller groups until everyone is trained.
6. Measure your progress.
The best way to approach any transformation is to ensure you set out what you want to achieve before you begin. OKRs are a key agile approach to measuring your progress towards your goals. Read our guide to measuring OKRs.
Enterprise agile planning can be made much easier with tools built to help support and deliver your agile plans. One such tool is TargetProcess from Apptio. Recognised in Gartner's 2022 Magic Quadrant for Enterprise Agile Planning Tools, this cloud-based visual platform empowers organisations to plan, track, and prioritise work across the enterprise.
In summary:
You should commit to change to initiate any transition process and understand where you are and where you want to be before embarking on an agile transformation. Technology is amazing, and various options are available, but knowing where you are in your agile journey can make a big difference in what you choose for a tool to support you. It is essential to take a comprehensive look at the current state of software delivery maturity within the organisation, its workflows, and the software delivery process. This evaluation provides the foundation for the starting point, which includes cultural readiness, organisational structure, policies, and procedures. Discovering and prioritising areas to work on makes it easier to guide the transition process effectively.
Watch our our on-demand webinar with me and Apptio, where we discuss making the transition to agile planning and give an Apptio TargetProcess demo.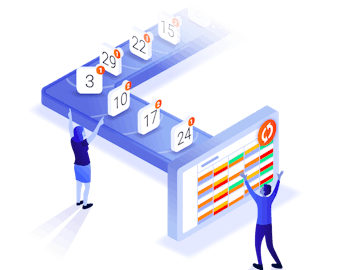 Successfully transition to enterprise agile planning in six steps
Discover the steps to unlocking the power of agile planning as part of your agile transformation.
Watch webinar