While the use of IT service management (ITSM) in IT organisations has gained general global acceptance, many enterprises are yet to recognise that ITSM practices are equally relevant beyond their IT teams. 
If the rest of your organisation is yet to embrace this next step then fear not, you can get there with enterprise service management (ESM) - by using the type of thinking, the best practices, the technology, and the principles of ITSM and applying them to your organisation's teams beyond IT, like Marketing, HR, Finance, Legal, and more.
Our own State of Atlassian Report 2021 found that ESM is already becoming an increasingly popular approach far beyond IT, with 51 percent of respondents saying their operations teams are using a service desk model to manage workflows. It's no surprise that ESM is catching on among businesses when, for example, there's clear evidence that productivity and efficiency can improve when self-service through centralised portals is encouraged over manual processes. 
With that in mind, let's take a closer look at some of the immediate to long-term benefits of applying enterprise service management to the rest of your organisation.
1. Improved visibility into operations and performance
A key fundamental of Service Management is the concept of Continual Service Improvement. The improved visibility provides the business with the opportunity to identify areas for improvement while also ensuring there is no reduction in service quality. The value to the business is the outcome of that continuous improvement.
Enterprise Service Management brings the entire process of tracking, streamlining, and executing service requests into a system of record, making it visible, traceable, and manageable. It provides the platform and opportunity to see the precise value that each department adds to the business. Through advanced insights into operational performance and employee experiences (previously hidden beneath unstructured data sets), it gives you a map of where value is created in your organisation and the processes that support it. 
When the demand for value (and the work that delivers it) is visible, it becomes easier to identify where bottlenecks and service friction points exist and target improvements where they are most needed.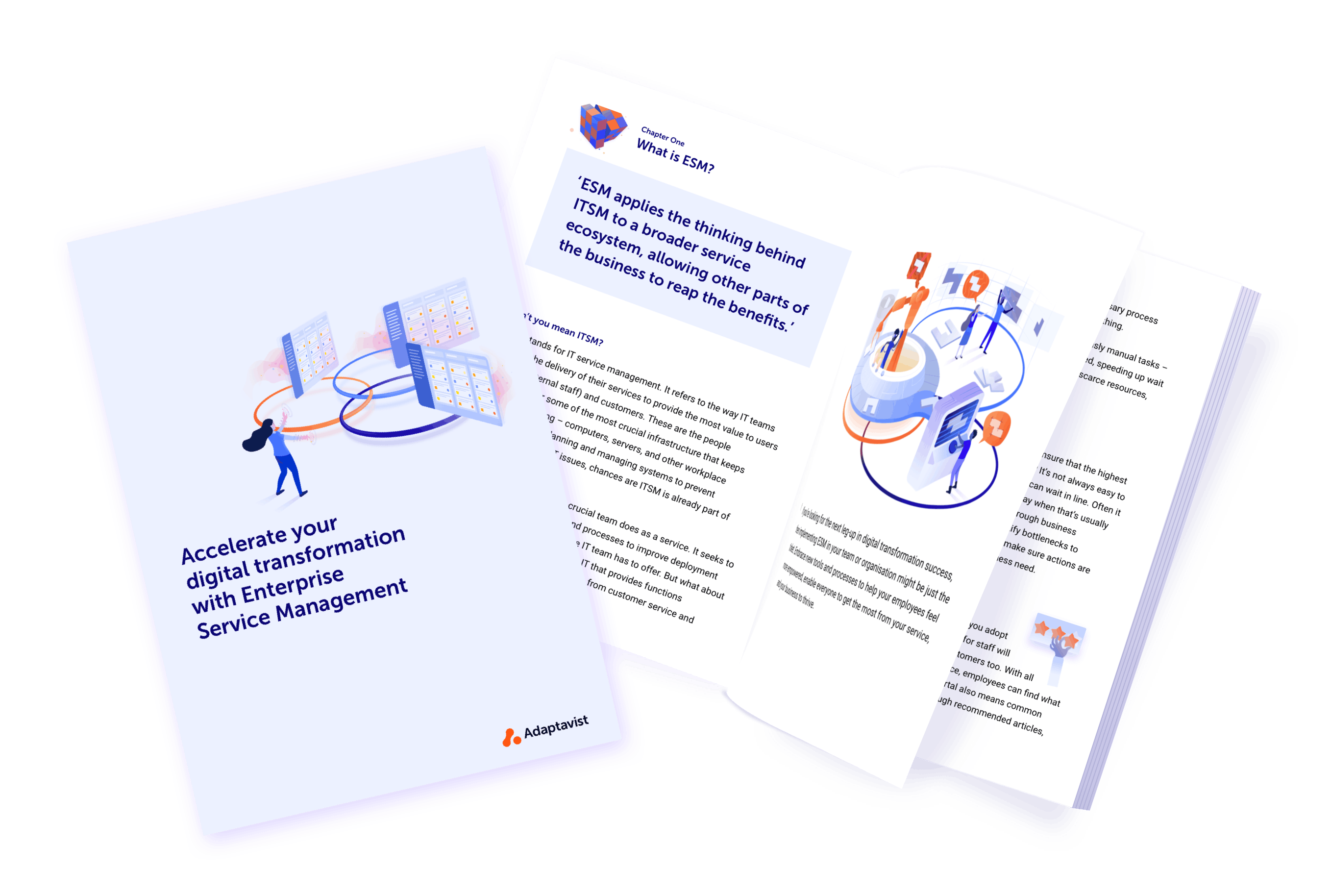 eBook: Accelerate your digital transformation with ESM
Transform your organisation today. Our step-by-step guide to getting started with Enterprise Service Management.
2. Reduced internal operational costs
If your internal service ecosystem isn't streamlined or optimised, it can have a serious impact on overall business efficiencies and profitability. Unnecessary operational costs can be incurred in many different ways, often the interactions themselves may appear quite normal, but the costs associated with them can add up over time. For example:
A single point of failure - when a process fails because the key operational stakeholder is off sick or on leave and the request is left until they return.
Email ping-pong - the game of emailing requests and responses back and forth for days, even weeks, on end when chasing up is reliant on manual intervention.
Confusing or inconsistent processes - Any lack of clear process documentation is inevitably going to result in delays when you don't know who to ask, for what, and when.
An emphasis on adhoc process - If all tasks are managed adhoc then proper prioritisation and visibility are the first casualties. Resulting in tasks being completed based on who shouts loudest, and not being driven by clear business needs.
All of these actions can incur unnecessary additional costs. An ESM initiative helps ensure an organisation is providing services aimed at delivering business value at all times. Because with greater visibility and control into processes and associated operational activities, you can ensure higher quality of output and lower operational costs.
3. A greater return on your technology investment
Understandably, as your business grows so does your need to introduce service management solutions to new teams and even new departments. While the last thing you want is for different teams to be operating on differing service management solutions, by expanding the usage of the incumbent service management solution that can grow to suit the needs of your growing organisation, you can avoid creating friction between teams all while doing so in the most cost effective way possible.
For instance, an organisation-wide shared Enterprise Service Management technology platform, supported by one software solution, such as Jira Service Management, provides you the opportunity to take advantage of economies of scale. It ensures overall greater return on investment and minimises the ongoing management costs per user.
4. Increased efficiencies
Enterprise Service Management enables increased efficiency of service and support – from service management best practices per se to specific capabilities such as knowledge management, user self-service, collaborative capabilities, and end-to-end automation of business processes.
Such increased efficiency could be enabled by, for example, optimising workflows by automating any tasks that are suitable for handling in an automated way. This, when combined with self-service and self-help capabilities, translates into fewer calls to service desk agents or the business function equivalent and frees people up to focus on higher-value work. With more time to spend on the tasks that they want to, your employees can instead focus on innovation instead of manual process.
5. A better experience and more consistent outcomes
Today everyone expects to receive a first-class service provider experience. They are conditioned to expect strong digital-first workflows and a choice of channels so that they can use the most appropriate approach.
Furthermore, requests can flow across organisational departments on a continuous basis. Consider processes like employee onboarding and off-boarding, which require multiple business services to quickly and efficiently work together and make sure that everything is delivered on time. 
In such cases, any inconsistency in service and support operations between the many shared service providers can make it unnecessarily difficult for employees to have their demands met. This can be significantly simplified with the adoption of Enterprise Service Management.
ESM recognises that in order to deliver value, you need a set of coordinated efforts from across the organisation and therefore encourages you to remove the silos that currently exist within the business. This results in a more standardised way of working across different teams, a more consistent service model, and accelerated outcomes for employees. It also offers the potential to provide users a single, common point of access for all internal services and information sources – no matter the service provider.
Enterprise Service Management: A critical enabler for enterprise digital transformation
Enterprise Service Management isn't simply about providing a service portal to facilitate the execution of requests across the enterprise. Its main focus is on enabling and delivering business value chains in the form of services, with a focus on continuous service improvement. As digital transformation initiatives expose critical gaps within the enterprise, ESM has become even more valuable for organisations today. Done well, ESM results in well-defined operational processes, break down internal silos, and bring a common understanding on delivering end-to-end value while putting the user experience front and center to drive continuous improvement.
Accelerate your digital transformation with ESM
Want to see the benefits of shifting from ITSM to ESM practices in action? Watch our webinar and find out about the crucial role service management has to play within digital transformation.
Watch webinar