PLEASE NOTE
The content of this blog is no longer updated
Our tips on how to set-up a service management system in a remote working environment
During 2020, we saw the traditional work experience change forever. The sudden shift of entire workforces to remote working meant that IT teams had to deal with a surge of additional pressure. Where once IT support issues could be easily met by walking across the room to talk to your colleague, or dodgy equipment fixed by checking the stock room for new parts, things were turned upside down - almost overnight. Even the most simple of IT support requests became much more complex, resulting in IT teams becoming stretched as they searched to find a balance between tackling routine tasks and fighting fires. More than ever, the key to keeping users supported during periods of uncertainty was having an effective IT Service Management (ITSM) platform. 
This made Atlassian's launch of Jira Service Management in late 2020 even more timely. At a time when there had never been a greater demand for development, IT operations, and business teams to collaborate in ever tighter and more efficient ways, Jira Service Management incorporates those richer ITSM capabilities needed to make that possible.
Adaptavist welcomed Atlassian's move towards an Enterprise Service Management model of ITSM, particularly as it came when we (and many other organisations) were taking our own steps in that same direction.
So we took the opportunity to look back on what we did and offer you a blueprint based on our experience for delivering IT support in a remote working environment. We hope you find our experience and tips useful - whether you are just starting out in implementing ITSM practices, or are well on track to delivering end-to-end enterprise service management.
Service management in the age of Covid
1. Get a service desk up and running
The first thing you should do is get the business facing element up and running first. In short, you need a service desk.
At the best of times, providing great IT support can be difficult - even when your workforce is based in an office. When that workforce is (or suddenly becomes) distributed, it can be even more challenging to make sure they get the equipment and services they've requested. 
This was the first problem our IT support team had to solve - how to continue to deliver first-class service to internal stakeholders as simply as possible. 
We already had a service desk in place that acted as the primary point of contact between our employees and IT support. All it needed was a quick makeover to make it as easy as possible for our stakeholders to interact with it, and make sure we could easily distinguish BAU requests from those linked to the sudden change in people's working environment.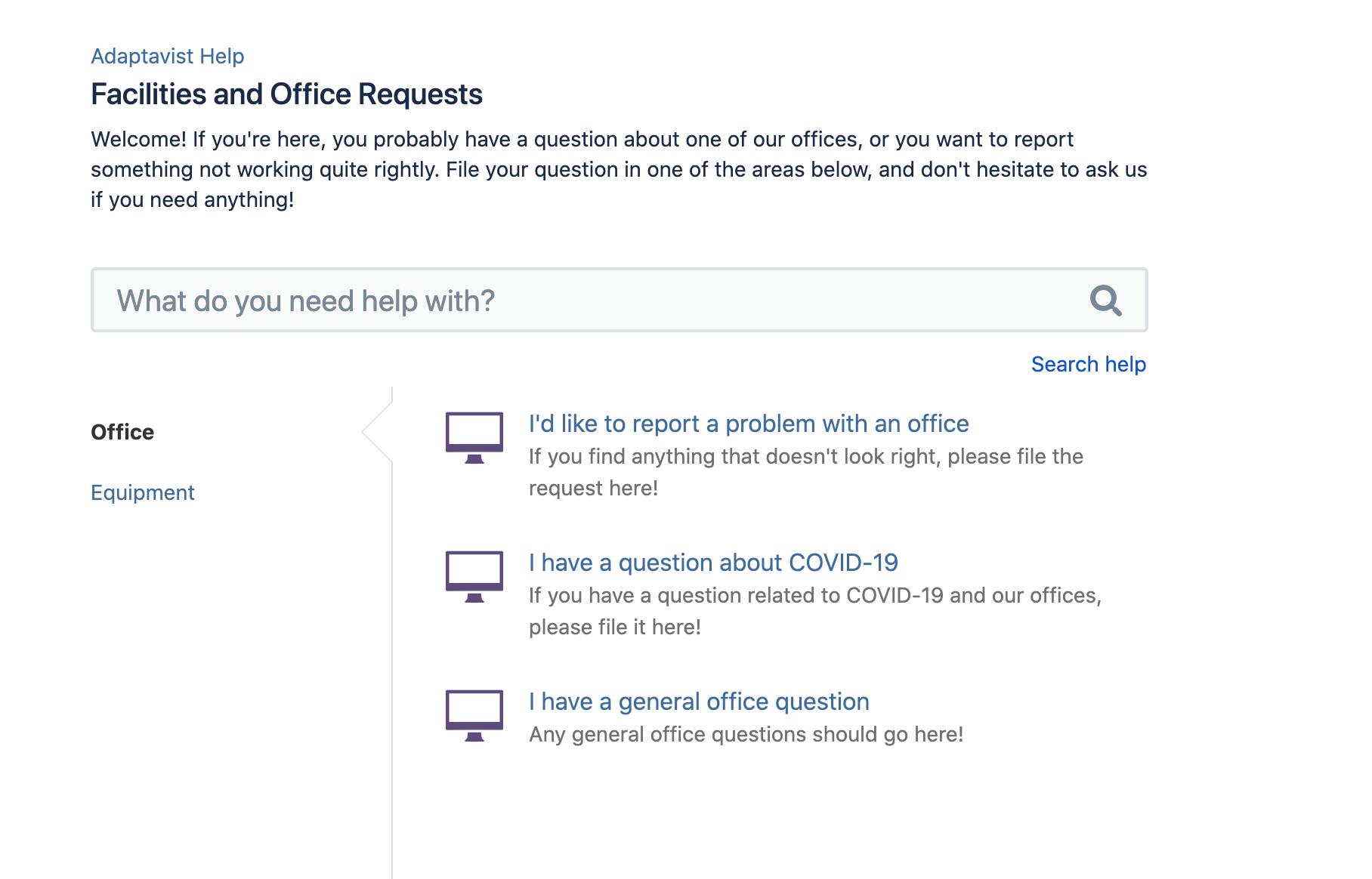 With a clear distinction between the two task types, our IT teams were able to analyse incoming requests more effectively, and make informed decisions as a result.
As you may have guessed, there was an increase in service desk tickets in the aftermath of this move. The initial influx of extra tickets was mainly associated with remote working equipment requests (which we expected), but this increased ticket level began to drop to more manageable levels once everyone had settled into the new normal.
While the ticket numbers did settle in their own over time, we assisted this by building a robust knowledge management system alongside the service desk. 
2. Set up a knowledge management system 
The remote working environment made communication that little bit harder, which made the need for effective self-service more important than ever. This is where having a robust knowledge management system came into its own.
By implementing a knowledge management system, we could alleviate the problem of some BAU issues clogging the service desk by prompting users to self-serve with suggestions on how to fix an issue as they raised a ticket.
For example, something as common as a password reset request could be fixed quickly by directing users through a standard automated password reset workflow allowing them to solve the issue autonomously.
Not only did this help take some of the pressure off of IT staff, it also meant users didn't have to wait for a resolution, while minimising the same tickets appearing in the service desk backlog over and over again. As a result, our remote IT support became naturally more effective and realised greater user satisfaction and productivity.
Modernising ITSM to achieve DevOps success
The implementation or replacement of an ITSM solution is a major transformation initiative that affects every user in any IT organisation.
Download the whitepaper
3. Keep your service catalogue up-to-date
In order to service end-user requests, we needed a full service catalogue detailing available services. 
When you put all the available services in one place, you improve the employee experience. Why? Because when everything is written down in one place you make it much easier for your employees to find the right help they need to get their work done.
However, with the shift to a remote working environment the available services also changed, so it was crucial to keep that catalogue of services updated. The service catalogue isn't a static list - it's a dynamic, living document that matures as your services do. Not only does this evolution benefit the service desk team, it also supports remote users as they know exactly what they can request.
In an ideal world the service catalogue remains consistent, whether it's for remote or office-based workforces. If anything we recommend keeping them as similar as possible -  after all, the clearer the catalogue, the easier it will be for your users to request services, wherever they are.
4.  Iterate on what you build
Let's take a look at what we've got so far; the service desk is there to take the requests, the automated knowledge management system is there for employees to self-serve where possible, and the up-to-date catalogue helps employees see at a glance what they can request. 
By bringing all the touch points between our IT support and the employees into a single system, each and every one of these subsequent interactions can be measured. Once measured, workloads can be managed and processes optimised as needed.
With more information, we were able to change the way we worked accordingly, shift priorities and devote more resources to where they were needed. It allowed our IT teams to move away from a reactive model of working and become more proactive and agile - something that is of paramount importance in the world we find ourselves in.
Being agile is effective service management
Effective service management moves away from fire-fighting to providing proactive and agile support to both internal and external customers.
While many organisations - us included - were forced to react to the change in circumstances of a global pandemic, we are now in a position (based on the decisions and changes we made at the time) to be more proactive in future.
The service management set-up we now have reduces the friction between IT and business teams and enables everyone to deliver outcomes quicker and easier.
Want to find out how Adaptavist can help you on your ITSM or ESM journey?
Find out more