Atlassian Data Center and the art of the possible
Enterprise teams working at scale need resilient, flexible technology platforms that stay ahead of business growth.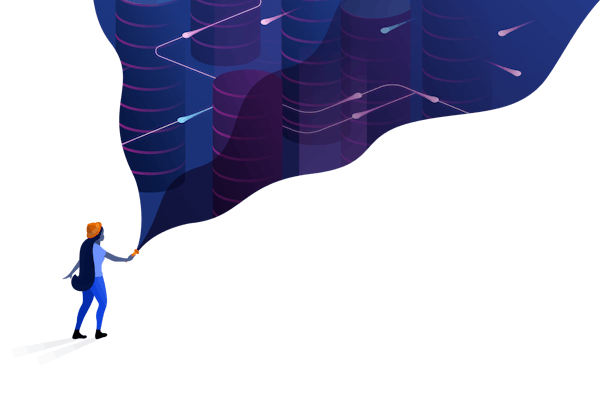 Adaptavist is a global Atlassian Data Center authority
Is your Atlassian user base growing quickly? Are you concerned about the stability and performance of your platform? Are you considering what's next for your Jira Server deployment?
Atlassian Data Center delivers powerful collaboration capabilities for even the most complex enterprises, offering the reliability and compliance your business demands, while empowering your teams to succeed.
Atlassian Data Center goes beyond a single server to deliver powerful collaboration capabilities for even the most complex enterprises, offering the reliability and compliance your business demands while empowering your teams to succeed.
Our suite of expert-led Atlassian Data Center services ensure that whether you're looking for simplified Data Center licensing, a trusted migration partner, complete managed services or certified Data Center apps, you're in trusted hands.
Want to find out more?
Get in touch to discuss your Data Center needs
Is Data Center right for your organisation?
Atlassian Data Center is purpose-built to support the unique and complex demands of enterprise-grade organisations.
Whether you have thousands or tens of thousands of users, you will likely have the same requirements — uninterrupted access to the critical Atlassian tools currently keeping your business running, and the need for performance to be second to none as you add new users at scale.
Atlassian Data Center gives you the reliability and compliance your organisation demands and the infrastructure to manage team growth, while allowing your teams to innovate without compromise.
Data Center is perfect for:
Enterprise-level organisations that demand availability and stability around the clock, for unlimited users.

Businesses experiencing sustained growth, and pressure to meet performance demands of their teams at scale.

Organisations with stringent data security and compliance requirements.

Teams that need to heavily customise their Atlassian tools.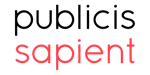 "Our experience of Data Center license renewal with Adaptavist has been very smooth and effortless. I greatly appreciate the guidance you provide around co-terming and renewal cycles."
Saurabh S
Publicis Sapient
Our Data Center expertise
Licenses

Cut through the complexity and manage all of your Atlassian Data Center licenses through a single, expert provider.

We've helped manage some of the most complex Atlassian accounts in the ecosystem, and offer tailored, co-termed licensing solutions that make managing your Atlassian Data Center estate simple.

What's more, you'll be fully supported by a named Adaptavist account manager as an Atlassian ecosystem concierge, helping you solve business problems along the way.

Installation

Carefully tailored to match your business requirements and existing infrastructure, Adaptavist consulting helps you to hit the ground running with Atlassian Data Center.

Our expert-delivered consultancy analyses and acts on your business and technical needs in detail, ensuring your Atlassian Data Center implementation is effortless and that your technology is truly fit for purpose — both today and in the future.

Migration

Thinking of making the move to Atlassian Data Center?

As a leading global Atlassian partner, we've managed complex Jira Data Center migrations for Fortune 500 organisations, consolidating disparate installations onto a centrally-managed, reliable Atlassian Data Center platform.

We help teams seamlessly transition to Data Center by following a rigorous rationalisation and merging process that's shaped by your needs and existing data, ensuring a smooth user migration with minimal business interruption.

Managed services

Leaders across technology, retail, aviation, financial services and more rely on Adaptavist for world-class management of their mission-critical Atlassian tools.

Our global managed services team hosts and manages Atlassian Data Center on your own equipment or as a seamless cloud experience on AWS, Google Compute Program and Microsoft Azure, providing four nines availability with the level of security, visibility, and reporting your business needs.

Data Center-certified apps

As a Marketplace Platinum Top Vendor, our portfolio of best-in-class apps help enable the world's leading enterprises to customise and enhance their Atlassian technology.

Extensively tested on a robust framework developed alongside Atlassian and performed on multi-node Data Center environments, a number of our best-selling apps are certified by Atlassian for Data Center.

And with the backing of a world-class premier support team, our apps help your teams unlock the true value of Atlassian Data Center.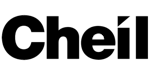 "We use ScriptRunner to extend our Jira Data Center via Behaviours, Workflow Functions, Web Panels and Scripted Fields. Best of all, I can automate many time-consuming admin tasks… managing Jira at scale is much easier with ScriptRunner."
You may have been hearing lots of talk recently around Atlassian's Data Center line of applications. And it's certainly warranted — Data Center tools offer greater resilience, better performance, and many more deployment options than both Server and Cloud. 
These benefits are especially valuable to larger, more complex enterprises seeking a balance between platform uptime and stability and the need to innovate at scale.
But Atlassian Data Center also comes at a cost, so asking the right questions when deciding whether you should make the move is crucial. 
So, when is it the right time to take the plunge and dive into Atlassian's brave new Data Center world? To help you evaluate when that time may be, here are some things you may want to consider.  
Does downtime matter? 
Is your Atlassian toolset so important to your business that experiencing downtime during the working day would cost you serious money? Do you need your Atlassian estate to work 24x7, 365 days of the year? If your answer to either of those questions is 'yes', then Atlassian Data Center could well be right for you.
But while this toolset is designed to be highly available around the clock, you also need to know how to get the best out of it. After all, there's no good in using software that's capable of n+1 resilience if your underlying infrastructure doesn't support it.
Luckily, we can show you a way to achieve this. 
Here at Adaptavist, we partner with Amazon Web Services for our Atlassian Data Center deployments. We do this because AWS allows us to split application nodes across multiple availability zones, delivering maximum resilience to our customers.
Couple this with Amazon's distributed database and file storage services and you have a compelling proposition that should satisfy even the most stringent of service level agreements. 
In many cases, upgrades can be performed while your application is live and available to users, further cutting down the possibility of downtime (and disgruntled users!) 
Performance? The sky's the limit! 
Atlassian Data Center is designed to be highly scalable. This means that as your organisation grows, your Atlassian applications need not be a bottleneck — you can easily increase the performance of an Atlassian Data Center installation by adding more nodes to your cluster.
What's more, if your remote development teams are struggling with latency whilst checking out repositories from Bitbucket, you can help ease their pain by adding a Smart Mirror near to where they are based. This enables teams to check out code quickly and easily regardless of where your core architecture is located — yet more good news for global enterprise teams. 
You can also deploy nodes dedicated to specific functions within Atlassian's Data Center architecture. Do you use Jira to run system intensive EazyBi reports? You can dedicate a node specifically for those, preventing your team's day-to-day operations from slowing down whilst reports are being generated.
Atlassian Data Center also enables you to deploy nodes dedicated to the dreaded task of re-indexing. You can even optimise them to perform your indexing much more quickly than usual, ensuring that your Lucene databases are always in tip-top condition without draining system resources.  
We love this functionality at Adaptavist. When combined with proactive monitoring, it allows us to quickly identify performance choke points and trend server resource usage over time. 
This means that our account management team can talk to customers in advance of any potential issues, giving them all of the information they need to predict when new nodes might need to be added, or where nodes dedicated to particular functions might make their user experience better. 
Is it time to switch to Atlassian Data Center?
At the point that Atlassian applications become indispensable tools in an enterprise organisation — critical to the entire software delivery process and much more beyond —  it's time to consider Data Center. 
It's never too soon to leverage the best-of-breed scaling and resilience of Atlassian Data Center by adding more nodes, giving your organisation the assurance it needs. 
What's more, we've been supporting customers with Atlassian Data Center since the very beginning, so there's no-one better placed to help you make the move and migrate to Atlassian Data Center. 
Thinking about scaling your tools?
At Adaptavist it's our mission to build reliable products that solve complex business problems — and our approach to Data Center apps is no different. 
With increasing numbers of customers migrating from Atlassian Server platforms to Data Center, our team faced the task of delivering our apps successfully on the Data Center platform. To do this, we embarked on a journey to modernise our approach to testing.
Here's how we did it. 
Testing our Atlassian Data Center apps
For us, Data Center readiness goes beyond compatibility. It's not just a badge of compliance, but one of quality. This is why we created a release pipeline based on key stages that can be continually executed with every release.
We also established a common testing infrastructure and suite for all apps to capture performance parameters under multiple test configurations. This test environment is used to validate apps for Data Center readiness and continually measure performance following each new release.
Our testing stages follow three key principles:
Automation — repeatable, using a script with a declarative configuration
Integration — executed regularly (at least upon each release)
Comparability — a consistent output to enable execution results to be compared.
Creating a testing framework and setting up a process that can be easily customised and scaled for apps across Jira, Confluence and Bitbucket was challenging. We analysed test tools available on the market to find the right fit, and decided on the the best-of-breed load-testing platform Gatling.
Using Gatling, we developed a framework consisting of a common set of reusable components and generic scripts for each platform. We also created a custom reporting engine to consume reports generated by Gatling and produce a consolidated reporting dashboard to easily compare with previous test runs.
The impressive part is how quickly we were able to roll out this process to other apps. Starting with Test Management for Jira, we rapidly implemented the process for other apps across multiple platforms.
Dogfooding Data Center with ScriptRunner for Jira
While building out our testing framework, we used some of our own apps. For example, using ScriptRunner for Jira, we created built-in scripts within the apps, with configurable parameters to generate any required volume of data.
When we started building this process for Test Management for Jira, we had no idea what the results would be. However after executing the tests on the production version of the app, we realised that Jira operations including View, Comment and Edit were reporting slow response times with Test Management for Jira enabled, compared to when it was disabled. 
The Test Management for Jira development team investigated the issue and made changes to the app to reduce the mean response time from approximately:
1.2 seconds to 0.3 seconds for the View operation
10 seconds to 0.7 seconds for the Comment operation, and
10 seconds to one second for the Edit operation.
With this level of testing, we were able to identify and improve performance. Yet while some app vendors might complete this process once and call it a day, we've integrated this process into every release, ensuring our customers continually achieve high availability and optimal performance.
Partnering with other Atlassian ecosystem vendors
As an Atlassian Platinum Solution provider, Adaptavist is keen to work with other premier ecosystem partners in their Data Center readiness efforts. This helps to ensure the other apps we put forward in our customer solutions meet the same Data Center readiness standards as our own.
For example, we worked with ALM Works, the makers of the Structure for Jira product family, to put their apps through our Data Center testing framework. Structure helps Atlassian's largest customers visualise, track and manage progress across Jira projects with adaptable, user-defined issue hierarchies — and we often recommend it to our customers.
ALM Works benefited from a number of upstream decisions taken by Adaptavist, such as the use of Gatling tool, a way to bundle tests together and present the final report with data. 
Adaptavist also supplied ALM Works with the source code for the baseline tests, which allowed the Structure team to quickly run tests without Structure apps installed. This enabled them to establish the baseline latencies and other numbers to compare to. 
The Structure team then modified existing testing methods and added new tests to fully establish the latency and scalability metrics for a Data Center with Structure apps, under load.
Igor Sereda, CEO of ALM Works, says, "Adaptavist's testing solution for Atlassian apps helped us start testing for performance and scalability right away. We were glad to use their advice and tools to make sure the entire Structure product family meets the rigorous performance and scalability requirements for Jira and Confluence Data Center."
The Adaptavist Data Center Difference 
But that's not where the story ends — besides ensuring quality and scale with our new testing framework, enterprise customers access even greater value when they purchase or upgrade to Data Center This includes:
Support escalation — each Data Center app comes with prioritised support and an improved SLA of 24 hours. We've even hired extra support engineers to accommodate this!
Dedicated account management — every Data Center Atlassian approved app customer benefits from a dedicated account manager to help with implementation and maintenance to get the most out of their investment.
Discover our Data Center apps

"Adaptavist's testing solution for Atlassian apps helped us start testing for performance and scalability right away. We were glad to use their advice and tools to make sure the entire Structure product family meets the rigorous performance and scalability requirements for Jira and Confluence Data Center."
Is outsourcing Atlassian infrastructure management the right choice for your organisation?
While Data Center may be the deployment option of choice for growing businesses, managing Atlassian tools at scale can be time consuming and resource-intensive.
Adaptavist Operate is the industry-leading managed service that handles the infrastructure of some of the world's biggest, most complex Atlassian environments.
By offloading back-end management of your tools, your teams are left to focus on more business-critical work, rather than being bogged down in day-to-day toolset management.
If your organisation is looking to shed the burden of managing Atlassian tools, outsourcing your infrastructure management may be on the cards.
Adaptavist Operate is perfect for:
Organisations lacking the internal capacity to run, maintain, and support their own tools effectively.

Businesses that are scaling quickly and need to remain flexible in the face of rapid change.

Teams that are ready to explore how Atlassian tools can truly transform collaboration.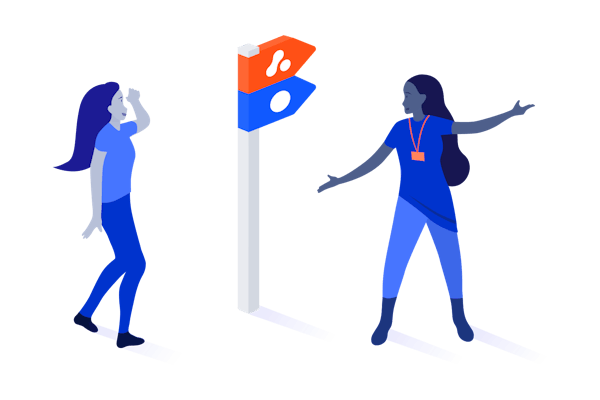 Webinar: Essential best practices for Data Center migration
Making the move to Atlassian Data Center can be daunting. But fear not — we're harnessing our experience in managing complex migrations for clients across industries in this exclusive webinar. In this on-demand webinar, we share our Atlassian Data Center migration insights and best practices. With real-world migration scenarios and the chance to ask our experts your questions, this webinar is a must for anyone considering an upgrade to Data Center.