Reaching Enterprise Service Management maturity for a rapid-growth delivery provider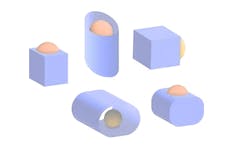 A case study about how Adaptavist helped one of Europe's fastest-growing tech companies optimise, automate, and future-proof its Jira Service Management deployment.
About the customer
The customer is one of Europe's fastest-growing tech companies, based in the UK. This 24/7 delivery service focuses on building a convenient and sustainable way to get customers what they need when they need it. They deliver a broad range of items including food, beverages, household items, hygiene products, over-the-counter medicines, and more.
Atlassian instances: Jira Service Management, Atlassian Cloud Premium, Atlassian Access

Atlassian stack users: 366
Requirements at a glance
Maturing and optimising Jira Service Management to support multiple value streams.

Supporting a scalable foundation for the company as it grows.

Putting customer needs first and foremost to deliver greater value to service desk users.

An experienced partner with Atlassian ecosystem experience.
The challenge
The company's meteoric rise and rapid growth meant its current Jira Service Management (JSM) instance was no longer fit for purpose. The CIO had to mature it to support multiple and more integrated value streams and provide a scalable foundation to underpin the business moving forward. For example, bringing together recruitment, HR, and IT teams into one shared value stream for hiring and onboarding new employees.
But with a lack of systems thinking and supporting processes, coupled with fast-growing teams, collaboration was disjointed and silos formed. Progress was slow, and the CIO soon realised a holistic approach with an expert partner was the best way to get things moving. Adaptavist was engaged in helping realign the disconnects and prioritise the shared vision of customer-centricity.
Results at a glance
By embracing the Atlassian ecosystem and optimising Jira Service Management, our customer has already experienced some great results:
Improved customer experience—a customer-centric design rooted in providing a faster response and resolution for service desk users.

Greater integration and collaboration—breaking down silos and aligning people across the organisation.

Better information provision and tool alignment—self-service has improved so users always have access to the information they need.

Culture shift to continual improvement—the company has become more keenly focused on delivering value for its customers.
The solution
With thorough planning and improvements scoped, we wanted to ensure our client had effective systems in place. We provided a scalable ESM solution, utilising the core capabilities of JSM on Atlassian Cloud Premium. It included:
Customer-visible SLAs—to focus on service desk users and their needs, we aligned existing configurations with their required outcomes. By adding customer-visible SLAs and simplifying the design of the service catalogue, we put the customer at the heart of the experience and removed waste from the value stream.
Automation—we lightened the manual load on the support team by automating repeatable tasks, reducing toil, so they could put more time and energy into supporting service desk users.
A robust approval process—allows for a clear audit trail. It also gives people a focus on what they need to approve and the ability to see what's still awaiting approval. 
Integration—we redesigned the configuration management database, imported data for all related assets, and integrated this with the procurement purchasing process, allowing for greater accuracy and higher resolution speeds. 
Collaboration—field operations, finance, and HR were also onboarded and aligned to the value streams, enabling seamless collaboration between teams, as well as with external partners and customers.
Supporting self-service—we built more self-service capabilities and added knowledge-based articles to help and empower users. With a 'shift left' focus—equipping everyone across the organisation to solve tickets themselves instead of escalating—we also implemented internal runbooks to ensure the support team could deal with both standard and edge cases. 
An ecosystem approach—we deployed Atlassian Cloud Premium, which allowed for additional integrations and automation, as well as Atlassian Access, which provided SSO and SAML capabilities. OpsGenie was migrated into JSM and better integrated to handle events, drive stakeholder notifications, and provide proactive reporting on trends in the services provisioned. We successfully deployed the first iteration of StatusPage to make performance outages and service reductions more visible to customers, both internal and external.
The result
Since supporting our food delivery service customer to optimise JSM, they are seeing promising results. Not only have service users been impressed with the quality of the customer experience, including quick results and short feedback loops, but stakeholders have also benefited from an integrated platform. They've told us that the revamped platform has simplified their work, and people across the organisation are more aligned—both with the information they need and the tools they use to access it. 
What's more, our project has introduced a culture shift, with a growing appetite for continual improvement from stakeholders and a much clearer focus on customer experience and value delivery. Instead of thinking solely about their role and tasks, individuals are more attuned and empathetic to the customer's journey and needs. Employees are encouraged to think about the positive impact they can have on the value stream.
Our customer was overjoyed at our work with them and said we surpassed their expectations. Our comprehensive expertise and bespoke strategies have allowed their organisation to save more time, avoid mistakes, and remain resistant to future obstacles. They would recommend us to other companies considering advancing their Jira Service Management.
Jumpstart JSM
Want to harness the power of Jira Service Management to deliver more value to your customers? Adaptavist can help put ESM at the heart of your digital transformation initiatives.