Extending Jira Service Management's capabilities for a large water supplier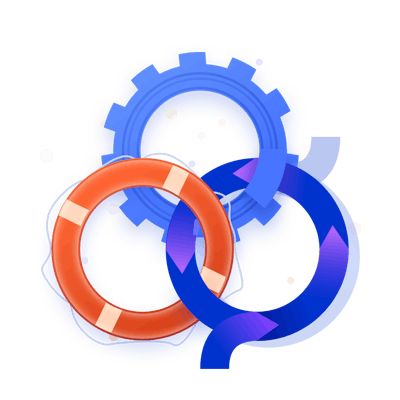 A case study about how we used ScriptRunner for Jira to help a UK water company smooth out complexities and deliver a seamless service to end customers.
About the customer
The customer is a water and wastewater services provider in England with a 5,000-strong workforce. The organisation delivers 1.8 billion litres of water daily to more than 3 million homes and treats wastewater. Behind the scenes, the business manages hundreds of reservoirs, treatment works, and pumping stations, not to mention the pipes and sewers that keep everything moving.
Industry: Energy and Utilities

Atlassian instances: Jira Service Management

Number of employees: 5,000
Requirements at a glance
Extend capabilities of Jira Service Management.

A new approach to SLAs to accommodate extensions, pauses, and restarts.

Calculate in business days rather than hrs/mins

Multiple integrations with MOSL

Increase automation to speed up processes.

Minimal staff training required.

Full integration with MOSL using SR4J to both push and pull information.
The challenge
All English water suppliers are part of a process to remove regional restrictions from the country's water supply. Deregulation is all about letting the end consumer purchase their water from any supplier they like, but accessing that water through their local wholesale supply. 
MOSL's (the operator of England's non-household water market) primary objective is to make the non-household market an 'easier place to do business'. In September 2021, MOSL launched a centralised bilateral transactions 'hub', which all trading parties use to initiate and manage bilateral transactions. For high volumes of transactions, trading parties can access the hub using system-to-system integration.
This means coordination between retailers and wholesale suppliers is critical, requiring a large number of time-sensitive integrations backed up by service-level agreements (SLAs).
Jira Service Management (JSM) meant they could keep teams on track by using SLAs. Out-of-the-box, JSM comes with an SLA measurement tool that's integrated with the issues queue. It allows organisations to create different SLA metrics, measure SLA with different calendars and issue statuses, report breaches, and some other functionality. But on top of these essential integrations, the new process meant there were a number of steps where the SLA needed to be paused, extended, or restarted, as well as being measurable in business days (rather than hours/minutes). And this capability was not available.
With over 70 processes that need to be delivered as part of the Bilateral Transactions Programme, each with multiple steps involving different entities, the company knew automation would need to play an intrinsic role in the process—and that staff training had to be kept to a minimum to get everyone up and running as easily as possible. To start, we focused on seven initial processes.
Results at a glance
By extending Jira Service Management, using tools like ScriptRunner for Jira, our customer has already experienced some great results:
A Jira Service Management deployment that is fit for purpose.

Smoothing out complex internal service management processes.

SLAs can be extended, paused, or restarted as required.

Upskilled staff capable of carrying out new processes and maintaining the solution.

A flexible solution that can be adapted for other workflows.

A seamless experience for the end customer.
The solution
Our customer wanted to get more out of JSM but recognised that it did not have the capability in-house to implement the necessary customisations, so Adaptavist was brought in as a strategic partner to assist in developing them. We also helped to upskill the eight-strong in-house team so they could implement and support the solution going forward. 
We brought the necessary skills and experience to the table, helping them implement integrations, refactor SLAs, and train staff. Then, as skills were transferred and the team's confidence grew, we provided ongoing consultancy to help them with any outstanding issues. 
Adaptavist extensively used our product ScriptRunner for Jira to supplement JSM's capabilities. This included, but was not limited to:
A new SLA approach to cater for extensions, pauses, and restarts demanded by the new processes.
External API calls to multiple systems.
Asynchronous updates, including ones based on external triggers and events.
Validators in workflow transitions that ensure synchronisation with other systems.
Regularly scheduled jobs to help keep all systems in sync moving forwards.
Redesigned SLA panel, including colour coding for current status to make processes as clear as possible.
The result
Since the project's initial phase was completed, its impact is starting to be felt, and our customer has appreciated our efforts. Now their end customers enjoy a more seamless experience. Not only did we help upskill staff, but the implementation has also enabled the company to start the vital deregulation work.
And they're already starting to appreciate even more value from the process. Not only can they maintain the solution, supporting the ongoing Bilateral Transactions Programme, but they have also already started to adapt it for other situations. The project was an important reminder that a solution alone is not enough. Organisations need to develop the necessary skills internally to fully understand a solution's capabilities and take on the responsibility of maintaining and supporting it for years to come.
Our customer appreciated our individualistic approach to their project. Our broad expertise allowed us to create a solution that we knew they would be overjoyed by. We equipped them with the tools to make significantly better use of Jira Service Management and helped them meet their needs, extended their SLAs, and quickly but effectively trained their team.
Jumpstart JSM
Want to harness the power of Jira Service Management to deliver more value to your customers? Adaptavist can help put ESM at the heart of your digital transformation initiatives.