Our global workplaces have undoubtedly changed in recent years. Although the future of work was already shifting, the pandemic rapidly accelerated the move to remote working. We adjusted to the 'new normal' and relied more on virtual meetings. As such, adopting digital technologies, artificial intelligence (AI) tools, and automation built momentum for the widespread growth of remote working and allowed companies to embrace a remote work culture.
The pandemic affected how we work, but what trends will continue? Three years on, a McKinsey Global Institute report highlights that although office working has rebounded substantially, workers are going to the office on average 3.5 days per week, still 30% lower than before the pandemic. According to Gartner®, 75% of knowledge workers* say their expectations for working flexibly have increased.
Location, location, location: The remote or hybrid work model
Almost overnight, the pandemic sparked a rapid global shift to remote working, and teams learned to adapt quickly. This trend continues, though there is much speculation about what will happen in the next few years. Many companies are adopting hybrid workplace models, where employees work in a mix of home and office environments. A 2021 survey by EY found that 79% of organisations surveyed were developing hybrid work models. 
More recently, the return to the office (RTO) has been a hot topic, with speculation ranging from a full-scale return, five days a week, to a physical office viewed as entirely optional.
However, is this focus on specifically where people work missing the point? We think organisations should be more interested in how people work and making that as location-independent as possible.
Supporting skills-based organisations
A WEF report explains that organisations should foster new skills and capabilities and make this the focus of talent strategies to create a new way of working, known as the skills-based organisation, which we will delve into in part two of this series. The changes in workplace location also offer an opportunity to address ways of working, team changes, and structures.
New leadership roles are emerging, dedicated to remote and hybrid working methods. With titles like 'VP of Future of Work', companies recognise a need for strategy in this area to create processes, structure, and a culture that drives productivity and business success.
It's a natural evolution of well-established workplace trends such as agile work methodologies, cross-disciplinary teams, and matrix management, where unit leaders can influence people's behaviour on adjacent teams to achieve a common goal. We think companies must invest in cultures supporting learning, improving connections to boost morale, and making sharing knowledge easier.
Work management is one practice that companies are looking to to help ensure that distributed work across dispersed teams remains efficient and productive.
Productivity is the priority: Adoption of digital technologies and tools
Widespread flexible working has increased demand for technology on-site and in the home office. Technologies have changed how we work, enabling us to work from anywhere, whether in an office, a coffee shop, a co-working space, or 35,000 feet in the air. 
In response, more innovative cloud technologies, file sharing, project management, collaboration platforms, and high-speed connectivity have revolutionised the working environment, and how we use technology is changing.
For instance, artificial intelligence (AI) applications like ChatGPT have turned technology from a tool into virtually another team member. AI is increasing and will play a more significant role in the workforce as technology becomes more sophisticated. Many of us have started using automation to manage repetitive and even more complex tasks, including data analysis, to help us work faster. Attitudes to AI vary from embracing technology to being uneasy about job displacement or fearing the unknown. Using AI to its best advantage will require new skills, many of which are still undetermined.
*A knowledge worker is a professional who generates value for the organisation with their expertise, critical thinking, and interpersonal skills to drive innovation and solve problems. If you want to explore this idea further, Kolekti, part of The Adaptavist Group, recently published an article exploring the definition of a knowledge worker.
Work management solutions can help you face the future
The world of work is constantly evolving, but all the signs suggest that the flexible work model is here to stay. The transition to managing a remote workforce can be daunting; however, it can be a seamless practice with proper support. Work management tools can help you meet the challenges of managing a hybrid or remote workforce. Whether you're just getting started with work management or already have a solution in place but want to get the most out of it, we can help. Get in touch to speak to one of our experts.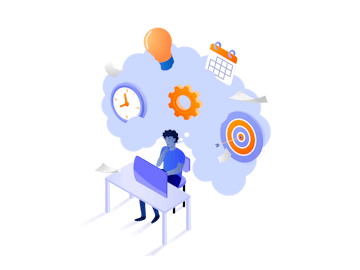 Special work management report: Productivity is not a place
Learn more about the future of work in our new research-based report full of actionable insights and recommendations.
Read the report