Discover, map, and optimise your entire IT infrastructure and every application
Does advanced asset management and discovery capabilities for change management, audit, and incident resolution sound like a superpower? Well, it's time to get suited up.
One of the challenges with modern IT infrastructure management is needing more detailed, accurate, and up-to-date knowledge of your entire IT infrastructure across all environments. You need to know precisely which of your IT systems connect and how and what their dependencies are. This lack of clarity makes Configuration Management Database (CBDM) difficult when your IT estate grows more complex daily, especially when you must optimise your IT investment and reduce the risk of service disruptions. Device42 is an enterprise tool that continuously discovers, maps, and optimises your entire infrastructure and every application.
"SAM tools help IT, and procurement leaders simplify software management by providing a consolidated view of an enterprise software estate. They also support decision-making and the ability to mitigate risks, optimise software spending, and improve life cycle management."
Dependency mapping in a single view
Say goodbye to your asset tracking spreadsheet and traditional asset management methods. With the CMBD solution from Device42, you can view your entire IT infrastructure typology on data centres or cloud environments in a single dashboard view. You can share that knowledge with your team and understand the dependencies using Device42 algorithms from cables to custom applications. It's like having a microscopic-level inventory view of your entire IT infrastructure, from a virtual appliance in your network; no data leaves your environment. With this knowledge, you can perform infrastructure and application modernisation, cloud and data centre migration, or App portfolio optimisation more efficiently with lower risk. Device42 will discover everything, even if you have anything as old as Windows 2000 lurking in your environment, including your illusive storage devices.
Here's everything that can be discovered with Device42: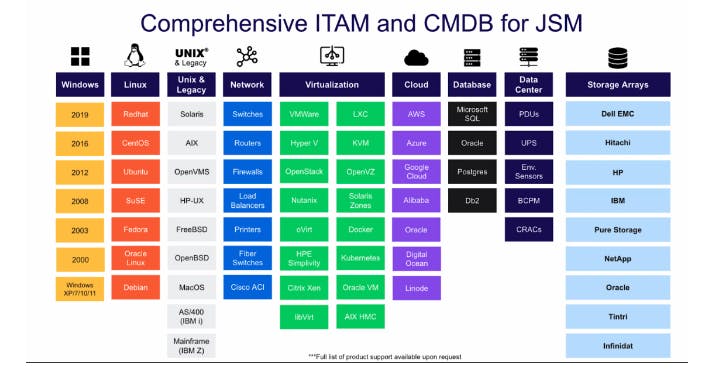 The perfect ITSM duo
Once you know your CMBD, keeping track of it is the next challenge. This means the discovered information must be accurate, regularly updated, easily shared across your organisation where necessary, and accessible in your IT Service Management (ITSM) solution and CMDB.
Device42 is an advanced ITAM tool that complements Jira Service Management (JSM), Atlassian's modern ITSM solution. You can sync JSM Assets (JSM CMBD) with Device42 using the free integrations available. You enable seamless communication between Device42 and JSM, improving ITSM practice and overall service delivery. The connection to JSM  gives you the power and knowledge to demystify your IT infrastructure and maximise the value of your Jira Service Management.
Maintain an audit-ready status.
Complying with regulations including GDPR, HIPAA compliance for healthcare, SOX for financial services, and PCI DSS for commerce is vital to avoid legal and financial penalties, the potential financial losses associated with reputational damage, and the loss of hard-won customer trust. But how do you know if you are maintaining compliance? Always up-to-date, clean and accurate data is the answer, and Device42 can help you to map your environment and identify and track any changes, ensuring compliance with regulatory requirements and maintaining continuous compliance automation.
Incident management resolution
Real-time monitoring will alert you to an incident, and the clock is ticking to uncover what is happening and where it will impact. Simply search for the resource name within Device42 or JSM Assets that can be in sync with Device42, allowing you to fetch information directly on your incident screen. The single dependency map view will quickly tell you where the dependencies lie, the impact, the owner, the installed software, and much more.
For example, application X is not responding; you can see in the CMDB it has a dependency on AWS, and we are aware of issues with AWS, so there is a strong correlation between AWS issues and the issues experienced with application X.
""Device42 customers typically experience 30% improvement in Mean-Time-to-Resolution (MTTR) and more than 15% in the amount of time it takes to respond to an incident, with the right knowledge about what to focus on to resolve the issue.""
Change enablement mastery
Regardless of how many IT change meetings you have to determine all the dependencies and relevant data, critical data points still need to be fixed. Wouldn't it be great if you could make proactive change plans based on accurate data and downtime predictions? With the powerful CMBD from Device42, you can equip your change management team with auto-discovery and application dependency mapping to enable faster decision-making.
For example, you want to change out a Switch or Load Balancer, but you can see from the Device42 or JSM CMDB screen that this supports a critical billing service, and we are end of the financial year, so really, now is not a great time to make this change. Let's postpone it; decision made.
Service fulfilment
Granting users access to applications within your IT estate is more complex, especially with understanding who can give access as an application owner or what that application depends on. The CMDB business service mapping provided by Device42 dynamically visualises all the configuration items (CIs) in a business service into a visual, hierarchical map so you can see everything connected to it, including who owns it. If you are using JSM as your ITSM platform, syncing Device42 with JSM Assets allows you to correlate information from different sources in Assets as your single point of truth.
For example, if you want to request access to X application, you reference the CMDB to ascertain the service owner for that tool and send a request to them for approval, sorted.
Powering resource planning and utilisation
Before you migrate to the JSM cloud, you must capture CPU memory and disc utilisation data as an ongoing activity for accurate capacity management before and during a transformation. With the Device42 Cloud Recommendation Engine feature, you will get appropriately sized cloud instance recommendations based on your current server environment.
How Adaptavist can help
Our expert Atlassian ITSM consultants can implement and configure Jira Service Management with Device42, giving your enterprise the ITSM upper hand in asset management. If you already have Device42 but want to connect to Jira Service Management, we can help set up the sync between Device42 and JSM Assets.

Our partnerships
Alongside our partnership with Device42, we are a Platinum Atlassian Solutions Partner and a Platinum Marketplace Partner. We also partner with Slack, Monday.com, AWS, GitLab, Apptio, and more. 
Do you want to chat with us about CMBD?
Adaptavist is a leader in shaping customised ITSM solutions that deliver value to organisations and their customers. Learn more about how we can support your organisation in achieving your digital transformation and migration goals. 
Speak to us