With increased complexity and cross-functional teams, managing budgets, resources, and priorities can be challenging for most organisations. Agile planning is an incremental, iterative, collaborative approach to your strategy and a big part of your agile transformation. 
Adaptavist offers agile solutions to support agile planning, helping bridge the gaps, ensuring greater visibility, smoother collaboration, and generating more business value. It impacts everyone – from leadership, who set and changes what's on the agenda to those at the team level, who use their preferred tools and practices while staying connected to the broader enterprise's objectives.
Agile planning challenges
Some of the challenges of agile planning include visibility that can degrade where disconnected systems work independently and cannot connect teams, budgets and people easily. Also, different ways of working can create blind spots for teams and management when it comes to priorities and dependencies and communicating objectives, which may mean there is no single source of truth. Every organisation is unique, and some processes and portfolio management legacy tools may be more flexible and are in fact static and risk stifling innovation and curtailing organisational agility.
Benefits of agile planning across the organisation
However, by taking an agile first approach to planning, you can expect to benefit from the following:
Better visibility across the enterprise
Improved organisational adaptability 
Greater alignment of your strategic goals and your work
Higher product quality and more value for your customers
Happier customers whose feedback makes a difference
Engaged employees who understand the bigger picture
Connect the dots
One tool that helps to streamline agile planning and connect your people at the portfolio, product, and team level is Targetprocess from Apptio. Recognised in Gartner's Magic Quadrant for Enterprise Agile Planning Tools, this cloud-based visual platform empowers organisations to plan, track, and prioritise work across the enterprise.
It's highly customisable and can be tailored to whichever agile framework you use and your organisational structure. It's the only solution that makes your CFO and financial planners an integral part of your agile transformation; with Targetprocess, they can advise product teams about how to invest your budget.
Flexibility
Targetprocess has a flexible architecture that can adapt to the way you work. It has out-of-the-box templates for the leading agile frameworks, including SAFe, LeSS, and Nexus. You have a nearly limitless ability to build custom processes, views, and reports to best fit your organisation's needs.
Connectivity
This platform connects to cloud and technology financial management platforms, so you can have a more holistic approach to financial planning and reports across the organisation and eliminate budget blind spots.
Apptio partners with industry leaders such as ServiceNow, BMC, Microsoft, Oracle, and SAP to ensure you can gain insights from the enterprise systems your organisation uses. In addition, there are 71 out-of-the-box integrations available, such as Jira, Bitbucket, Salesforce, ServiceNow, and Zephyr, so you can easily connect to the data you need faster. 
Alignment
With more precise alignment between your finances, products, strategy, and work, you'll have greater transparency across the organisation and be able to make crucial decisions more efficiently. 
Targetprocess features span strategic planning and portfolio management, resource management, agile programme management, value stream management and more. Here are just some of our favourites:
You can assess your portfolio of products, new solutions and features and then prioritise them based on your company's vision and goals.
You can keep track of your initiatives and any dependencies with automated forecasts based on work you've already completed and budget allocation.
Create roadmaps at all levels so everyone can visualise progress and align work with business goals.
Maximise productivity and resource capacity by managing the work allocated to each team.
You can explore the Risk Dashboard to view your current response plan, see where changes need to be made, and include the most valuable reports. 
Measure development performance KPIs, including lead cycle time, processing time, cost of delay, and mean time to repair, with reports easily accessible at all levels.
Link specific elements of execution to strategic objectives and easily track their progress.
How Adaptavist can help
As a Scaled Agile® Gold Partner, our SPC-certified consulting team leverages training and deep real-world experience to deliver outcomes for your business.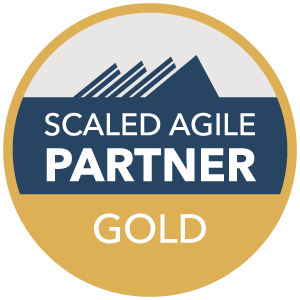 We're always looking for ways to help enterprise customers increase visibility and gain greater data control as part of their wider agile transformation. Our agile transformation solution combines our agile transformation consultancy expertise and training alongside tool recommendations that best fit your unique organisation.
With agile tools like Targetprocess, you can view and analyse your business and financial information through a single strategic lens. And we can take the stress out of licensing by handling the administrative burden on your behalf.
What we offer
Helping you choose and implement tools like Targetprocess is part of a much wider service offering. We can help your entire organisation embrace change and start to realise the benefits of agility. 
From your people and culture to your processes and the technology you use to make them happen, our expert consultants take a holistic approach, ensuring change starts at the top and encompasses everyone across the enterprise.
Our agile-at-scale services include: 
Agile at scale evaluation and alignment
Leadership Coaching
Jira Align implementation and support
SAFe® quick start platform
SAFe® PI Planning support
SAFe® training
Our partnerships
We want to enable you to achieve organisational agility, and our partnerships play a significant role. Alongside our partnership with Apptio, we are a Platinum Atlassian Solutions Partner and a Platinum Marketplace Partner. We also partner with Slack, Monday.com, AWS, GitLab, Aha!, and more.
Want to know more?
Ready to increase business agility with the most flexible Enterprise Agile Planning solution out there? Want our expertise and support to implement and embed Targetprocess in your organisation? Get in touch today.
Talk to our team at Aligned Agility, part of The Adaptavist Group, about Apptio Targetprocess.
Contact us