Learn 
for Jira
The must-have in-app Jira training for all levels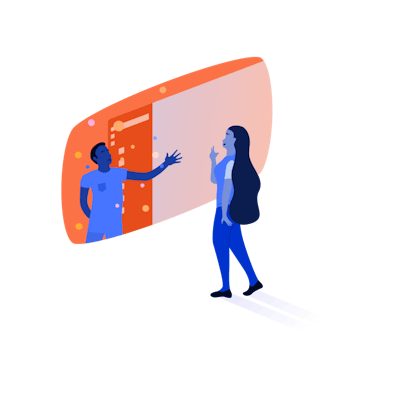 Looking for the best way to onboard your Jira users? Watch this.
Working with hundreds of global organisations, we have gained valuable insight into Jira best practices and use cases.
Why let our vast experience go to waste?
Learn for Jira scales your team's adoption of Jira in an easy and flexible way - making it instantly available to all your users.
Why Jira admins love Learn for Jira
Training developed by experienced Atlassian experts who love using Jira
Jira adoption can be tricky for organisations of any size and scale. That's why we created Learn for Jira—a learning management system designed to provide best practices, solve common pain points, and make onboarding as smooth as possible.
"A lot of the time when you do training, it says, 'This is X and how you do it.' I like that Adaptavist Learn says, 'This is why you do X."
Robbie Melvin
Adaptavist Learn user, IGM Financial
Take a tour of Learn for Jira
Get to know all the cool features of Learn for Jira without any downloads, installs or Jira instances required.
Kishore Kumar Gangavath

on 20/08/2020

It's really a great app for the Comprehensive Jira & Confluence training. Initially we have faced some issue with this app in our environment and team worked round the clock to fix the issue.

Hendrik Dathe

on 12/08/2020

With being a user of other Adaptavist products I tried this one and it didn't disappoint. It offers comprehensive intro training for JIRA and Confluence directly in the installation you run, which is especially useful for a server-only-implementation so no external links required. In addition, it offers you an easy way to onboard new members easily with well-balanced training. The customer support is excellent and the outlook of being able to tailor the courses myself is really useful.

Bogdan Gorka

on 01/06/2020

When I discovered this app, I bought the license instantly for 2 years. In this way I have always access to Atlassian applications knowledge just a click away. All I have to do is to search through the course chapters and units overview and select the item that is interesting for me or simply use the search box. I can't wait to see ScriptRunner for Jira or AutoBlocks for Jira courses for Beginners.
Ready to give Learn for Jira a try?
Click below for your 30-day free trial on Server or Data Centre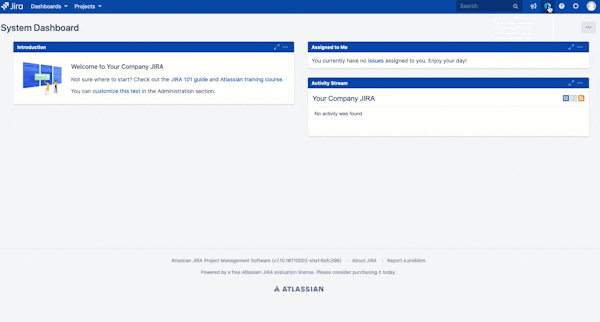 Learn Jira in Jira
Learn for Jira provides video training written and created by industry experts - delivered right inside your Jira instance. Effortlessly upskill your users to reduce Jira admin workload, and boost your organisation's productivity.
Search for the answers
Learn for Jira's powerful search capability allows you to quickly find the information you need, right inside Jira.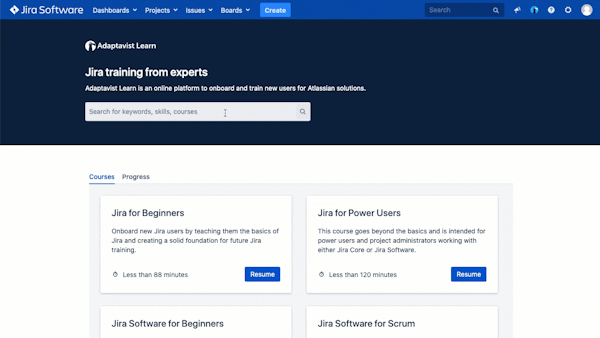 Learn in an easy-to-digest format
Our Jira, Confluence, Trello and other tool training videos are designed to be digestible and engaging. You'll find animations, demonstrations, and best practices gleaned from our work with over half of Fortune 500 companies.
Easily put your knowledge into practice
Apply your new learnings seamlessly and efficiently to get your work done, fast.
Find out more about what makes up our Atlassian Training courses
Why users love Learn for Jira
Jira training, anytime, anywhere
Our just-in-time training is organised into bite-size lessons so your team can learn at a pace that suits them, whether they need to resolve a specific problem fast or deepen their knowledge in a new area.
A wide range of resources
Our vast array of training materials are tailored to suit all learning styles and preferences - including videos, downloadable guides, transcripts, built-in search, and much more, all designed to enable your teams to find the topics they need, fast.
Training for all Jira levels
Courses include Jira for Beginners, Jira for Power Users, Jira Software for Beginners, Jira Software for Scrum, Jira Software for Kanban, Jira Administration, Jira Service Desk, Portfolio for Jira, and many more.
Have any questions? Get in touch.