Transcript: Team Titans Season 2, Episode 1 - Sophie Devonshire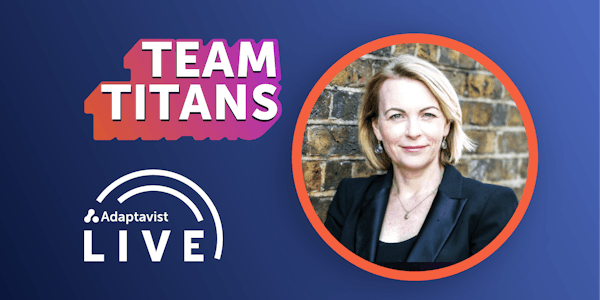 An Adaptavist Q&A session with Sophie Devonshire
Listen to the full episode, or read the transcript below
Transcript
Ryan Spilken:
Hello, and welcome to Adaptivist Live, Team Titans, the stories of people with unique perspectives on work itself. Defining and sometimes destroying processes, building tools, leading teams. I'm Ryan Spilken, and my co-host today is Adaptivist content team lead, Dom Summers. Dom, how's it going?
Dominique Summers:
I'm good. How are you, Ryan?
Ryan Spilken:
I'm doing quite well. And joining us today is an experienced business leader, entrepreneur, marketer, and best-selling author, who has worked in and with multinational companies, successful startups and agencies. Sophie Devonshire. Sophie, thank you so much for joining us today.
Sophie Devonshire:
I'm so pleased to be here. Looking forward to talking.
Ryan Spilken:
We cannot wait to hear what you have to say. Your book, Superfast: Lead At Speed, was shortlisted for business book of the year, as well as getting to a number one spot on Amazon, and has a strikingly beautiful cover. Let's start off with a little bit about your role now as CEO of The Marketing Society, a very prestigious and progressive community of senior marketers, whose purpose is to empower brave leadership. What advice would you give to budding CEOs and founders who want to build a successful business?
Sophie Devonshire:
That's a very big question. There's probably a few things, Ryan, that I would want to bring up, and they are based on having spoken to a number of leaders across the years and talked to them about what's important in business. So if you are looking to build a successful business at the moment, I think it's worth reminding yourself that it doesn't all have to be just about you. So the power of the team, which I'm sure we'll talk about today, and understanding there are actually brains that can be borrowed, helpful perspectives, and thinking partners out there who can help support you in what you do is really important. This is especially true for anybody who's feeling a little bit overwhelmed at the moment with what they're trying to do in business, or with the idea that they have to be some kind of perfect leader in order to succeed.
So that sense that you don't have to do it yourself, I think is really important. And one of the best ways to borrow people's brains, or think differently, is to stay incredibly curious. The curious people are the ones that connect with other people and have conversations with them. The ones who listen to podcasts like this, who read books, who understand that actually one of the fastest shortcuts to success is to learn from the mistakes of others, or steal like a magpie the ideas from other people as well.
There's so many things, but I'd probably start with just an acknowledgement that actually, if you want to be successful in business, building up a network, building up connections, building up ideas, will help support you all the way through. This is something that is relevant to my role. One of the reasons I took this job as CEO of The Marketing Society is because I have seen how useful it is for people to be able to come together as a community, as a society, and support each other.
The Marketing Society has been working with leaders and standing up for marketing industry for over 60 years now. But as you guys know more than anybody, the rapidly changing world in which we operate, the way in which technology and fast connections have changed the way business works, means for marketing leaders or anybody in marketing at the moment, things are particularly challenging. The idea of a society helping great marketers do well in their business and their careers, and also do good by coming together to be a positive force for business in this world, and feel good about business and about the marketing industry is really, really important to me. And so it's been great to be part of it all.
Dominique Summers:
Ryan mentioned you publishing a book. What was the reason? Where did the idea of Leading At Speed originated from? Was it similar to what you you're talking about there with The Marketing Society, with trying to bring people together and getting ideas together?
Sophie Devonshire:
No, I think for this I've always been interested in the thrill you get when you launch a new product and things move really fast. Or when you see somebody in business who's really succeeding and flourishing and learning. Or when anything moves at pace and there's something very exciting about it. And I've actually worked inside big supertanker organizations and also founded my own e-commerce startup, seeing the difference in pace between those was interesting. I've worked in different countries. I lived in the Middle East and Dubai where things can move very, very fast from a business perspective. Also in Estonia, the birthplace of Skype and TransferWise, it's very e-enabled. That ability to see things grow and move fast, it's intoxicating when you see it happen.
And for a number of years, I really wanted to support leaders who wanted to get the pace right inside their businesses. But a couple of years ago, when I started thinking about the book, there were two things people were talking a lot to me about. First of all, everybody was fascinated by what's happened in this last decade. Post iPad. We've had a decade of disruption in business. Everybody talks about it. Coding layer on coding, technology on technology, platforms on platforms. We all know what's happened. It's generated a world full of impatience. So if you're in business, you've got hot breath of the shareholder saying things like, "Hold on a second. If Uber can go from nothing to a $58 billion valuation in five years, why is it taking you so long to launch that new product?" Shareholders are putting real pressure on people in business.
Everybody's audiences are putting pressure on people in businesses. Whatever you're doing, creating a big airplane or whatever you're actually producing, everybody wants everything. Amazon Prime delivery, super fast. There is an impatience there, also an impatience if you are ambitious, if you're a business leader, if you are at any stage in your career and you want to do more, we get impatient with ourselves. So I speak to people who were saying, "I can see that the world is moving super fast. I can see there's the potential there for me to be able to do so much more. But either my organization is moving too slowly and it's driving me crazy, or I'm not moving fast enough." At the same time, they are all exhausted. We've seen this even more in the last few months, the pressure of the pace can make it exhausting to work. So I wanted to find a way to work out, how can you get the pace right? How can you move fast when you need to, but also make sure that it's sustainable?
Ryan Spilken:
Tell us a little bit more about that. I am really interested to know, how does someone in leadership balance looking for the rush that comes along with having movement, but their teams might be dealing with, oh, you know, global pandemic and all that. So how do they establish the pace? Where are the places they need to look?
Sophie Devonshire:
Well, it's definitely not easy. I would say it is at the heart of great leadership to being a good pace setter. Which doesn't mean always going relentlessly fast and demanding everybody else does. Not being like Victorian mill owner, shouting at people to go faster and faster. It means understanding there needs to be a variable pace to help people through it. And there's a little bit of self knowledge there. So, to research the book, I spoke to a hundred different leaders across the world who were working with all kinds of different businesses. As you'd expect, the fast growth tech startups, but also the big supertankers. People like Paul Polman, who's the global CEO of Unilever. I spoke to the head of the joint intelligence counter-terrorism committee as well. So if you think you have problems with your to-do list, try saving the world from terrorism, super fast.
They're all kinds of different people, but what they all have in common is they understand there is a need for speed, but it is hard to work out how to get it right. So that pace setting idea of making sure, for example, you never ever underestimate the power of the pause. Everybody wanting to go faster doesn't like being told to slow down. But building in pauses into your work is vital. The pause before you start a project, the pre-mortem, the pause halfway through so you can check you're actually moving in the right direction. Then there is the pause straight afterwards to get fast feedback and iterate and make sure you evolve, the pause in your week to make sure you're stopping to think, you aren't just rushing, rushing, rushing, and the pause to re-energize. They are all so important.
Building in the pause is, for you as a leader, but also being aware of the importance for your teams as well, makes a huge difference. I also have to say, pretty much all the pace setting leaders I spoke to were naturally super fast themselves. They liked making things happen. But over their careers, they understood they require in their teams, people with perhaps more rigor than vigor, or the meticulous thinkers, or people who just had a different pace. This is important. The structure of teams needs to be built so that you can actually have this diversity of types of people there. Not everybody is as driven as some of the people who are leading businesses. So an understanding of pace, I guess, is the long answer to the short question of how on earth do you start to cope with a super fast world and the need for speed.
Dominique Summers:
Just a question as a follow-up to what you have just mentioned. There are companies right now who are fortunate enough to still be growing and have the real pace you're talking about in terms of more people, more customers, etc. How does a leader, or a business manage this growth internally, where you've got lots of new people coming on board and new customers. How do businesses manage still wanting to go as fast as they were going before when they were smaller, but now they're a different size and there are more people to bring into the conversation, and more people to bring on board culturally as well? What does a business have to do to manage this type of growth and hyper growth?
Sophie Devonshire:
I think it's a brilliant question, because you see a lot of companies struggle with that. They start up to scale up, but how do you grow up without selling up? The reality is, you do need to put in place, some more processes. There will be those people who like to be fast, to be revolutionary, but are inherently allergic to the idea of process. But process, when it's done well, can help speed things up. It's a template. If you think about it as frameworks for people, the reality is if you give people a template or a default, it is much easier for them to get where they need to, quicker. And that's all that those processes are. But you need the right kind of people to choose those processes, and you need somebody still to say, "Look, we don't want to slow down with this."
I'm thinking, there's a couple of businesses that I spoke to in researching the book like this. In fact, I'm thinking about companies like Farfetch, which is an incredibly fast growth company, and José Neves, the founder, who's a huge visionary and one of the fastest-moving, fastest-thinking people out there, with a great sense of responsibility as well. Within Farfetch, I know that they, as an organization, built some really good cultural foundations with Sian, the Head of People, to make sure that there were the values and the behaviors as a framework to help the expectation setting in the communications. Those are the kinds of things that require a bit of slowing down to get them right. But then once they're in place, it helps scaling happen.
I'm also thinking about Octopus Energy. The founder, Greg Jackson, is one of Superfast interviewees, and we had him come in this week with his marketing director to speak about their fast growth. Octopus Energy is in the News Today talking about creating a thousand new jobs in the UK. They've gone from nothing to one of the UK's only unicorns in four and a half years. The organization is a fantastic example of how super fast growth can be achieved. But, from day one, they have focused on this being a customer centric culture. What that then means is everybody inside that organization, no matter how big they get, must think about the customer. This will help speed up decision making, and speed up communication because everybody owns the customer experience and you're not slowing down things by breaking out into silos.
They've also adopted, as many super fast companies have, a continued focus on making sure that the person closest to the code, the person closest to the consumer, the person closest to the audience, whatever it is, is the one who is empowered to make the decision. So not slowing down with layers and layers and layers, but giving people that freedom. The secret is you need the frameworks there, you need the principles, you need everybody to understand what is fundamentally right. And then you can give them the freedom to respond to whatever happens, to move fast, to pivot, to be great with customers. But you've given them that mixture of a structure and then the freedom. And I think that's, for me, how strong cultures can still grow without selling up.
Dominique Summers:
Do you think that freedom has to come with boundaries? Or do you think that you could give someone who was closest to the customer, or the person at the front end of the development, etc., pretty much free rein of what they're doing? Or does it need to sit within a structure with boundaries for that to be successful and scalable?
Sophie Devonshire:
I think in this instance, like anything, it depends on the risks involved. I think is one of the biggest challenges for a lot of tech companies, because obviously when you are a startup in some industries, you can take more risk and you can move fast and break things more comfortably. There's a great startup at moment, who's moving super fast, called Banked, an amazing digital payments system. Companies like that, I think, from day one, have to get that mix of rigor and vigor right, because they are dealing with regulators so you can't take the risks there. So those are automatic guidelines involved. Then there's someone like Anne Boden, who's the founder of Starling Bank. Another of the Superfast interviewees, she went from massive banks with their slow moving juggernaut ways, to set up Starling Bank.
But she could not risk things going wrong. So again, she used a number of tools and techniques to really make sure she didn't lose any of the pace. And she is a very, very fast moving person. But of course, you've then got to have the guts. So Dom, I think you do have to have the guide rails there and have everybody understand that, but it's a little bit different. If you've got command and control ways of doing it, and you're saying to people it has to be just so, and you're not allowing any creativity in, then of course you lose all the excitement of the velocity. It's thinking about what kind of culture you want and how you want it, because you do want the creativity as well. It's tricky.
Ryan Spilken:
I think I'd like to get your take on the combination of building a process while maintaining culture. How would you suggest people who find themselves in this situation, implement processes across teams while maintaining the vibrant, fast culture they're looking to have?
Sophie Devonshire:
I do think it's worth always thinking about parallel tracking everything. I think a lot of great companies were building several things at the same time. Culture is kind of like a garden. You plant some seeds, but you have to keep watering them and nurturing them to make sure it grows. So it's not just a, "Right, we've done a few values there, there's culture sorted." The thing we've certainly all seen even more than before everybody really started remote working, is how easy it is for messages to be lost and things to be misinterpreted. So whatever you're doing from a cultural point of view, to have people who are responsible for continuous communication is important. It's really easier of course, in a massive company where you've got some kind of people in roles around that.
But I do think there is also a responsibility for any leader just to keep talking to people and sharing how they're feeling. And I think the other thing, Ryan, is an acceptance and an acknowledgment that things will screw up or go wrong, and perfection is never something we should feel is likely. Let's try it. Let's experiment. Let's do it together. Let's work out, let's reflect on what's worked. Did that work? How do we feel about it? This kind of leadership is iterative, teamwork is iterative, culture certainly is. Having that sense of let's learn together and evolve and test, takes the pressure off a little bit as well. Because I think those people are trying to set this up, "Hey, I want this to be a great place to work. It's all going to be perfect." It's a lot of pressure.
Dominique Summers:
I have a question around what you touched on with the pandemic and us working remotely. There was an article published by the BBC, which did a survey of about a thousand firms, and 74% of them said that they were planning on maintaining the increase in homeworking after the pandemic. Also more than half of them said they also planned on reducing their long-term use of workplaces. What do you think that means now for leading at speed, and how does that work inside the context of the pandemic with people in majority businesses working from home, which looks like it's not really going to change any time soon? How does it all affect businesses who want to go at really fast pace?
Sophie Devonshire:
It is fascinating at the moment to watch this worldwide experiment in remote working, and to all be learning together. These things are happening, but actually there are fascinating implications. There's a perspective for me in terms of being interested in business productivity and teams, but there's also a personal perspective. The business that I started up, e-commerce business years ago, I ran for three years from the UK and then went to live in Estonia for three years. Just the credit crunch hit, in fact. Amazing timing. And I'd run it from Estonia, and nobody based in London or elsewhere really knew where I was, because you don't actually need to. You can have a UK number and Skype, etc., and run the whole business with an entire remote workforce.
At the time this was relatively unusual, to say the least, but it was a fantastic experience in learning how you can build amazing teams, even in that situation. I had a team of customer service people who were exceptional, they were dedicated, and they worked hard. It was a results-only work environment because some of them were in the UK, some of them were in France. I could recruit the best people, so we built a great team and a great culture, even though half of them had never met each other. It just proves with the right principles, with over-communicating - which is what you need to do when you're not together, and with an understanding that sometimes these things are a little tricky - it is of course still possible to build things in a great way.
So I have a sort of personal bias in favor of looking at how dynamic working or flexible working can work for organizations, and remote working because of going through the experience. Across the years, since then, I've worked with different people who've tried different things. And now we've got everybody trying different things. But the point is, if you want to work fast and in the right direction, it doesn't matter where you're working. You can still build a great place to work, but it requires thought. It goes to the point we made earlier about when you slow down and work out how are people going to connect, you can test things and evolve it.
I was with my Marketing Society team today and we've had a team storm where we talked about what more we can do and how we can build those social relations. I am a raging extrovert, so I hate the fact that I'm working in my remote 'spoffice' every day, my spare room/office. That's in contrast with me also believing it is entirely possible to do great work wherever you are. Where there's wifi, there's a way. And I think people are very productive, and I think giving people a certain level of time sovereignty so they can have choice over what they do, can be really effective for just living the lives that you want to lead.
In the long run, I think this great experiment will be very, very valuable for people, and give people more choice in the long run. But the psychology behind remote working, I've seen a number of studies talking about the fact it works best when it is the choice of the people involved. So what's hard right now for all of us is, it's not we've gone, "Hey, can we work from home? Wouldn't that be great?" We've gone, "We have to all work from home." So I think there is going to need to be a huge reset and way of looking at it as we move out of this. We talk a lot about brave leadership within The Marketing Society, and there is going to need to be some courage for people in business left, right, and center, to make the right decisions for whatever they're doing. And thinking creatively and smartly about different ways of working, it has got to take priority as we consider how we move forward.
Ryan Spilken:
You mentioned bravery.
Sophie Devonshire:
Mm-hmm (affirmative).
Ryan Spilken:
In American business culture, vulnerability is almost seen as detrimental.
Sophie Devonshire:
Mm-hmm (affirmative).
Ryan Spilken:
It takes real bravery to say things might not go well. It takes real chutzpah, as it were, to actually open yourself up to not knowing everything. So how would you encourage leaders to let that out? How would you encourage them to show that side?
Sophie Devonshire:
When we talk about bravery, it's probably worth referencing one of my favorite stories about somebody who was incredibly brave. The widow, Veuve Clicquot, who completely transformed the champagne industry, did so at a time of revolution and war and having to take over her husband's business when women really didn't work in business. She did some amazing things. Towards the end of her life, she was called Barbe-Nicole Veuve Clicquot Ponsardin, and she wrote to her granddaughter and said, "The world is in perpetual motion and we must invent the things of tomorrow. Go before others and let your intelligence direct your life. Act with audacity." I love that as a call to action for all of us right now. To have the personal courage to act with audacity, to take those risks, to be a little bit cheeky, to try something different. Because that's the way I think we will invent the things of tomorrow.
A little while back, Marketing Society and a fantastic marketing guru, Thomas Barta, did some research into the idea of bravery in business, and they defined sort of three different types of bravery in leadership. One is what you're referring to, Ryan, which is the psychological bravery to be yourself, to be open, to talk about how things might not be perfect and you might not be perfect. There's also a moral bravery. Moral courage in standing up for what you believe, which has taken more of a front seat and in leadership in business recently. And then the last form of bravery is my favorite, obviously, because it's to do with speed, which is the ability to take audacious risks and commercial risks and have that courage when you need to move fast.
I do think the question about how vulnerable you are and how you talk about it, has real challenges for people. And there is a maturity, I think, probably, that is needed to get to this stage. And there's also a need for people to encourage other people to be a little bit like it. I come across some people who are just like, "Yeah, I'm so rubbish at all that and I'm going to tell you how rubbish I am at all that," and be really self-deprecating. And it's not underplaying yourself in that situation, because I think we should be aware of our strengths and play them up, but also aware that none of us can control everything anyhow. It's artificial and it feels inauthentic and wrong when you see people going, "Yeah, it's all going to be perfect."
But I don't think it's a straightforward answer to all this. Of all the leaders that I interviewed for Super Fast, it's very interesting when you talk to them about their history, because for most of them, there was a little bit of a point in their, without being cheesy, their leadership journey, where they bothered to take some time to understand themselves and how they work. And I actually think Brits find this hard, particularly, because it feels sometimes quite self-indulgent to say, "How do we work? What am I like?" But spending time with a coach or a mentor, or working out your Hogan Profile or whatever those things are, understanding how people see you and how you work at your best, is incredibly valuable because it allows you to be quite open to sharing what you're like, because you're comfortable in your own skin. And that allows you to, I think, be vulnerable.
And there's a whole fantastic cult of support around Brene Brown and everybody else about this move towards being more honest and open about how you are. Frankly, it's just easier for a lot of people, to be themself. So you save time not having to work out quite how you're going to hide all your fallibilities, but it's a little bit of a line, I think. A line between not just going, "Yes, I'm going to be rubbish," but also just being prepared to talk about the fact you can't guarantee anything.
Dominique Summers:
I've definitely found that as I've gotten sort of further along in my career, I've just become more of myself. I show more of myself to my team, to east and west, north and south, all around, it's just like, "This is who I am, what I stand for, what the team stands for." I think this can be really beneficial because what's the point of pretending I like something or that I'm doing something you're just not doing and it doesn't feel authentic to you? Because I think people really appreciate and respond well to that authenticity, which can really be like a great building block for teams, especially since we're trying to build that relationship with people who we may have never met before, because there is a pandemic and we're all working from home.
Sophie Devonshire:
Yep. That is so true. And I've had to, in the last few weeks make a point of being more human when meeting teams across the world just through Zoom. And one of the big themes within Super Fast we talk about is human understanding and what an accelerator it is. The more you understand your audience, the more you understand your team, the more you understand yourself, the easier and faster it is to connect and communicate. So I think that sounds like a great strategy, Dominique. It's just tricky though, because people sort of say, "Be yourself," and you're kind of like, "Well, what does that actually mean?" So sometimes taking a bit of time to say, "Well, what does that mean? These are my values," or, "This is what I believe and my purpose in life." All that side of things, again, that gives you a framework to be able to work within that and answer things a bit more easily, because you've spent the time building up an understanding of who you truly are.
Dominique Summers:
It's just been such a treat talking to you. Thank you so much.
Ryan Spilken:
Absolutely. Wonderful. Marketing Society CEO, and Superfast: Lead At Speed author, Sophie Devonshire, thank you so much for joining us today.
Sophie Devonshire:
It's brilliant to be part of it all. Thank you, guys.
Thanks for taking time to read this blog. If you enjoyed it, make sure you tune in next week for the Atlassian Ecosystem podcast and our next episode of Team Titans the week after.