Transcript: The Atlassian Ecosystem Podcast Ep. 109 - Distracted By The Clouds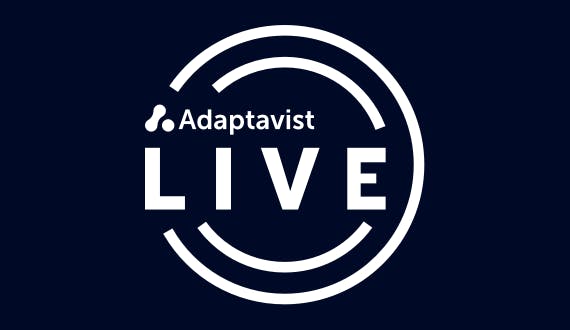 Transcript
Ryan Spilken:
Hello and welcome to Adaptavist Live, the Atlassian Ecosystem podcast. This is episode 109, and we are distracted by all those clowns. I'm your host, Ryan Spilken, and joining me today are Brenda Burrell and Matthew Stublefield. Brenda, Matthew, hallo.
Brenda Burrell:
Hallo.
Matthew Stublefield:
Good to see you all.
Ryan Spilken:
Oh, man. Well, happy January, everybody. How's it going?
Brenda Burrell:
It's going. We're distracted, shiny cloud things.
Ryan Spilken:
Somebody is even more distracted than the three of us.
Brenda Burrell:
It's true. For our dear listeners that have been with us over the last several months, long time guest co-host Danny Coleman welcomed baby Maisy to the world over the weekend. Baby and mom are doing well. Maisy weighed seven pounds, nine ounces, and I've seen pictures. She is absolutely adorable. Please join us in congratulating Danny Coleman and his family. He will be out for several weeks on paternity leave and yes, he is beyond distracted with his new arrival.
Matthew Stublefield:
We really need to find a way to start organizing some Adaptavist play dates. I don't know how we do that when we all live thousands of miles apart.
Ryan Spilken:
That would just be so precious, though.
Brenda Burrell:
Adapta-kids and all.
Ryan Spilken:
Yeah. Matthew, I think Danny just took your idea and ran with it, man. He decided you know what? Matthew can have a kid, I can, too.
Matthew Stublefield:
It's been mainly for everybody.
Ryan Spilken:
Hey. All right. Well, congratulations to Danny. Speaking from my experience I think we can all say it's a whole lot of fun. You know what else is a whole lot of fun? The updates that Atlassian has introduced to the cloud over the last two weeks. So from January 11th to the 25th, we have quite a bit of juicy new features. And one that I am so excited about is for Jira cloud because now looping transitions will get their own action buttons. And these two, Brenda and Matthew know very well that I really like the idea of using Jira for things it's not supposed to be used for. So this function gives me even more incentive to play with it.
Ryan Spilken:
So yes, this was definitely something you could do in the server edition with looping transitions, validators, and screens and such. But the difference here is that it's being separated out from the workflow steps to be its own set of actions. And so you could basically use these buttons to trigger actions that force your users into certain behaviors. I mean, that language might be a little brusque, but the idea of using Jira as say a cash register and using an action button to enter customer data, and then an action button to ring in their items or whatever it's just a different way of looking at the platform. So I'm pretty pumped about that.
Matthew Stublefield:
Yeah. This may be functionality that some of our listeners aren't familiar with. It's the idea of you've got a transition and a workflow, so we're talking specifically about Jira workflows. You could already have a transition screen to pop up and prompt for data. You could set a validator to say this data has to be in there before going to the next transition. A looping transition just brings you back to the same status. So it's letting you take these actions. So savvy, Jira workflow developers would use this to prompt for information while staying in progress or collecting data, or whatever that status might be. What's interesting about cloud here it's two-fold. One, last year they made a change to how workflow transitions work to begin with. So instead of a button that moves you through it, there was a dropdown menu where you could select from these.
Matthew Stublefield:
Now taking those looping transitions and when you have multiple of them moving them into its own menu, I think it's a really interesting UX decision. It does sort of beg the question why this is still part of the workflow. It feels they've taken what's kind of a workaround. We wanted to do this, we didn't have a better way to do it. So we found a way to use workflows to do this. And instead of just introducing a UI and a button set to let you create forms and then click a button to display that for me and capture information, lastly, just sort of leaned in to the workaround and presented in the interfaces if it's not a workaround, but it still is, you still have to go through a workflow editor to create actions. And I do find that odd, but-
Ryan Spilken:
I think it's a step towards exactly what you're talking about. This is what-
Matthew Stublefield:
I just don't know why they didn't just take the step, though. Why not just develop a-
Ryan Spilken:
Mathew, certainly you've seen all about Bob: baby steps, baby steps. Also new in the Jira Cloud platform is a new improved issue search in your classic projects, just a new, nicely refined view that can help you filter your issues out faster. Advanced roadmaps for Jira Cloud has fixed the visibility of archived releases. They're just a little bug that they've squashed. You're also now able to get insights into cycle time for your deployments in the palm of your hand with the new advanced insight panel inside the deployment view. Finally, in classic projects, when you create a new board you get a roadmap, and you get a roadmap, and everybody gets a roadmap. So the way Atlassian puts it is they've said it once, they'll say it again, the roadmap takes your planning game up a notch. Are you ready to take it up a notch? I know I am.
Brenda Burrell:
Are you?
Ryan Spilken:
So ready.
Brenda Burrell:
So ready.
Matthew Stublefield:
We're in the process of starting creating a cloud version of our learn for Jira app, and this morning I was talking with Dan Adams, our lead instructional designer about making cloud training. And Atlassian has completely blurred the lines between Jira Core and Jira Software for these concepts. When you have a Jira Cloud project you start in the board, you live in the board, there's no distinction between Jira and Jira software in the cloud. It's just all Jira. And we're seeing that same thing happen with roadmaps, right? So where roadmaps was originally totally standalone only available for some it's really just being brought in, folded into the core experience for Jira users which is really interesting.
Brenda Burrell:
And smart from a usability perspective. Exactly, it's what it's all about. Instead of, oh, well, you have these things and over here you've got those things, it's across the board. We don't have to think about what's a core feature and what's an add-on feature, what's an extra feature depending on your license, you want your users to have a consistent experience. So blurring those lines is a very smart usability move on Atlassian's part.
Ryan Spilken:
Yeah. And this is where I think they're going to really be in a place to be long-standing competition to the Microsofts and IBMs of the world, because they're focusing on the things that make it decent to use the product, as opposed to just use the product or else. When people like doing it productivity, et cetera, it's all good stuff.
Matthew Stublefield:
When a lot of it is exposure it's making these things more visible, more easily accessible. There's no secret knowledge you need to interpret a Gantt chart or to look at a roadmap, but finding it in the interface and knowing you have access is the same thing with Release Hub, right? Wiring up Jira and Bitbucket and Bamboo so that you get the value of Release Hub is not hard, but the number of people I know who actually look at the Release Hub is very small. And so, taking something like roadmaps and just having it really feel front and center and core of the product I think is like you said, Ryan is a very smart move.
Ryan Spilken:
Some new functions have also rolled out to Confluence Cloud with the ability now to delete pages and blogs with confidence. Have you ever felt insecure when deleting a page or a blog? Sure, we all have. But-
Matthew Stublefield:
Why would you ever delete anything? I don't understand.
Brenda Burrell:
Often. Regularly.
Ryan Spilken:
Oh my gosh, Matthew, no. No.
Ryan Spilken:
No, you just keep it forever especially if it's useless.
Brenda Burrell:
So this functionality is not relevant to Matthew, but for Ryan and I, you can now delete to your heart's content.
Ryan Spilken:
And you feel really confident about it. It's like those programs that make people feel more secure about their purchases. Anyway, it's the new UX experience. It's one of those things where it's going to confirm what's going to happen to your content. So if you're in the process of shredding documents because you've done something nefarious, you're in trouble with Confluence, because you're going to know exactly what happened to those documents. Also in Confluence, and this one is actually a little more hands-on useful maybe, the office connected macro will now be displaying your office documents in Confluence Cloud in a full-width preview. So you're going to be able to get... Yeah, right. Right? A little nicer view because man, I understand why Microsoft would want to keep some interoperative hostility alive between itself and Atlassian, but the more we can overcome that to make the experience better, the better.
Matthew Stublefield:
Notably this is specifically for Word. So not necessarily for Excel or other documents. I assume that's coming, and to be fair, this isn't really so much a Microsoft issue as it is an Atlassian issue because the documents can display through a web browser if they're embedded pretty easily, that functions out there it's doing it through Confluence's rendering, that is more challenging. So they had to create a renderer effectively for the Confluence pages. So it's great that they've done this. I think this helps move Confluence Cloud into a more sort of appetizing spot for larger enterprises that use Confluence, not just for collaboration, but as a document repository, getting offers interoperability and display this is where you start moving into that document repository knowledge management space.
Brenda Burrell:
Also new in Atlassian Cloud on the Bitbucket side of things, new just this past week, you can now clone a repo in VS Code. There in the clone, this repository dialogue. When you're viewing a poll request, you have the option to view in VS Code. And that just gives you an option to open that poll request directly in VS Code, so just some additional support for IDs. I know a lot of developers do use VS Code, and so this makes it just another easier, it's another smoothing of the transition for the developers. So that's a nice option. Also in Bitbucket Cloud, a new poll request sidebar, and we'll have a link to the blog post in our show notes gift alerts. We were distracted by the gifts in this particular article.
Ryan Spilken:
So nice.
Brenda Burrell:
Lots of neat features, actually. So there is a sidebar already useful because it's giving you a lot of details around the poll request you're looking at, however, it's a ton of information. And like many of us, we're overwhelmed and overloaded with all the things that our screens barf at us on a recurring basis. So previously, you had a very long view. You had to scroll lots of sections. Atlassian has introduced a radical new idea called tabs. We've never seen these before, so it's very exciting, breaking it out into details, files, and activities. So taking some of the most used sidebar components, placing them in their own context. So it's easier to find what you're looking for. They've done just some look and feel updates. So the activity feed is now broken up into little individual panels.
Ryan Spilken:
I think that's hype. I think it looks great.
Matthew Stublefield:
It's super nice.
Brenda Burrell:
It is super nice. And my first response was, "Oh, who cares?" And then I went, "No, that's really a very nice little thing." It breaks up the different pieces, it lets you see in a much more divided isn't the right word there, but it breaks the different pieces of information up and makes it much easier to purse. A little bit longer on the page, that's fine. I'll take it much easier to work for simplified file tree. So obviously, when you're looking at a poll request, you want to know what files have been modified. They've revamped the file tree view to kind of slim it down, simplify the elements. There's fewer icons, there's more expand and collapse menu icons, makes it easier to just navigate that file tree. And you can see how far ahead or behind each particular item is compared to the branch that you're looking to merge into in an entirely new file list. I like this. This is pretty, it's a thing of beauty.
Brenda Burrell:
You click on that files tab, you're going to see just the files that are impacted instead of having to parse through a file tree. If you're working in Java, for example, you're going to have a lot of files, and you need to pull all of them in and compare them to what's on the branch and everything. So this breaks it out, broken up, again we have those dividers between the different folders. It's a really tidy, nice way of looking at all the files that are impacted. So I'm a big fan of that new file view. That's quite nice. They're continuing to clean up the user experience. They're going to continue to work on UI elements of this, but this is a lot of nice updates on Bitbucket Cloud. So if you're using Bitbucket Cloud, go check them out, play around with the different tabs, take a look, see what you think, and at a minimum go check out some fun gifts on the article that we will link to in the show notes.
Matthew Stublefield:
So Atlassian Cloud is an improvement to user management across your Atlassian products. So we'll link to a blog post from Atlassian. It was actually posted on in the Atlassian community on January 11th, user management for cloud admins just got easier. The way it's getting easier is mostly through rearranging and cleaning up the page. So it should be faster to load. It's a lot simpler, notably, the left sidebar shrinks from, I don't know, a dozen different things to three or four. The profile view, I think is a lot cleaner and the ability to manage a user's individual permissions they're simplified details the group listing page.
Matthew Stublefield:
So a lot of changes across this. If you have signed up for cloud after January 18th, you already see it. You see it now, for existing customers, you'll start seeing these changes in June of 2021. Take a look at the blog post so you know what to look for. Others will be coming to you in June, and as is always the case it's on this community posts Atlassian releases something like this. They're looking for feedback. So you can read through their over 50 comments right now. If you have thoughts to share, you can click the get feedback link in the admin area in your site, or you can comment on this community page.
Brenda Burrell:
I find it interesting that there's a six-month delay between users that are signing up at a certain time versus existing users because normally you'd expect a much quicker push to get that out. I'm curious if there's any insight [inaudible 00:00:17:04].
Ryan Spilken:
I do not understand some of their decisions.
Matthew Stublefield:
Well, so I could make guesses, right? Atlassian has increased sensitivity to enterprises that are on Cloud who want more advanced warning about stuff. They're trying to move into kind of an enterprise release type approach where you have a month or two to decide... You're going to get the new interface, right? But you can opt-in a month or two early, so they probably want to leave some room for that for people who are going to start opting in maybe April or May. And they can test it out with new people with no repercussions, those people don't know any different, right? So it's actually creating a way to start testing it while at the same time addressing what happens if your company has multiple cloud sites and it looks different, why does it look different?
Matthew Stublefield:
Oh, we have this blog post we've explained it. Supports use of the different. My buddy has a different interface. Oh, we've explained it. It's going to come out later. So it's, have your cake and eat it, too. They're getting the testing with the lowest risk cohort while providing some initial viewing for people who are going to have it later. Six months does seem a bit long, but I think for a large enterprise, if you've got thousands of users and you're dealing a lot with user management it may be a month or two before you even get to look at this, just start looking at it. That still gives you two or three months to make your plans and to acclimate.
Brenda Burrell:
Very true. Thank you.
Ryan Spilken:
Over in server world on January 14th Atlassian released Jira server 8.14.1. This update is a bug-fixing update that gives some repairs where you need the most including, but not limited to creating a board with a new project, creating an error, health check failures on LDAP authentication, the inability to select project lead while creating a new board, configuring card color on a board using JQL not working, and other issues with words I cannot pronounce. No new functions per se but some nice looking bug fixes. We will of course, link these to you in the show notes.
Matthew Stublefield:
Same bat time, same bat channel Jira service manager got a release on 14th of January. This was 4.14.1, also bug fixes. Many of the same things, upgrade to the bundled version of Apache, some card color issues. So like a mini bug fix, this is a 0.1 release, pretty safe to upgrade typically, if you're not experiencing the problems do not necessarily rush to do it. If you are though with your service desk, your service management app, particularly if you've got large projects may recommend it because you can have some high memory pressure without this and running some out of memory errors. So same logic applies as is typical.
Brenda Burrell:
And in the wonderful world of Confluence server on January 19th Atlassian released 7.10.2, two bug fixes relating to the Confluence view file macro where it fails to load for autonomous users or fails to load if you have "edit in office" enabled. Obviously, if you're not using that macro, this doesn't impact you at all. But if you are, go ahead and take a look at 7.10.2. And same advice, if you don't need this upgrade there's no rush to upgrade to it. But do know that those two bug fixes are included.
Ryan Spilken:
Finally, Matthew, the software-tester supreme, discovered an interesting thing while we were preparing to record this episode of the podcast, and it appears that the desktop version of Trello is now opening web pages in Trello.
Matthew Stublefield:
Yeah, in a super annoying twist. You've got to link it a card. You've got to link in a card, you click the link, and instead of opening that in your default web browser, or as Microsoft used to do, force you to open an IEP or something even if it wasn't your default. It opens it in another Trello window. So it opens a new window of Trello, and within that opens a web page. You get no address bar, there's no forward or back, there's no navigation or anything. I'm on Mac, so I've got the little red, yellow, green dots at the top left to close or maximize my Trello window.
Matthew Stublefield:
And I've got this webpage, which means for the podcast where I opened eight or 10 webpages in tabs to go through them, I would have these eight or 10 Trello windows. Instead, I have to right-click on a link, copy it, open it in the browser. And as we were trying to dig into this I thought, well, let's go look for Trello's release notes. I mean, that's what we do on this podcast, right? We look at release notes, we summarize them for you. And I did, I guess you could say, find some release notes. The problem is they're communicating through a Trello board that hasn't been updated since 2015. So-
Ryan Spilken:
When was 2015? I can't even remember.
Matthew Stublefield:
I don't even know what year it is now. So, yeah. There's nothing in the preferences to change this. I was really disappointed that Trello does not have release notes published anywhere that I could find. I mean, part of me is like, I haven't looked for it before really, but when I did go look-
Ryan Spilken:
It wasn't there.
Matthew Stublefield:
And like find anything from 2015, that just. It seemed weird.
Ryan Spilken:
We found another board from 2017. Does that count? No.
Brenda Burrell:
That was still-
Matthew Stublefield:
That could be true.
Brenda Burrell:
Out of current collective memory.
Matthew Stublefield:
That was the roadmap. That was the release notes roadmap.
Ryan Spilken:
Yeah, it was. Yeah.
Matthew Stublefield:
Yeah. Yeah. Some disappointing Trello-ish things there.
Ryan Spilken:
Matthew, this opens the door to wild speculation. What if they just accidentally turned this feature on before they roll out the Trello operating system? It's like they're going to build a Trello book. This is what is happening.
Matthew Stublefield:
I bet TEAM 2021. Who knows when TEAM 2021 is going to be? We were also trying to look up the dates for that earlier and couldn't find them. So, whenever Atlassian's next team May summit happens... Whenever day that is, maybe we'll hear about the Trello LS on Trello books.
Ryan Spilken:
Oh man, can't wait for that Trello book.
Matthew Stublefield:
Wait. I bet not a Trello book, it'll be a Trello tab. It'll be a tablet that it's Trello only, Trello tabs.
Ryan Spilken:
But could you imagine multiple windows in it? Can you imagine multiple windows on a tablet? [inaudible 00:24:17]
Brenda Burrell:
Someone at Trello is listening and taking notes right now, and we'll never see multiple windows on the Trello tablet because they listened to us and heard about our pain.
Ryan Spilken:
Yeah, you're welcome Trello tab fans.
Brenda Burrell:
Enjoy.
Matthew Stublefield:
When the progenitor of Trello tab gets fired, he's going to be shaking us to the sky and saying, "But the podcast said it was good."
Ryan Spilken:
And I think that's about as good of a place that we can find to end this show for the day. Thanks, everyone for joining us on this episode of Adaptavist Live, the Atlassian Ecosystem podcast. We really appreciate you listening today.
Brenda Burrell:
More than you can imagine.
Ryan Spilken:
Exactly. That's what I'm saying. So make sure you connect with us on social at Adaptavist and let us know what you think or what we should be covering on the podcast. So for Matthew Stublefield and Brenda Burrell, I'm Ryan Spilken and we'll see you next time on Adaptavist Live.