PLEASE NOTE
The content of this blog is no longer updated
In the wake of the pandemic, we explore attitudes to agile adoption rates, and ask what's still stopping some organisations from embracing this essential approach?
An unlevel playing field
2020 changed the game. Organisations had to adapt to survive, decisions had to be made fast, and resilience became the must-have characteristic. For those businesses that had already embraced agility, quick-thinking and fast-moving were Built-into their DNA. They found themselves in a much better position than those less-agile organisations who were forced to recognise that a new way of working was more than likely inevitable.
Research by McKinsey points to five characteristics that set these agile organisations apart: 
A common purpose and clear communication
Set structures in place that allow for fast decision-making
Work in networks of local teams with clear accountable goals
Have an empowering culture
Provide people with the tech and tools they need
McKinsey mentioned Intel UK, which relied on its decision-making forums to quickly reallocate resources and shift employee focus to government, education, and healthcare; including building partnerships with pharmaceutical organisations to help with vaccine production and empowering staff to look for new opportunities to make a difference. Another example of agile thinking was a UK grocer that made a one-meeting decision to close all its fresh meat and fish counters and reassign staff to other high-need jobs.
The characteristics highlighted by the McKinsey study are aligned with the 12 principles set out in the Agile Manifesto over two decades ago. They included welcoming changing requirements even late in development; ensuring daily collaboration and face-to-face conversations; and the importance of self-organising teams who reflect on their effectiveness and fine-tune as they go.
Adapting to agility 
It's clear that the organisations that fared best in 2020 were those that had already taken agile transformation seriously or stepped up when the pandemic hit. And there are a lot of them. Agile adoption is on the rise – our State of Atlassian 2021 survey showed that there was a 5 percent increase in organisations embracing an agile approach – from 77 percent in 2020 to 82 percent in 2021.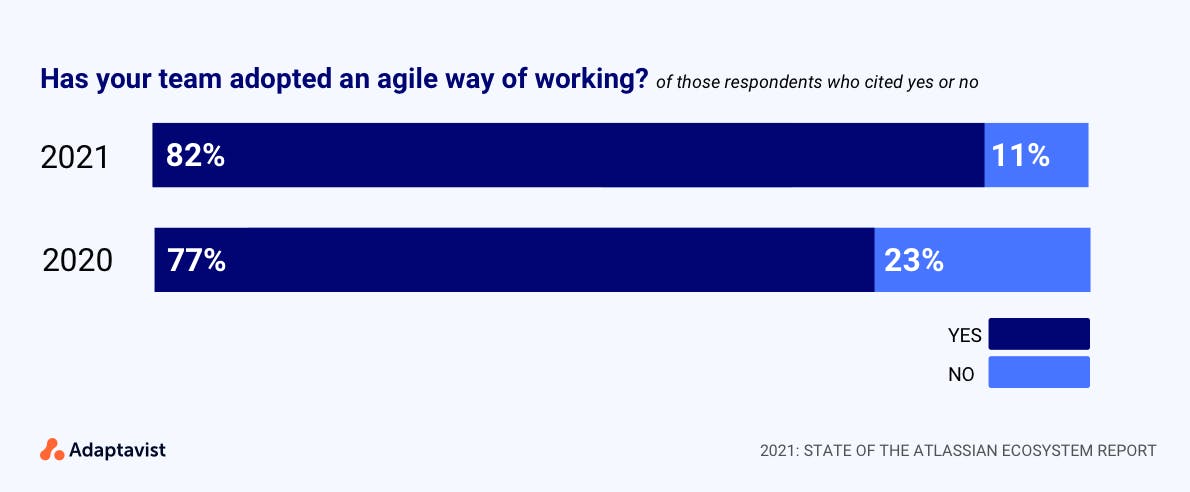 But what does it mean to say your organisation is doing agile? Picking up the right tools and implementing processes are important, but if that's all you're doing, you're among the many businesses still missing a trick. Agile is not just something you do, it's something you are.
Embracing an agile mindset 
And that's where the biggest barrier still lies. Nearly three quarters (74 percent) of our survey respondents were hoping that scaling agile across the organisation would help them align strategy with delivery, but to see any real benefits, the whole organisation – from top to bottom – needs to undergo a mammoth mindset shift. Sadly, many less-agile companies merely practice some rote processes (often poorly) and call it a day. That's "fake agile," as Jon Kern puts it.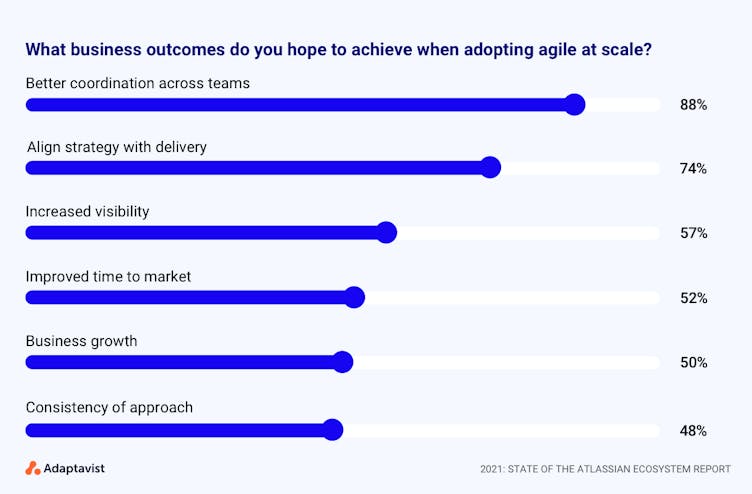 Thinking with agility means not just doing what's comfortable or easy, or what we've been conditioned to do, but working through difficulties, challenging the way things are done, and facing problems head-on. In practice, that means embracing change and collaboration; depending on small, self-organising, cross-functional teams; and valuing quality, inspection, and adaptation above all else. Upper management needs to support the autonomy of their coworkers so that innovation has a chance to flourish. 
You also have to recognise that what works today based on your current people and processes might not be suitable a few months down the line if things need to change. With this thinking embedded across the organisation, you'll be able to change quickly, strategise and restructure as necessary, and create value, scale, and succeed in a turbulent environment. 
If you've put techniques, tools, and rituals in place, ask yourself if your attitude matches up. Are you and your people thinking with an agile mindset or just going through the motions and exhibiting command-and-control behaviour? 
Resistance is real
The benefits might sound essential and obvious, but resistance (typically self-induced) is a big problem for a lot of organisations looking to shift thinking en masse. A sizable 40 percent of our respondents claimed that the status quo was working fine without agile. The same number said they were focused on other priorities, while 25 percent felt uncertain about whether investing in agile would reap worthwhile rewards.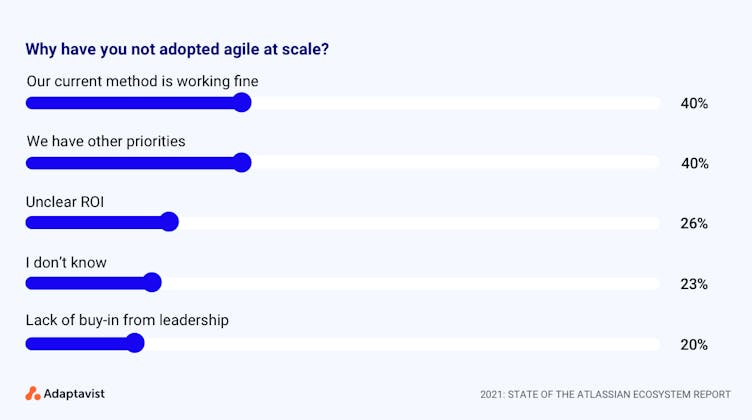 It's likely that organisations such as these see agile transformation as a costly box-ticking exercise. Their eyes have yet to be opened to the benefits of working this way. But despite the outliers, the future's looking bright for agile. For those that have not yet made the switch, there are clear intentions to do so. Almost half of the respondents (42 percent) to our survey said they planned to adopt agile in the next year. 
If you're just getting started on your agile journey or thinking about taking the plunge, there's never been a better time to make your mind up, and make it agile.
Download the full report to find out more about agile, DevOps and the Atlassian ecosystem:
Download the full report