Last week, an excited team from across The Adaptavist Group travelled to monday.com's Tel Aviv HQ for a partner accelerator project.
Over five days, they enjoyed monday.com's warm hospitality and a chance to get to know their counterparts and participate in some intense strategising and app development.

monday.com's Work OS platform is known for successfully supporting collaboration across teams who work together, often asynchronously or remotely. The accelerator project was an opportunity to put this into practice in a real-world context, with others joining from around the world to contribute and present ideas.

We first joined forces with monday.com in July 2022 and, by the end of October, launched our first monday.com app, Unlimited Subitems. This app takes a significant feature of the platform and builds on it to improve the experience of monday.com users, adding extra granular detail to each step in your plans and project tasks and has been exceptionally popular, seeing 1.3k downloads in the first three months. The hackathon team spent time planning how to supercharge the app and have some exciting developments to take to market.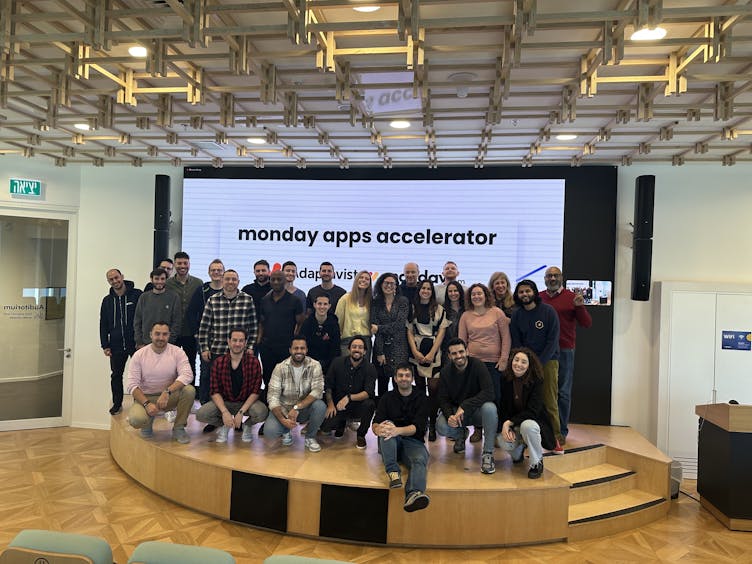 "The whole Adaptavist team is delighted to be part of this programme. I'd love to thank monday.com for making us feel so welcome in Tel Aviv and for making it so easy to collaborate. Generating more ideas is an exciting next step in our partnership and our future with monday.com and its growing marketplace."
Indre Gruzauskaite,
Strategic Partnerships Manager at The Adaptavist Group
"Over several days, we had really good access to monday.com's teams, all motivated to help us – from R&D, through to customer-facing teams alike. I'm really excited to see where this partnership takes us, and build on monday.com and the clear opportunity it presents."
Jari Worsley,
Head of Product at The Adaptavist Group
What's next?
As well as improvements to our existing app, several new apps were proposed and presented, considering user requests and research. A survey (using monday forms, of course!) was shared with the team at the end of the accelerator to vote on priorities to get into the test and validation stages.
"As our marketplace keeps evolving and growing rapidly, having Adaptavist, a leader in their space, visit our HQ for a hackathon was super promising and inspiring. We have no doubt that the monday app marketplace will benefit greatly from their years of experience."
Amir Cohen,
Product Programs and Partnerships at monday.com
Get in touch with us
As a certified monday.com partner, Adaptavist has gone one step further to achieve Advanced Delivery Partner status. This certification strengthens our position to support organisations around the world to revolutionise their work management practices.
Visit the monday.com hub page on the Adaptavist website to reach out to the team for a chat.
Contact the team