PLEASE NOTE
The content of this blog is no longer updated
Getting up to speed on ITSM
First things first: if you're not familiar with ITSM by name, you probably are in practice. IT service management is all about how a business delivers its IT services. It helps transform activities, policies, and processes, improving how the IT team interacts with the rest of the business. At its heart is a service desk – the way other employees interact with the IT team – and specific ITSM practices, such as managing service requests, organisational knowledge, IT assets, incidents, and everyday IT problems.
Typically the domain of IT teams, in recent years other departments have been getting in on the action. That's where ESM, or enterprise service management, comes in. In fact, our 2021 State of Atlassian ecosystem survey showed that ESM has become a popular approach far beyond IT, with 51 percent of respondents saying their operations teams are using a service desk model to manage workflows. And they weren't the only ones. Many respondents reported their customer service, HR, and R&D teams were starting to embrace this way of working too.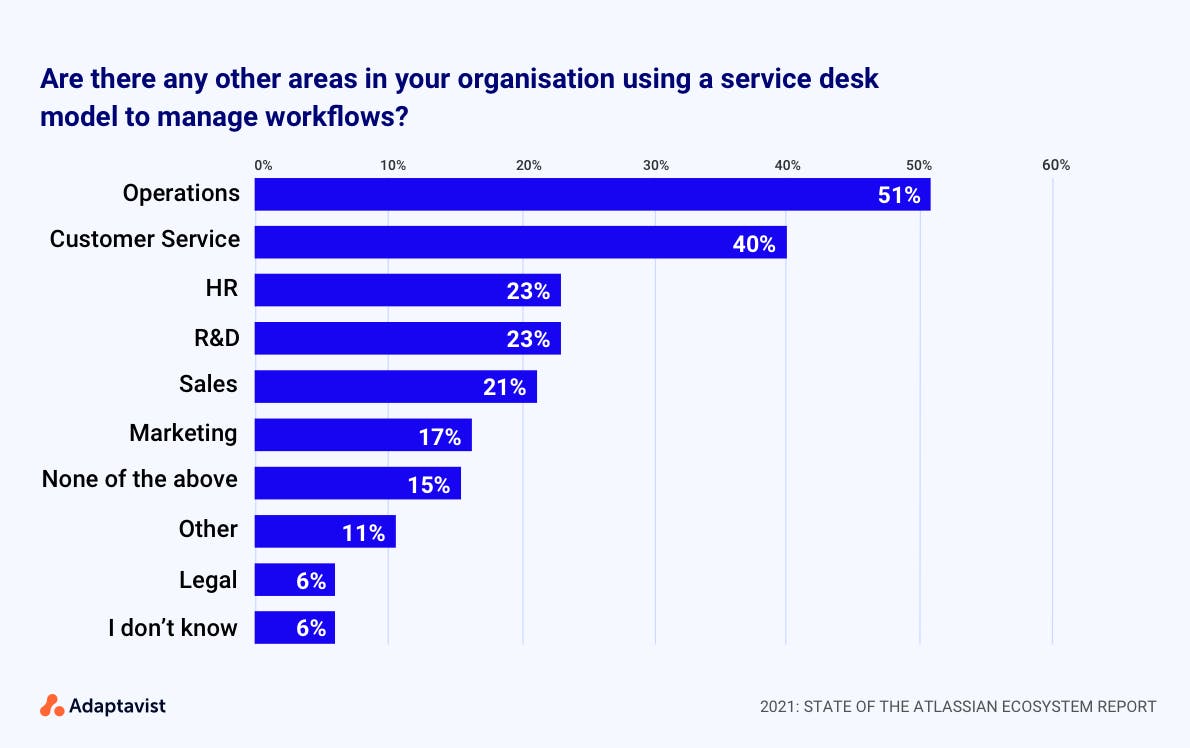 One-stop shop for all your needs
And what does that look like exactly? A service desk model means bringing on an ITSM or ESM tool designed specifically to encourage a self-service approach. This single portal enables everyone to find the information they need easily and access a certain level of support for themselves, freeing up staff to focus on fulfilling more complex needs. This increased efficiency results in higher productivity and profitability for the business – not to mention more value for customers.
In our survey, the tools that came out on top in terms of adoption were Jira Service Management (previously Jira Service Desk), used by 62 percent of respondents' organisations. Other popular tools included ServiceNow, Microsoft's System Center Service Manager, and Zendesk. But that's not the whole picture.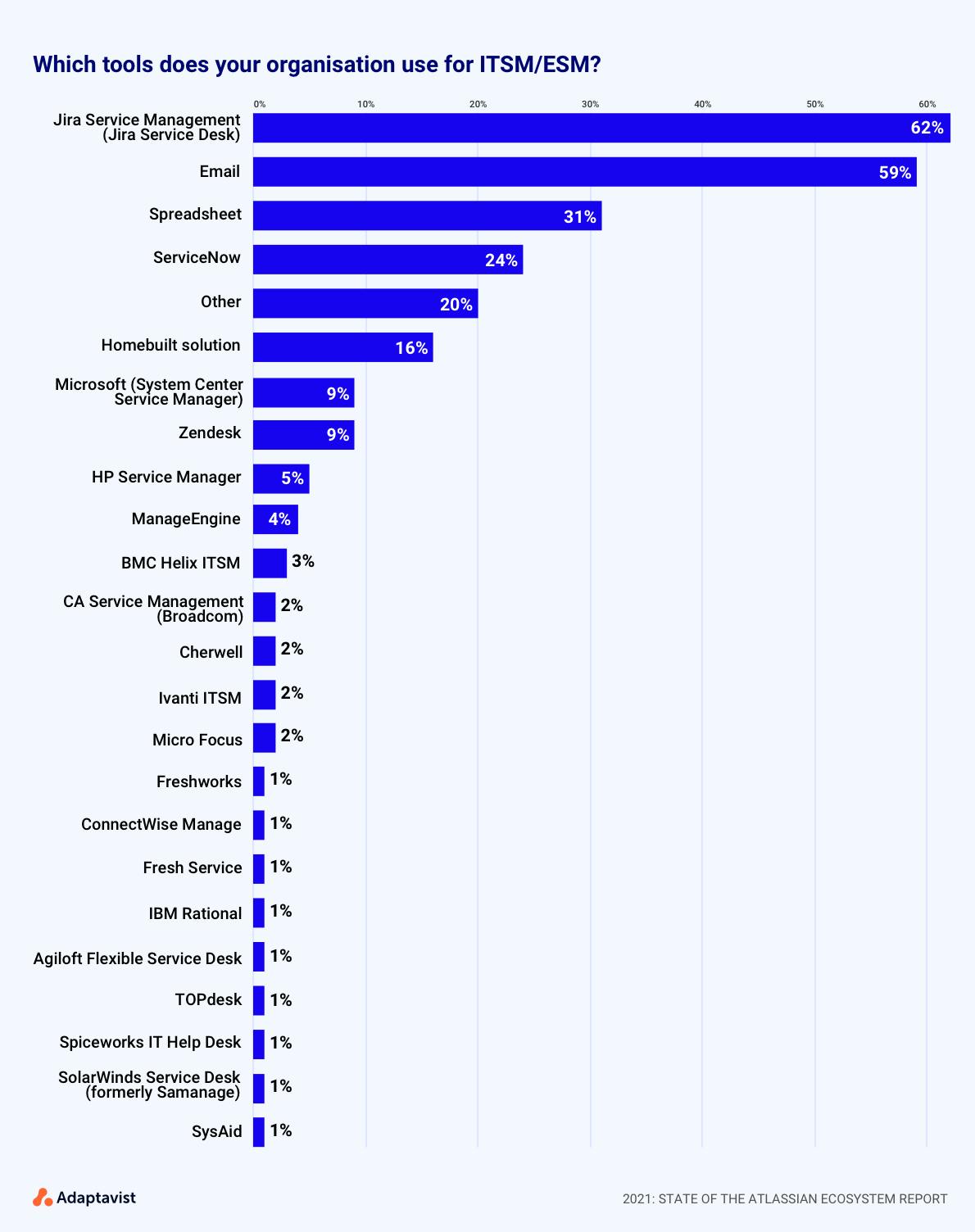 ITSM from your inbox
While the benefits of ITSM are plain to see – cutting costs of cross-departmental interactions, improving service predictability, and driving process efficiency without compromising on time or quality, to name a few – in reality, the majority of organisations are still dependent on more traditional tools.
In fact, homegrown solutions, such as email and spreadsheets are still widely used by businesses to meet their service needs. A staggering 59 percent of our respondents said that email made up their ITSM toolset. Smaller and mid-size organisations are more likely to be the ones relying on their inboxes to manage services, most likely driven by ease of use and convenience. And while this approach isn't wrong, there's no doubt they're going to struggle as they scale.
Scaling service management
Email and clunky spreadsheets might be working well right now when you only have a few employees, but when it comes to big teams with even bigger demands, they're no match for service management software. Think about the amount of information that's stuck in your inbox – requests, queries, responses, decisions – useful information the whole organisation could benefit from. How do you automate that? How do you access insights into your day-to-day operations? How do you take metrics to ensure your functions are in line with your business objectives? Frankly, you can't.
Organisations are telling us they want to do away with time-sucking manual processes; they want to see significant increases in productivity and efficiency, and they want to find ways to improve customer satisfaction. These are the key drivers that are encouraging them to adopt ITSM practices, and it's these demands that will ensure they move away from an email-dependent approach towards dedicated tools that have these goals Built-in.
Tools like Jira Service Management are all about automation – so you can spend less time on repetitive, time-consuming tasks and more on high-level work. And with everything in one place, staying on top of tickets is a breeze. Not to mention the considerable knock-on effect for your end customers. With improved access to services for your people, common issues are solved in a flash, freeing you up to focus on creating value.
ITSM/ESM tools that work together
Whether your organisation is using email or has made the move to a more scalable solution already, it's likely that you're still using more than one tool – and that's where integration is integral. Forty-six percent of our survey respondents cited integration as the most important factor when choosing an ITSM solution, beating out cost, asset management, and other considerations. If you're going for organisation-wide adoption, whatever you choose has to work seamlessly with your other tools to ensure efficiency and keep context switching under control.
A fully integrated ITSM solution supports an agile way of working – where iterative processes are the norm and meaningful metrics mean continuous improvement can flourish with the customer in mind. If you bury service management in emails and spreadsheets, there are going to be mistakes. Your people will feel frustrated. You're going to struggle to measure data. And you won't be able to scale. Prioritising a scalable solution, however small your business, is the smart, future-proofed thing to do.
For more insights and analysis from on the transformational themes shaping the Atlassian ecosystem, check out our 2021 State of the Atlassian ecosystem report.
Download the report