"Project managers function as band leaders who pull together their players, each a specialist with individual score and internal rhythm. Under the leader's direction, they all respond to the same beat."
Leonard R. Sayles,
American Author and Professor
In conducting my research for this latest monday.com blog, I was struck by the quote above from LR Sayles, in which he likens the role of a project manager to that of a bandleader bringing all his musicians together to work in harmony and create beautiful, resonant music.

It reminds me of another quote I read recently from Greg Cimmarrusti, PMP, in which he compared being a project manager to being an artist, with different coloured process streams combining to form a work of art.

It got me thinking, that every band leader needs a stage on which to perform, every artist, a canvas on which to paint. Like the artist or the musician, every project manager needs a platform from which they can connect all the moving parts of their project to drive impact and achieve their goals.

That platform is monday.com's monday projects tool.

In this article, we'll take a look at monday projects and provide you with ten quick tips to help you get started with your monday.com project management experience.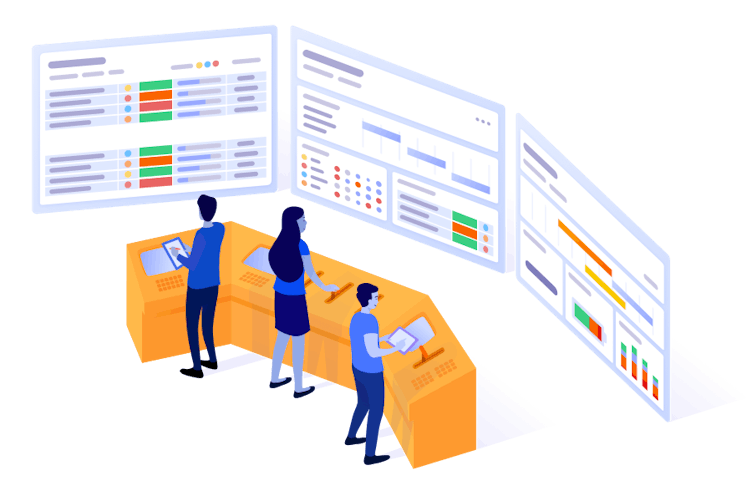 What is monday projects?
monday projects is designed and built to empower you and your teams to plan, execute, and collaborate across every stage of your project.

The tool can be fully customised to meet your preferred methodology.

It's your central hub, looking to increase the productivity of your project team by giving them the tools to move the project forward with custom automation, templates and the ability to monitor and communicate at every stage of the project, all in one, easy to use platform.
Learn more about monday projects
It's not just a tool; it's your PMO
projectmanager.com defines the Project Management Office (PMO), and its role in an organisation as:
"An internal or external group that defines and maintains project management standards across an organisation. PMOs are responsible for maintaining best practices and documenting project status and strategy in one place and act as the backbone of a successful project management approach in any organisation."
So, how does monday.com act as a PMO?

By harnessing the power of years worth of research and combining best practices and processes from project, program and portfolio management offices across the globe, from all types of industries.

Implementing monday projects as the PMO in your business will ensure increased transparency, standardised best practices and easier collaboration across your entire organisation, no matter how big or small.

Now that you've read a little bit about all the great features monday projects has to offer, let's take a look at ten quick ways to use the tool to start supercharging your project management workflows.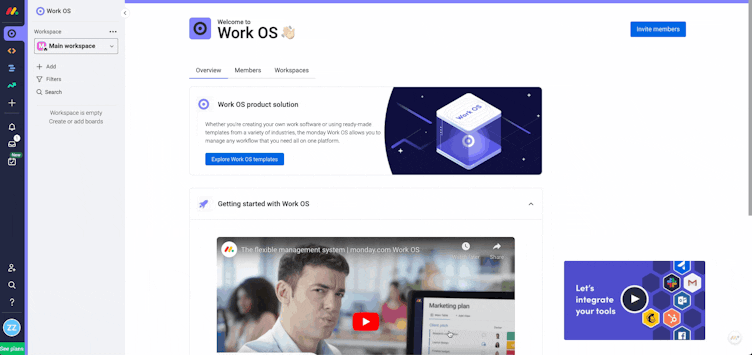 Ten ways to use monday.com for project management
1. Project requests and approvals
If you find you're receiving project requests in multiple different sources, in various different forms (via email, Slack, Jira etc.), then these can quickly become difficult to track.

We recommend using monday projects to standardise your requests and approvals processes by using standardised forms.

One of the keys to your project's successful delivery is internal and external stakeholder management. You'll be able to share form submissions with your stakeholders and any external vendors where appropriate.

By using monday projects to standardise your request and approvals processes, you'll be able to better manage stakeholder expectations by getting a clearer understanding of inbound requests and how to weigh these up against conflicting requirements and workloads, all visible within one platform.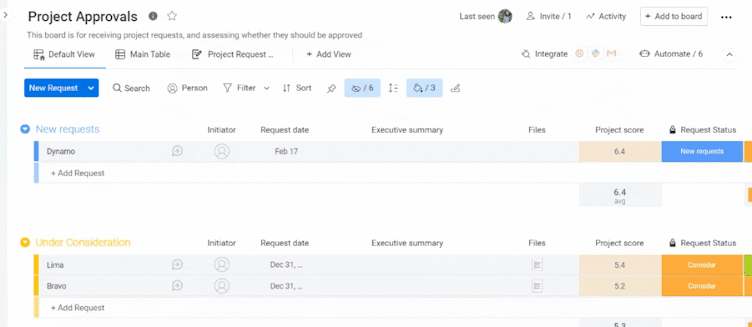 2. End-to-end project management

Use monday projects to manage your project's scope from start to finish and every phase in between. The tool allows you to easily set deadlines, assign owners and contributors to individual tasks, and follow the status of personal projects from the ideas stage, to our favourite place - 'Done'.

monday projects also enables you to present things like budgets, milestones and dependencies to your key stakeholders in a fun, easy-to-digest and visual way.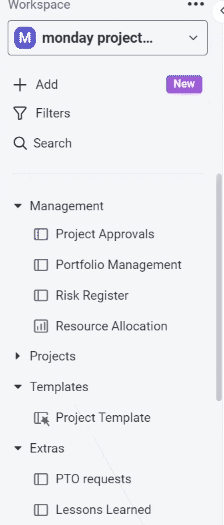 3. Use portfolio management to get a clearer picture

Instantly connect budgets, timelines, costs, risks and progress to identify bottlenecks and trends.

Use the Portfolio Management board within the tool to pull data from across various ongoing projects and collate them into one high-level view to allow you to analyse the data and adjust your project methodology where necessary.

4. Pre-empt project risks
Identifying and proactively mitigating risks is key to the delivery of any project, regardless of scale. Therefore, risk assessment and management needs to be as easy as possible to track.

Therefore, we recommend using the Risk Register board in monday projects to calculate risks before they arise and use real-time data to make adjustments where need be.

Set up individual columns to segment and flag things like the risk status (high, medium, low etc.), probability and impact, to name a few examples.

By linking these columns to individual tasks and projects on your Portfolio Management board, you'll get a holistic view of the risk factors for each element of your projects, at any phase.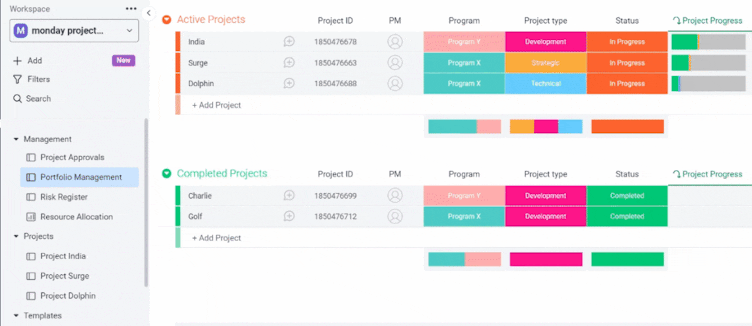 5. Use dashboards to visualise your project
Dashboards are a great way to get a snapshot of all the various activities and projects occurring on all your different boards. They present real-time data on any individual aspect of the project you're looking to analyse.

For example, you can use dashboards to automatically gather and present high-level project data for insights on budget, goals, schedules, resources, and more.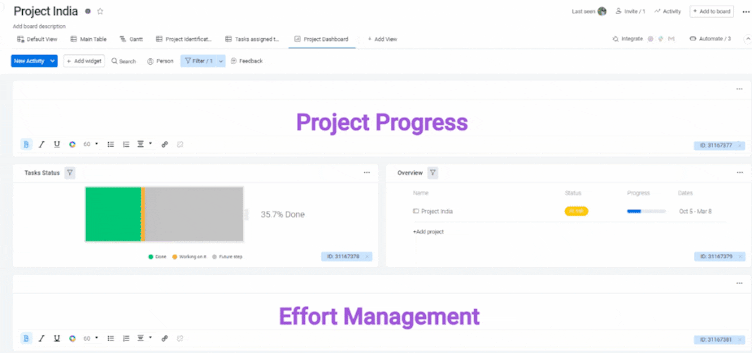 6. Resource allocation and management
Be proactive in assessing your project team's workloads and conflicting priorities by using the Workload View.

Here you'll be able to see a quick overview of individual team members' workloads and impending deadlines, allowing you to pre-empt your colleagues from becoming overwhelmed and stressed and enabling you to adapt by reallocating work and balancing resources across the team.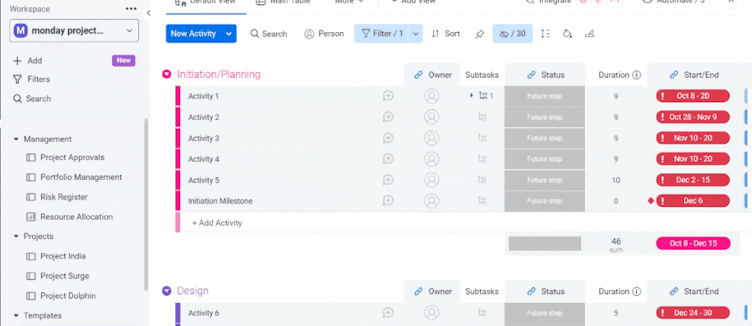 7. Manage annual leave and time off requests
A handy add-on to the workload management feature above is that monday projects gives you even more flexibility to manage resources by allowing you to manage approvals and requests for time off.

By using the PTO requests board, you'll get a clear view of who is off when, meaning you'll avoid being underresourced for key project deliverables and deadlines, for example.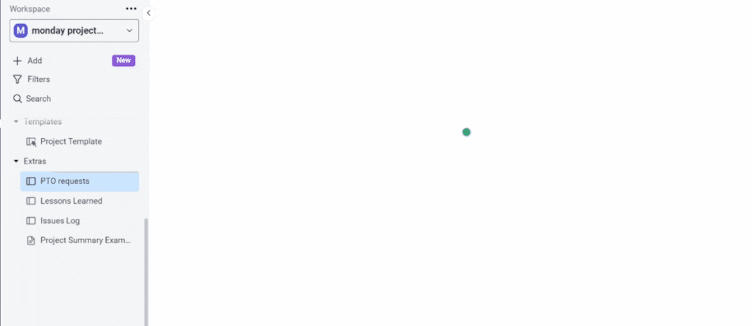 8. Log and escalate issues
It's incredibly rare, I'd go as far as to say, unheard of, that projects are delivered without any issues whatsoever (even teeny tiny ones).

The important thing is to ensure any issues, no matter how small or insignificant we think they are, are adequately tracked so they can be addressed before manifesting into much more significant problems further down the road.

With monday projects, it's easy to log, monitor, and prioritise issues as they arise at any stage of your project using the Issue log board as shown below, meaning you can quickly address ad hoc issues and escalate any larger concerns where need be.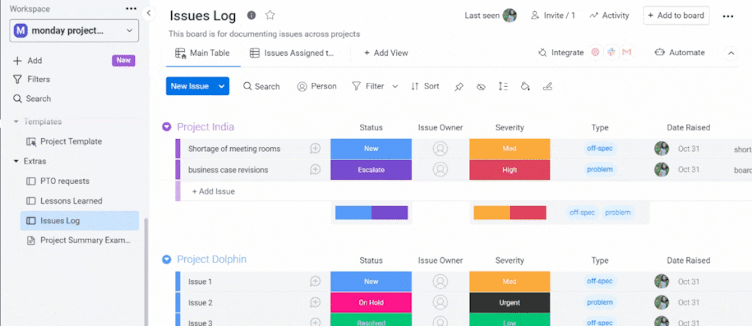 9. Reflect, revise and look ahead
At the conclusion of any project, it's important to look back and reflect on lessons learnt. What worked well, and what might we do differently next time?

The challenge is, often we're so enthralled in trying to meet our deadlines and goals, that sometimes these lessons get lost in the heat of just trying to get things done.

Luckily, monday projects has you covered. By using a separate Lessons Learned board, you can easily keep track and jot down learnings and observations as you progress through each stage of your project.

Set out different columns to identify individual issues, what the learnings were, and proposed solutions to avoid or mitigate similar issues occurring in future projects.

This is a great feature to present in the close-out meeting or report to your key stakeholders, showing you're already thinking of ways to make your next project even better!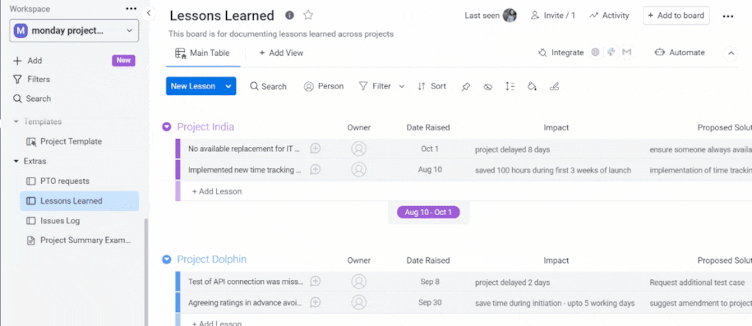 10. Project summaries and reports
Sticking with those stakeholders, depending on the project, or even just the personality type of the individual stakeholder you're working with, they'll often want to see different levels of detail at the end of a project.

Some will want quick, high-level metrics outlining the successes, challenges and learnings, others will want to get more granular and dig a little deeper into the details.

monday projects equips you with both.

By creating project summaries, you'll be able to give your stakeholders (both internal and external) real-time data, not just at the end of your project, but at every stage, meaning they can be as involved as much or as little as they want, and can easily track progress and risks at any phase.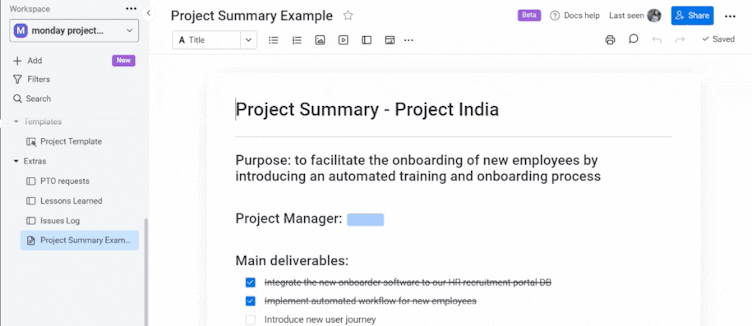 Learn more about how to use monday.com for project management
There you have it, our top ten tips for getting started using monday.com for your project management needs.

However, this is only a sneak peek at what monday projects can do. There's so much more to the tool, it'd be impossible to cover everything in one hit!

So, why not get in touch with one of our friendly Adaptavist monday.com team? And find out how you can start implementing monday.com into your project management workflows today!

Do you have a specific project in mind but are you unsure how to manage it using monday.com? Let us know! We'd be happy to help.

Also, keep checking in on our monday.com hub page for all the latest tools, resources and news on all things monday.com.

And as our monday.com friends like to say, 'Done'. 
Contact us