Greetings Slack friends, and welcome to another sparkling edition of Simply Slack, the latest in our Slackxperience supercharging blog series.

We're back with more hints and tips guaranteed to boost your productivity and add colour and fun to your Slack workflows.

In this edition, we'll take a deep dive into our Workflow Steps for Jira app, looking at some of the functionality that enables seamless workflow integration between Jira and Slack and ways you can use the app to cut down on tool-switching, empowering your teams to work smarter and help meet your enterprise needs.

Without further ado, let's get started!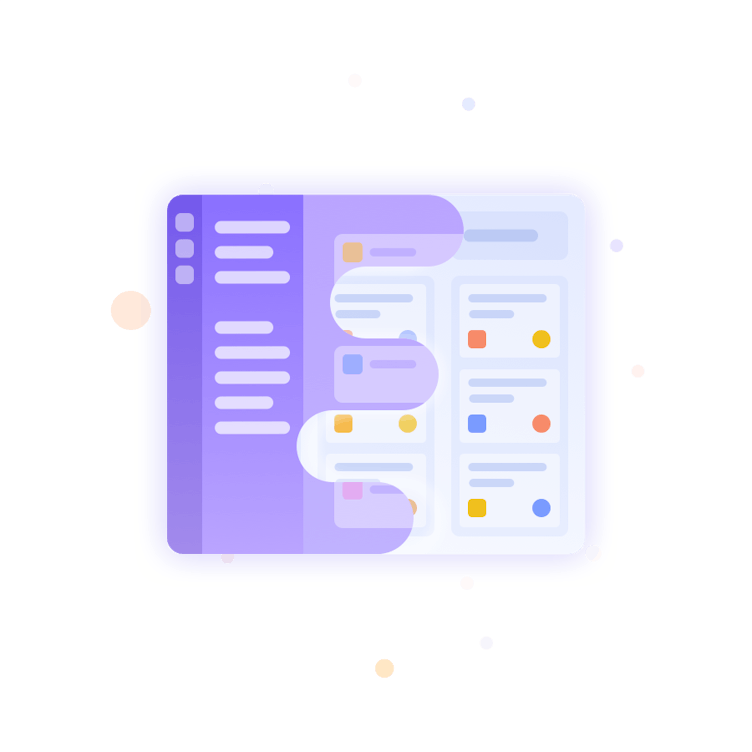 Tired of constant tool switching? You're not alone
How much time do you lose a day switching between different tools?

Even if you can't put a number to it, if you're anything like me, once you take a step back and think about the number of tools in your tech stack, and how often you need to switch between those tools to find information, it can feel like minutes and even hours are lost to incessant context-switching.

I often feel my productivity suffers because of this. Sometimes I'll get lost in a sea of so many different tools, just trying to find one piece of information, that I often forget what I was looking for in the first place.

It can be incredibly frustrating and breeds innate self-doubt that you're wasting time and ending the work day feeling like you haven't achieved anything.

It turns out I'm not alone.

Our latest Digital Etiquette: Reinventing Work Report showed that 50% of us feel like we lose time in our day due to incessant switching between tasks. Additionally, 19% of respondents told us that they felt their productivity and efficiency would improve if there were better integration between their existing tools. 
Workflow Steps for Jira - supercharging Jira and Slack workflows
We like to think of Workflow Steps for Jira as the missing piece in your Jira and Slack jigsaw.

It allows you to create and update Jira issues in Slack without needing to log into Jira to do so - it can all be done directly in Slack!

It's easy to use, flexible and will help your teams to increase productivity and reduce context switching, enabling better collaboration with bespoke workflows all in Slack.

We're really excited to see the app in action, so let's dive into our top five tips for using Workflow Steps for Jira to start boosting your productivity and supercharging your workflows!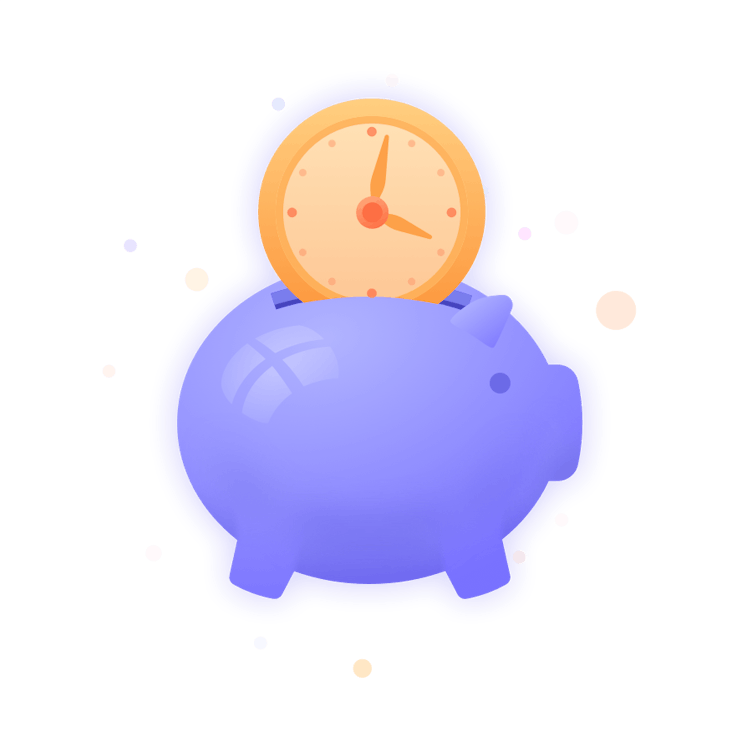 1. Turn chat into action
Looking to turn an idea into the content of your issue description?

Use the 'Extract message' step to grab Slack messages that can be input directly into a Jira issue without having to go back and forth between the two tools. 
2. Tired of created issues listing you as the reporter?
Fear not if your inbox is flooded with notifications from a Jira issue you've created. Workflow Steps for Jira has you covered.

Follow these simple steps to help get a handle on your inbox:
As the Slack workflow author, on the Create Jira issue step, remove yourself as a watcher  (or alternatively, use a service account).
Use the field prompt feature to ask the submitting user to select themselves as the Reporter.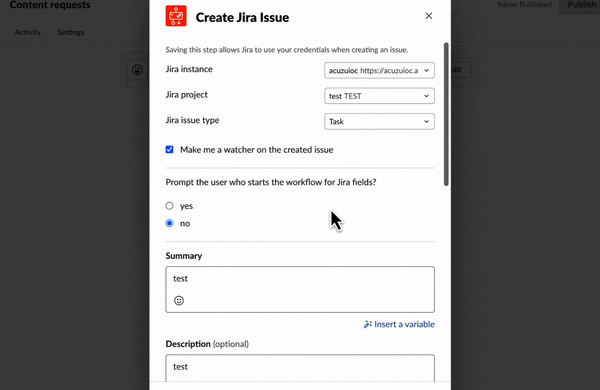 3. Use the improved prompt step to help find information quicker
Information can be hard to find. Again, this is a common pain point identified in the Digital Etiquette: Reinventing Work Report, which found that 57% of people spent more than 30 mins per day searching for the info they need to do their job.

If you have a Slack Channel where you collaborate on a specific project, use the improved prompt step feature to select intelligent defaults for the project/issue type and status.

Empower your users to find the relevant issues and save time searching for info they need to update issues quickly. For example, with your workflow defaults you can quickly set up a process that allows your team to update open bug tickets.

Make sure to update your workflows so that you're able to use this new feature. It will ultimately save you and your users time by being able to quickly find the issue key for the issue that they want to update.

Learn more about the improved prompt step feature and some example use cases here.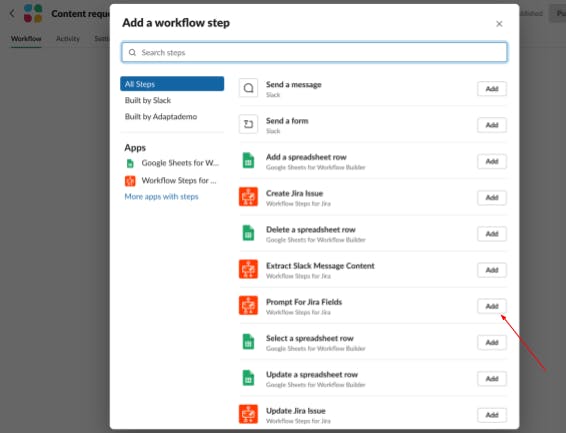 4. Use the Slack workflow feature to review issue details before issue creation
If you want to get a handle on the number of created Jira issues making their way into your Jira instance, we suggest using a review step before the creation process.

Slack users can submit the contents of a Jira issue, via the Slack Form step, into a private review channel so they can be reviewed before an issue is created by the reviewing user.  Just use the 'include a button' option in the message step and the reviewer can choose whether to allow the issue to be progressed in the workflow. This step makes it easy to enforce required fields and ensure data standards are met. No more wasted time grooming tickets in your projects.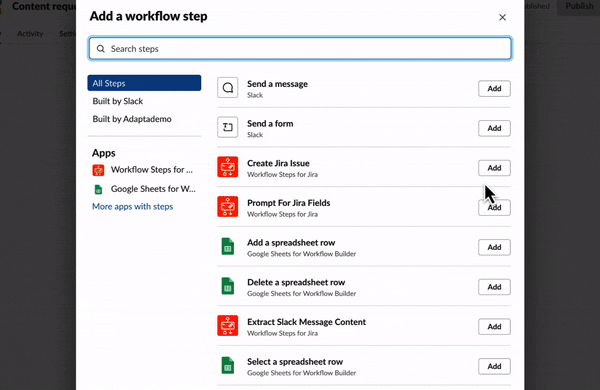 5. Set custom defaults to improve your data
Improve the quality of the data in your Jira issues by selecting intelligent defaults.

You can still prompt the submitting user to supply that field, but they can choose to leave that field as the default. No more missing fields!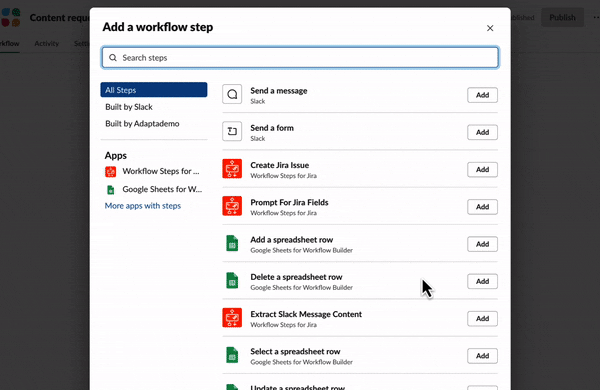 Bonus tip! Use labels to identify issues
Use labels to identify issues that have been submitted from Slack.

Labels will help you filter issues, organise dashboards, report on data, and visualise what's happening across different issues.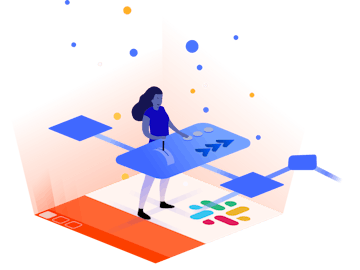 Start customising your Jira and Slack workflows
If you've still not yet tried the app, then what are you waiting for? Download it for free today!
Add to Slack
By now, you should have an idea of why our Workflow Steps for Jira app can become an essential piece of your toolkit. If you'd like to start implementing some of the tips above into your existing workflows but aren't sure where to start, reach out to us using the form below, and one of our friendly Adaptavists would be happy to help.

We've also created some templates to help get your creative juices flowing, which you can download below.
Try our templates
It's not rocket science. It's simply, Slack!
Contact us