Team Titans Season 4, Episode 3 - Andrew Bryl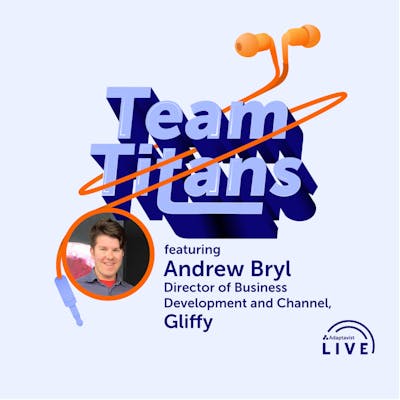 Show Notes
Former Adaptavist Senior Account Manager Andy Bryl joins us to discuss his memorable time with the company. Andy is now the Director of Partner Management at the software company Gliffy, and credits Adaptavist with leapfrogging his career to lofty heights. We discuss how Adaptavist shaped his career, what he loved most about his time working here, and why he'd absolutely recommend the company to his connections.
Transcript
Ryan Spilken:
Hello, everyone and welcome to Team Titans. This is Adaptavist's in depth interview show devoted to the stories of people with unique perspectives on work itself, leading teams, building tools, and defining—maybe even destroying—a process. I'm your host Ryan Spilken and joining me on co-hosting duties today is the fantastic Elena Francis. Hi, Elena.
Elena Francis:
Hi, Ryan. Thanks for having me.
Ryan Spilken:
No problem. My pleasure. Before I introduce our guest, I've got to ask, Elena, I don't know how many jobs you've had in the past, but if you were asked to be on a podcast from one of your former employers, would you be like, "Yeah, sure. Cool. That'd be fun?"
Elena Francis:
As you can imagine, it really would depend on the employer. I worked at some places where the company culture has been good, but there were other things that weren't so great, and I worked at other places where my colleagues are great, but the company culture was terrible. So it really would depend on the employer and yeah, I've had quite a few jobs.
Ryan Spilken:
Well, I think we'll have to explore that in a meeting some other time. But now, we have the unique situation of interviewing a former colleague of ours, and that brings us to this episode's guest and I'm very proud to welcome to Team Titans, Andy Bryl, the Director of Business development and the director of channel at Gliffy. Andy, welcome to the show.
Andrew Bryl:
Hi, Ryan. Hi, Elena. I am so excited, so happy to be here.
Ryan Spilken:
It is really wonderful to see you, Andy, but the last time I saw you, you were in Adaptavist Orange. Now you're over there in this Gliffy color. What's going on with that, man?
Andrew Bryl:
I should have worn my Adaptavist Orange shirt that I've had for years. I know no one could see me wearing it, but I should have worn it just for old-time sake. But no, I worked at Adaptavist for four and a half years, so I have a lot of Adaptavist T-shirts, a lot of orange apparel that I do rock once in a while on the weekends.
Ryan Spilken:
Nice.
Elena Francis:
That's awesome.
Ryan Spilken:
Elena, did you know that Andy is a bit of a celebrity?
Elena Francis:
I have heard a thing or two.
Ryan Spilken:
Now, so for our listeners who don't know Mr. Bryl. Andy, you have been in movies and in television. Now, I know that's stretching it a bit, but...
Andrew Bryl:
Stretching it a little bit. I think first we can get to the big one. My wife and I, we did an episode of HGTVs House Hunters five years ago when we bought our first home. We're actually still living in that home. If you've never seen a show, they basically take a person or a couple around to a couple different houses and then you go through them, review it, and then at the end of the show, you pick the house. So it's a little fun reality show. My wife always loved the show, so that was a big surprise to her and I was like, "Hey, guess what? We're going to be on the show." She was a little freaked out. I got to admit I was a little freaked out as well. I've never done a reality show before, so it was an awesome experience.
People can watch it. I think it's still available on Hulu. It was on YouTube for a while and obviously, it gets taken down once in a while due to rights and so forth. But it was obviously a lot of fun to do. A lot of people watch the episode and obviously make fun of me for my really bad acting skills and other things that I said in the show that were pretty funny. Then on the movie side, I was an extra in some movies during college. One movie was Public Enemies with Johnny Depp and Christian Bale that was about John Dillinger, the bank robber and why I was an extra in it as they actually filmed one of the scenes in Milwaukee where I grew up and went to school. They filmed one of the scenes in one of the banks that Dillinger actually robbed almost a hundred years ago.
So it was really cool for me to know that. A lot of people watch a movie and they're like, "Oh, it's just a random movie set." For that movie in particular, they actually went to some of the banks that Dillinger rob. I'm short; I'm about 5ft 6" with shoes on a good day. They wanted short people because obviously a hundred years ago, people were a lot shorter. So I knew going in, I was like, "Oh, I'm going to get this role." It was a non-speaking role. Depp actually, you can't see me in the film, but I can assure you I'm being robbed in one of the scenes. It's really fast, so you can't ... My back's to Depp fortunately. So that's the extent of my IMDB movie career—being robbed with a fake by Johnny Depp at a bank in Milwaukee.
Ryan Spilken:
Elena, our Kevin Bacon numbers have just gone up so considerably.
Elena Francis:
Amazing story. Amazing story.
Ryan Spilken:
So Andy, you've mentioned that you've worked at Adaptavist for four and a half, almost five years. How did you get into tech in the first place?
Andrew Bryl:
Yeah, so my career arc is a little bit weird, but I don't think that weird compared to others. So I graduated from college February, 2008. I went right into construction sales, which looking back on it was a horrible time. Getting right into housing in February of 2008. By September of 2008, everything was seemingly melting down. Everything in housing was seemingly falling apart. I remember asking my boss at the time, "Hey, have you ever seen this? Have you ever experienced something like this before?" His answers were always terrifying in terms of saying, "No," or "I can't believe this is happening." I remember thinking, "Well, I graduated at the wrong time, and I'm in the wrong field, wrong place, wrong time." So from there, I was able to make it out.
I worked at the same company for over seven years, Carrier HVAC. So for heating and cooling a home or a building, essentially that's what I sold for seven years. After that, I went into construction software for a company called Bluebeam. I worked there for two and a half years and then I found my way to Adaptavist for four and a half years. So I went from selling construction equipment to selling construction software to selling software. So that was my career arc and kind of how that makes sense, in a way. I think a lot of people can relate to starting off in the field, moving on to something else closely related to that field, but then making another transition in their career. So I know it sounds weird to go from construction to software, but there was a link there with construction software in between.
Elena Francis:
Was it quite an adjustment going from a traditional industry like construction to something that's move-fast-and-break-things and disruptive like tech?
Andrew Bryl:
Yes, it was a huge jump for a lot of reasons, but mostly, honestly, the fashion and what you wear. I would have to go out to job sites once in a while. It was loud, it was hot, you go up on a roof, things like that. Then once you're selling software, selling tech for the most part, usually in a building or an air-conditioned office and it's a lot easier, a lot less noisy. So just from that parameter was a pretty big jump. Obviously, the people you talk to being on a construction site, I don't want to bring up any bad memories for people listening who had a home renovation that took forever. But construction was like that. It was fast-paced. Any delay caused a horrible chain reaction to the whole project. I'm not saying that software doesn't do that, but with construction, it was, "Hey, you want to get this thing built as fast as you can."
People want to get in, people want to move in. People don't want to hear excuses. It's a tough industry. It's a fun industry that a lot of people enjoy. But for me, moving over the tech was a little bit more laid back, a little bit more for me, interesting to see something new, just get created every other month it seemed like ... Just piggybacking on previous technology is, for me, always a fascinating thing. Not that construction isn't, but we've been building homes and bridges and buildings for hundreds and thousands of years and it's changed a lot, but not as fast as looking at what Atlassian has done or using Slack every day. Obviously, with Gliffy who I'm with now for 10 years, it's come a long way in a very short amount of time.
Ryan Spilken:
Yeah, there's no such thing as an agile building yet, is there?
Andrew Bryl:
No, I don't think so.
Elena Francis:
So obviously, you were at Adaptavist for four plus years. Could you tell us the three things you loved most about your time at Adaptavist?
Andrew Bryl:
Yeah, so the thing that I love the most and I miss the most is for years, we used to have a holiday party where Simon, the CEO, would fly everyone out to London and for me that was awesome—to physically just actually meet people. I would be working remote at Adaptavist pretty much every day. So to actually physically fly to England, party, drink with everyone, that was an awesome time. I got to obviously meet Ryan, hang out with him, have some drinks with him. That was the most fun I had. I'd always look forward to that trip. The second thing is probably just the people in general at Adaptavist that's a worldwide company, a lot of people with a lot of different backgrounds, people like myself, there's totally different backgrounds starting up in construction sales. Then the third thing was that I got to work from home for the first time ever. I had never worked totally from home before.
It was a new experience for me. It kind of led me to what I do now at Gliffy at my current job working from home, there was some growing pains in between. I had always been either working in an office or on a job site for my entire career almost 10 years prior to joining Adaptavist. So it was a pretty big stretch honestly, for me in the beginning I honestly thought, "Can I even do this?" It was kind of weird to never actually physically see people and to use Zoom before A lot of people were using Zoom for their work primarily. So those are the three things: partying in London, the people, and then actually working from home full time.
Elena Francis:
The Adaptavist parties are legendary. They are very legendary parties, as any attendee will tell you very enthusiastically.
Ryan Spilken:
Look, all I know is that I still owe Andy a game of Connect 4. We're still waiting on the rematch. The parties got out of hand and I have definitely lost a few games to Andy. Andy, I have found with a lot of our folks coming in now that there is a learning curve to being at a company where you can work remote. It's one of the big things, especially as Americans. So Elena is in the UK, but as Americans, shedding that 10 years was not an easy ... It wasn't an easy journey for me. My career path led me to Adaptavist, getting over the fact that on Monday, I wasn't necessarily going anywhere and that I was trusted to be productive thousands of miles from the home base. That took a significant amount of time of adjustment outside of going through that experience and acclimating to the world of remote work long before everyone else had to. I'm very proud to say that Adaptavist was using Zoom before it was cool. What is another major lesson that you took from your time with us?
Andrew Bryl:
One of the big things is to work with different departments. A lot of times, you become siloed; if you're in the sales department you only work with sales people, or sometimes you work with finance. sometimes marketing. For me, working at Adaptavist, it showed me how important it was to really reach out, talk to people from every department in a company. Don't silo yourself off. Don't only concern yourself with your sales team, for example, move ... Not move, but move yourself to, "Hey, I need to talk to someone in accounting, finance, marketing, product development." That is how I learned more about the software. That is—how I learned more about Adaptavist products—is actually talking to people who actually built ScriptRunner, for example. Because when I joined, I didn't know what these products did, why they were important, why people bought them.
In sales, you can look pretty smart selling a product, but the truth of it is—that people don't want to admit to—is sometimes you sell products that you have no idea what they do, and you have no idea what the differentiator is, what the competition does, why people actually physically buy the product? So I would just tell people to reach out to different departments, see what people do for a living. I know you don't want to get into the awkward office space questions, so what do you do here with those two guys that are interviewing people? I know it's sometimes awkward to ask people, "So what do you do here?" But it's true.
A company is made up of so many different departments, divisions, people that do so many different roles and it's important to see how those roles, they all affect the company and they all affect you. So at Adaptavist, it was for me getting back to meeting people in London to see what department they're in, where they actually physically lived. I'm biased, I live in California so I was always geared to meeting people like me, lived on the West Coast in the U.S. or just lived in the U.S. in general. Because obviously, Adaptavist is headquartered in England. So for me, it was reaching out to people in different departments and seeing what they did and how the entire company worked. Well, for me was a big benefit.
Elena Francis:
In your own words, how would you say Adaptavist shaped your career?
Andrew Bryl:
Well, it shaped my career obviously in getting into the Atlassian ecosystem. My current job at Gliffy, we are ... I'm biased to say this, but Gliffy is an amazing add-on for Confluence. I would say it's the best, but everyone's going to know that I'm biased saying that, but it's pretty awesome, pretty amazing product. But to answer your question, I mean obviously getting into Atlassian, selling Atlassian products, selling Jira, selling Confluence, understanding why the customers use it, why is this tool so important? A lot of people spend a lot of money on these products and they don't just spend it because they just love spending money. It's actually the opposite. They don't like spending money when they don't need to. So these products are really important to them. I learned a lot about that when code first hit a lot of the retail accounts, obviously because retail stores were closed, they had to cut budgets and the first thing you're going to look to cutting is really expensive things you don't need.
So talking to them, Jira, Confluence, those were mission critical for them to keep the lights on, so to speak. I got to learn firsthand how important the software was for their day-to-day. How even if they wanted to cut these products out of their life, they would think about it and they tried but they couldn't do it because the counter to that was all these systems and processes then didn't work. It didn't work for their company if they just said, "Oh, we're just not going to pay Atlassian, we're just not going to pay Adaptavist to renew our licenses, it'll be fine." No, they learned it was not fine. So that was the one thing that I got to learn is how important these products are. Obviously now on the Gliffy side, seeing it from our customers currently, how important it is using our product, how important it's to use these products in the Atlasian marketplace.
For some of these companies, it is really critical to what they do every day. I don't put that lightly. I'm not being dramatic. If these products went away, it would be a very big hassle. It would be a very big annoyance at the minimum for some of these people to do their day-to-day jobs. For me, obviously it would be devastating because I'd be out of a job overnight. So it all works into being inside the Atlassian world and for me, how exciting and how interesting it's been over these past five years for me.
Ryan Spilken:
As a lead of business development, as someone who is actively engaging decision makers, you are often forced to work with their biases. You have to deal with the decision maker, right? But how does the end-user of the product factor into your thinking when you're approaching these decision makers?
Andrew Bryl:
Yeah. So that was the thing I learned obviously at every role. The thing I learned at Adaptavist is try to get to the end-user, try to get to the person physically using the software immediately. I'm not saying the admin is not important because they obviously are, but the people physically using the software day in and day out to me are critical. So one of the first things I did when I got to Gliffy is I wanted to talk to people who are using the product day in day out. I wanted to know what they liked about it, what were their favorite features, how important it was to their job and things that they wanted to be changed. As everyone who can listen can vouch for it. There are products that you love and sometimes the products that you love, you're most critical of them.
I know I certainly am of products that I use every day. I'm very critical of them because we use them, we love them, pay for them, I want them to get better. Those are exactly the types of people that I spoke to immediately when I joined Gliffy. It's people who love using the product, who wanted a product to get better, I wanted to hear their feedback. Obviously talking to admins again it was very important, but for me, it was reaching out to what I always call the power users, the people who actually use it every day. To me, their opinion is exactly the opinion that I want to hear and talk about more.
Elena Francis:
They probably have a wishlist of features that they'd like to see in it too. So it might be good to steal their ideas.
Andrew Bryl:
Of course. I mean we had a number of calls with people where they actually physically did give us a wishlist and I would write down their wishlist and all the feedback for me honestly is all really interesting, thoughtful, creativeness. I would joke with a lot of people like, "Oh, we should hire you. Ha, ha, ha." That actually kind of wasn't a joke because it was like, "Yeah, if we had had an unlimited budget, I would just hire all these people." Or tell my boss to. But no, that is exactly the type of feedback that I think every company needs. You need to hear from your top users. You need to hear the good, the bad, the ugly. You need to hear what can be done better. You need to hear what the pain points are, but you also need to hear obviously what is it about it that you love and you stick with the product and that type of feedback. I think for any team, Adaptavist, Gliffy, Atlassian, that's the most important feedback in my opinion that they can receive.
Ryan Spilken:
With you building relationships across team silos, you're way better positioned to hand that feedback and make it actionable in an impactful way to those customers who are ultimately responsible for championing your product in their companies.
Andrew Bryl:
Yeah, exactly. Atlassian, and I don't care if you're talking about Gliffy or ScriptRunner or any product, it's not just for the sales team, it's not just for the marketing team, it's not just for DevOps. Now some of these add-ons are more geared towards let's say DevOps or sales or marketing, but everyone can use this product and I think that's where Atlassian, it's really kind of shined through over the past couple of years. "Hey, this tool Jira Confluence, this is for your entire company." This is not just for select people. The same thing with an add-on such as Gliffy. It's for everybody. It is not just for a singular department. It's not siloed off. I think when we talk to customers, I think everyone realizes that, but it's also my job to show it to different parts of the company. It's part of our marketing team's job to give that message out to everyone as well and for our product team to execute on the feedback that they get from our customers. So it all works together for everyone to try to make the best product that we can make.
Elena Francis:
Absolutely.
Ryan Spilken:
All right. Andy, so don't give us anything that's confidential or top secret, okay? But tell us a little bit about how you're leading the team at Gliffy. How the experiences that you've taken from your career so far, and especially at Adaptavist and you're now leading teams? Tell us about how you're doing things a little differently. What are you doing there?
Andrew Bryl:
Yeah, well I think the different thing is that I came from the Atlassian partner world and everyone at Gliffy either came from all different departments, the product team, marketing. No one has the partner background that I do and it's very unique to Atlassian in terms of the marketplace. Partners make up a huge part of our sales. They make up a huge part of the selling of our product. So me coming over from Adaptavist, I've always tried to discuss what the partners do, how they talk to customers. Every partner is a little bit different in their own way, but for me, I always draw on the experience of what I did at Adaptavist, what separates add-ons from add-ons, what actually physically makes me talk to a customer about an add-on, kind of the pain points that customers have. Or is it just someone who's like, "I don't know, give me a diagramming tool. You pick."
Sometimes, it was like that. Other times, the customer would have very specific needs for what they wanted. Other times, they would physically tell you what they wanted to buy. So I think at Gliffy, obviously, I think the big role for me is shining through my experience working at Adaptavist, working as a partner for four and a half years, and working with every partner in the Atlassian ecosystem. They're all different. They're all important. They're from all over the world. They all completely ... Some customers overlap, some of them are very specific to each vertical that they go after. But for me, it's always a drawing on the fact that I came from working at a partner. I think I know what some partners like, what some partners want to do, the customer interaction. So I think those are at least my goal anyways, is to bring my experience working as a partner to Gliffy.
Elena Francis:
It sounds like a really unique experience compared to other people in the company. So that's great. On that note, if you were to speak to somebody who was thinking about jumping into tech account management or sales, what advice would you give them?
Andrew Bryl:
Yeah, so I've thought about this question a lot. I had a great mentor when I first got hired for my first job out of college. He had about 20 years in the business. I would just follow and watch him and listen to him. I don't mean that in a stalker way, but I would just listen to how he talked to customers, both good and bad. I got to just overhear conversations they'd have with them when things are going right, things are going wrong. It's one thing to look good when everything's going right. But as I mentioned at the start, I got hired February 2008 and from that moment on everything every month, March, April, May, June, July, everything always seemed to get worse and worse, and it was just me just honestly watching him, seeing how he interacted with customers, seeing how he did his day to day, seeing how he was an actual professional.
Because honestly, I was a 22 year old punk kid. I kind of thought I knew everything. I thought I had all the answers. I just graduated from college. I thought I was really smart. I wasn't. I didn't know really anything. I got to watch a great mentor to me. He was my boss for two and a half years. He was excellent. He probably did things that he wasn't even aware that either I was watching or taking notes. So I think for anyone starting off in tech or starting off in sales or just starting your career in general, if you can have a great mentor, someone to look up to or someone to follow for a while, I think those lessons are really valuable. I mean he probably has no idea that I felt this way, but I took things that he did for years and years and I still take things that he did to my current day-to-day job of I would just watch him and I would just learn actually how being a real professional is.
That's in any field; it's in tech, it's in teaching, it's in medicine. Any field. If you've got a great mentor when you start off, especially when you're young like I was—that is a really valuable thing to have. So I would recommend the people starting off in a new field, starting off in tech, try to find someone you look up to, try to find someone you're like, "That's who I want to be one day." I know it's not always easy to do. Sometimes it can be pretty awkward, but if you can do that, I think that's going to really shape the rest of your career in a really positive way.
Elena Francis:
Definitely, always good to have someone that inspires you and also someone that could maybe show you the ropes as well, especially when you're at that very early stage of your career.
Andrew Bryl:
Yeah. He definitely told me a few times to either shut up or listen or, "Hey, you're not as smart as you think you are." I definitely needed that. I think everyone, I don't want to say everyone, but a lot of people definitely need that—mostly guys graduating when they're 22—but a lot of people need to be told that once in a while and that was really valuable for me.
Ryan Spilken:
All right. So if I'm hearing you correctly, the advice ultimately is find an awesome mentor and don't stalk them?
Andrew Bryl:
At least make them not be aware that you're stalking them. I think, I mean, our cubicles are right next to each other, so it was pretty easy for me to listen in on conversations.
Ryan Spilken:
Andy, what do we have to look forward to from Giffy in the coming months?
Andrew Bryl:
It's going to be really exciting. We've got a number of features that we are rolling out. The big thing obviously with Atlassian is the cloud migration, right? Moving from server to data center or cloud, we've got a number of tools that help our customers do that. Again, new features being rolled out is going to be excellent. Helping all of our clients who are on server get to data center or cloud in a fast, easy way is something that I talk about every day with customers. It's an exciting time to be at Gliffy because of those reasons. The product is wonderful, the product is great. We have a great product team led by ... His name's Charlie.
Our marketing team is excellent, led by Sammy. Our tech support is amazing, led by Trish. I mean, you ask us a question, you get a response within a day. The whole team at Gliffy is working together to make sure that we don't leave any server customer behind who just wants to be on server forever. There are some people who are going to want to test the waters and see how long they can get away with, but the cloud version is amazing and the data center has always been really good. So I think for me, seeing our customers move to data center and cloud, that's a big thing that we'll be talking about in the next year, year and a half, but just the product that we have just keeps getting better.
Ryan Spilken:
Nice.
Elena Francis:
Awesome.
Ryan Spilken:
All right. Anything else we should hit up before we wrap it?
Andrew Bryl:
I do want to say that it was ... I hope this ... I think it shined through in this, but for my four and a half years Adaptavist was an amazing experience. It was a time in my life where obviously when COVID hit, there was a lot of uncertainty in the world. Working there was amazing. The people there were great, but the time in my life when my son was born a year and a half ago, taking time off at Adaptavist was the HR team made it really great and easy. I always wanted to thank them for that. It was an excellent experience. I wouldn't have left unless the opportunity at Gliffy was amazing. I think for anyone who's listening to this, if you're ever thinking of joining a partner or ever thinking "Oh, I kind of want to get into tech," I think you should definitely obviously look at Gliffy and Adaptavist as two places that you should definitely send your resume to.
Elena Francis:
Good, safe.
Ryan Spilken:
Good, safe. Andy, it is such a pleasure to catch up with you, to see that you're doing so well. Congratulations on your journey and all the best to you with tremendous success in the years to come at Gliffy. I know that we'll be partners for a long time and it's wonderful to know. So thank you again for showing up and being part of today's episode.
Andrew Bryl:
Yeah, this is great. I enjoyed it. Thank you.
Elena Francis:
Thanks, Andy.
Ryan Spilken:
Elena, wonderful as always to see you. Thank you so much.
Elena Francis:
Thank you for having me, Ryan. Thanks. It's been fun.
Ryan Spilken:
We'll do this again real soon, I hope.
Elena Francis:
I hope so.
Ryan Spilken:
To you listeners, thank you all so much. We appreciate it. Make sure that you like and share this podcast and maybe review it wherever podcasts are liked, shared, and reviewed and connect with us on social at Adaptavist. So until next time, this is Ryan Spilken and we'll see you again on Team Titans.